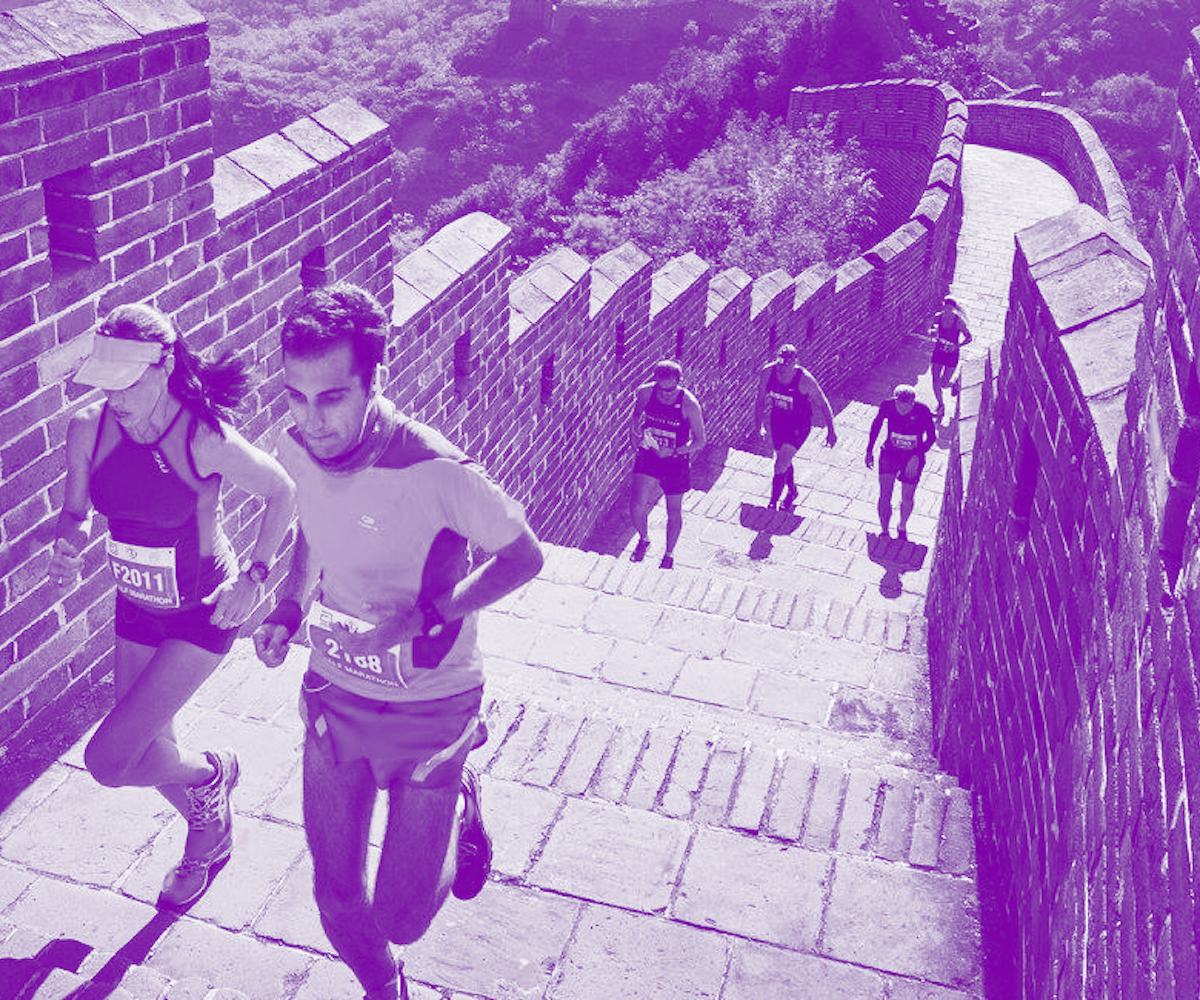 Photograph courtesy of Facebook/GreatWallMarathon
10 Marathons and Half Marathons Worth Running
From France's vineyard race to a UFO run
There are all sorts of reason to travel: discovering an up-and-coming art scene, eating your way through a gourmand-minded city, or simply getting away from America's current state of affairs. Recently, however, there has been a notable uptick in people taking vacations and traveling for health purposes (which I, personally, attribute it to the aforementioned political climate). They do this in order to work out more and reset the body nutritionally or to go off the grid to reconnect with themselves, spiritually.
And then there's running. Lately, my Instagram feed has been clogged by seemingly everyone I know taking photos all around the world, with destinations chosen based on racing events. Even the less fitness prone of the bunch have been guilty of posting photos of the Paris Marathon, Florida's Disney Princess Half Marathon, and New Orleans' Jazz Half Marathon finish lines before embarking on more traditional vacations in the respective cities. With our very own New York City Half, that saw 20,000-plus participants from near and far descending on the course this past weekend behind us, we've been wondering what other cities host races worth making a vacation out of.
From a run made for oenophiles to one that will have The X-Files-obsessed sprinting to the end, ahead are 10 marathons and half marathon worth the sweat and travel miles. Plus, where to stay, eat, and drink at and what to do to recover in each of the cities afterward.
Marathon du Medoc, Medoc, France
The most buzzed (literally) about race among runners, Marathon du Medoc sees wine-loving participants sprinting through Bordeaux's iconic vineyards and boasts 20-plus stations where you can taste some of the best wines from the region, as well as quintessential French eats like oysters, foie gras, and cheese, all while completing the course. Act fast: This event consistently sells out.
Where to stay: Realize your dreams of staying at a castle at Château Ormes de Pez, a cutesy bed and breakfast with a Call Me By Your Name-esque outdoor pool and terrace, quirky rooms featuring floral wallpaper and tapestries, and complimentary bikes which you can use to live out your best la vie en rose life.
Where to eat/drink: If you decided to abstain from drinking during your run, make your way to the many famous vineyards in the area for tastings. For those short on time, stop by the creme de la creme of the region: Chateau Margaux and Chateau Palmer. To hit three birds with one stone, head to Château Cordeillan-Bages, a chateau-turned-high-end hotel, a vineyard, and the host of a two Michelin star restaurant.
Where to recover: Grapes are known to hold amazing antioxidant properties when it comes to skin care. Witness it firsthand at the Sources de Caudalie Vinothérapie spa, the French skin-care brand's original spa located in the Bordeaux region. Indulge in one of the vino-centric treatments like the merlot wrap, or try the wine maker's massage, which recreates the steps of the wine-making process on the body.
Napa to Sonoma Wine Country Half Marathon, Napa and Sonoma, California
For a U.S equivalent, check out this Wine Country race that starts in Napa's Cuvaison Carneros Winery, winds through acres of picturesque rolling vineyards connecting the two counties, and finishes in the historic Sonoma Plaza. Afterward, celebrate by attending the Wine & Music Festival featuring wine tastings from 35 of the region's finest wineries including Hall, B.R. Cohn, and Buena Vista.
Where to stay: Check in at the Russian River Autocamp, a fashion-forward retreat in the Redwoods, which includes stylish camping suites housed inside Airstreams, luxe canvas tents, and Shelton huts, all decked out with modern amenities (Casper mattresses, Wi-Fi, spa-like bathrooms etc.) and sleek decor that makes for golden Instagram content. Make sure to check out the onsite clubhouse outfitted with fire pits, spaces for relaxing, and a concierge that can set you up with an adventure of choice.
Where to eat/drink: The top pizza joint in Wine Country, The Red Grape showcases the best local ingredients, like farm fresh eggs, freshly foraged mushrooms, and local cured meats, on pies like tre funghi and chorizo and manchego. If you need a break from wine, The Shed in Healdsburg is the only fermentation bar in the country and offers libations like housemade kombucha, kefir water, and shrubs.
Where to recover: For a truly rejuvenating experience, visit Osmosis Day Spa Sanctuary, the only place on the continent that offers a cedar enzyme bath. A therapeutic Japanese treatment, it involves immersing yourself in a fermentation bath with living enzymes that stimulates metabolic activity, relieves joint and muscle pain, and leaves the skin soft and glowing.
Great Wall Marathon, Beijing, China
Made for the history buffs, the Great Wall Marathon sees attendees running along the most famous monument of China. It's a course that's not for the faint of heart (the elevation alone is enough to get one's heart racing), but you will be rewarded with breathtaking views.
Where to stay: Escape the chaos that surrounds the course by staying at the Regent Beijing, a luxurious oasis that's a short walk away from attractions like the Oriental Plaza, Wangfujing Street, Forbidden City, and Tiananmen Square.
Where to eat/drink: The Michelin-starred restaurant Lei Garden, where you can experience modern Cantonese cuisine with dishes like clay pot rice and honey barbecue pork and killer dim sum. Try China's national liquor, baijiu, at Capital Spirits, the world's first bar dedicated to the spirit that serves many a tasting flight options and cocktails showcasing the drink.
Where to recover: Take a car to the No.8 Hot Springs Club, an underground bathhouse with a no-clothes policy (there are separate women's and men's facilities). Spend the day splashing about the many baths with varying temperatures, filled with spring water tapped from deep below the ground, or hide out in the sauna or the steamy Finnish bath.
RunTheBluegrass, Lexington, Kentucky
Dubbed "America's Prettiest Half-Marathon," RunTheBluegrass begins at the iconic Keeneland Race Course, Lexington's horseracing home, and runs throughout the majestic Thoroughbred Farms, rolling hills, and scenic routes like the Old Frankfort Pike, considered one of the most scenic drives in the United States. Participate in a myriad of events pre- or post-race including a morning-after recovery yoga, a guided tour of the Keeneland, and post-race parties.
Where to stay: Get to know Lexington's art scene by nesting at 21C Museum Hotel Lexington, a design-forward hotel that doubles as a contemporary art museum and culture center with a rotating roster of programming and events.
Where to eat/drink: Anywhere in the new distillery district, a culinary and entertainment center. Start at food truck-turned-seasonal restaurant Middle Fork, which puts out bites like eggs diavola, shiitake bowl, PB & J toast, and hog n' oats, before proceeding to get a hand-tossed thin crust Italian pie at Goodfellas Pizzeria, and ending the night with the signature coconut ice cream at Crank & Boom. The booze-minded can explore "America's Official Native Spirit" on the Kentucky Bourbon Trail which offers tours and tastings at distilleries dating back to the mid-1800s, including Maker's Mark, Jim Beam, Bulleit Frontier Whiskey, and Wild Turkey.
Where to recover: Flush out your tired legs by signing into The Spa at Griffin Gate, a wellness oasis that offers treatments like Bourbon Bubbler and Mint Julep body scrubs, Tension Tamer massage with a muscle and joint relief add-on, and Foot Soak Refresher, all using native minerals and herbs.
Thanks & Friendship Kobe Marathon, Setouchi Region, Japan
Entering its eighth year, this marathon encourages attendees to express gratitude to those who offered their help to the Hyogo prefecture and city of Kobe after the Great Hanshin earthquake in 1995 as they run along the Seto Inland Sea. In addition to giving thanks and honoring those who have suffered at the hands of the disaster, the event also aims to raise awareness about the environment and highlights the importance of global unity and solidarity in a time of need.
Where to stay: Embrace the local ways by staying at Nakanobo Zuien, a traditional ryokan accommodation offering swoon-worthy sukiya-zukuri-style (traditional Japanese architecture) rooms, an onsen (a hot spring and the bathing facility), and kaiseki (traditional multi-course dinner made from local and seasonal ingredients).
Where to eat/drink: Try one of the world's finest meats, wagyu beef, at Setsugetsuka, a restaurant known for putting out the best assortment of the marbled delicacy. Follow the melt-in-your-mouth tender meat with a sake tasting—Kobe boasts some of the best rice wine in the country!—at the Kiku-Masamune Sake Brewery Museum.
Where to recover: Following the race, hit the Arima Onsen to experience the healing properties of the Japanese hot springs. Located on a natural trail and hidden among trees, the miraculous (known to help those suffering from chronic arthritis) waters, full of natural iron, salt, and calcium, will relieve aching muscles and remove all lactic waste built over the run.
St. Jude Rock 'n' Roll Nashville Marathon, Nashville, Tennessee
You can do a rock 'n' roll marathon in a lot of cities, but why not do it in Music City? Time will fly by as you make your way through the urban course flanked by the many band stages spread over the 26.2 miles and pass the city's most famous music institutions like the Musicians Hall of Fame Museum and Nashville Music City Center.
Where to stay: At the stunning and recently opened Fairlane Hotel in downtown Nashville's Arts District. Boasting mid-century design, the boutique hotel combines retro-chic '60s- and '70s-inspired detailing, like terrazzo flooring, original wood paneling and travertine columns, and brown and crème color palette, with modern-day amenities like floor-to-ceiling windows and semi-transparent peekaboo showers. Did we mention that there's a Mile End Delicatessen outpost onsite? Yeah, there is, so prepare to load up on delicious cured and smoked Jewish Deli meats and house-baked bagels.
Where to eat/drink: Everywhere? Truly! To start off, celebrate the completion of the race at Rolf & Daughters, an upscale farm-to-table restaurant with an insanely good season menu. Caffeine addicts will be happy to know that Nashville is currently experiencing a booming coffee scene so make stops by java joints like Fairlane's Union Teller Coffee Counter, CREMA, Hot & Cold, and Ugly Mugs.
Where to recover: Partake in one of Escape Day Spa's signature soaks, ranging from a Ginger Root, that eases and soothes muscle tension and grounds the mind with lemongrass, rosemary, and ginger blend, to a Deep Forest Herbal, that uses hyaluronic acid and omega fatty acids to repair and hydrate the skin, and an Antioxidant Bubble, that addresses muscle aches and physical body stress.
Harmony Geneva Marathon for UNICEF, Geneva, Switzerland
Running between Lake Geneva's shores and the snow-capped mountains before finishing in the heart of the city in front of Jet d'Eau, one of Geneva's most famous landmarks, the Harmony Geneva Marathon for UNICEF offers eight events with distances ranging from one kilometer to a full marathon. Though it's only four miles, La Genevoise, an all-female race running from Chêne-Bourg to Geneva's Jardin Anglais, would be our pick.
Where to stay: Get 15 percent off and a special breakfast pre-race at one of Geneva's AccorHotels properties. Hotel Rotary Geneva - MGallery by Sofitel is the most stylish of the group and conveniently located in the heart of the city.
Where to eat/drink: Do like the locals do and have dinner at the Italian-French fusion bistro Le Dorian, which serves dishes like osso buco, foie gras, duck breast baked in a crust, and hearty pastas perfect the night before the run. Following the race, take a 30-minute drive to Dardagny's vineyards, where you can try the rare Swiss wines for which the country is known.
Where to recover: In preparation for the run, get an Oxygen Massage, a sports massage that uses a wintergreen essential oil to energize the mind and body, at the Spa by Clarins. 
Palmetto Bluff Half Marathon, Bluffton, South Carolina
A Boston Marathon Qualifier, Palmetto Bluff Half Marathon has become the ultimate runner's paradise thanks to its stunning scenery and surroundings, which include rivers and forests full of Spanish moss trees, and a notoriously flat course. Following the race, get a free beer from River Dog Brewing Co. and barbeque sandwich from the Big Carol food truck while listening to live music. What's more, proceeds from the race benefit the Palmetto Bluff Conservancy, a nonprofit dedicated to the preservation of the aforementioned scenery.
Where to stay: Located on a lush, 20,000-acre nature preserve between Hilton Head Island and Savannah along the May River, the incredible Montage Palmetto Bluff recently launched a partnership with SparkRunner, a concierge service that connects runners with professional athletes who act as coaches and guides to the area's running trails. Aside from the programming, The Notebook-like property also features spacious cottages and suites with picturesque views of the river and oak tree-filled grounds and offers activities like kayaking, canoeing, and paddleboarding.
Where to eat/drink: Get a taste for the cuisine that the South is known for at one of the property restaurants like Cole's, that serves comfort foods like patty melts, fried pickles, jalapeño cheddar cornbread, and barbecue plates, or Canoe Club, a seafood restaurant that puts out crab beignets and fresh fish. Or stake out a spot at the River House Lounge by a crackling fire pit, where during happy hour local delicacies, like grilled oysters from a family-owned oyster house in the area, are served to guests alongside wine. Finish your night off at Octagon Bar & Gathering Place that puts out the dangerously delicious signature cocktail, a barrel-aged Artillery Punch.
Where to recover: Stretch out post-race by taking a eucalyptus hydrotherapy mineral bath before getting a decadent warm river stone massage that relieves pains and aches at the Spa Montage. We know, the property makes it hard to leave.
Dublin Marathon, Dublin, Ireland
Equivalent to the Boston or New York one Stateside, Dublin's annual marathon is a bucket-list one for the more committed runners. While it offers a more traditional running experience, the marathon provides a chance for visitors to see Ireland's capital in all its splendor as you make your way past attractions like St Stephen's Green, Phoenix Park, Dublin Zoo, and St Patrick's Cathedral.
Where to stay: Just steps away from the starting line is the luxe Conrad Dublin. Runners who book a stay here during the marathon will enjoy a special bed and breakfast rate and a celebration cocktail following the race. Ask for general manager Martin Mangan when you arrive—he's run the marathon twice and happy to give guests tips and tricks before the big day or celebrate after.
Where to eat/drink: The night prior to the race, the property's head chef will serve up locally inspired dishes at the property's restaurant, The Coburg, that will put you in prime game day mood. A celebratory drinks reception in Lemuel's lounge bar will follow the night after, where each runner showing his or her medal will receive a complimentary glass of prosecco.  
Where to recover: Stretch out your sore muscles during a gentle restorative yoga class, that begins and ends with guided meditation, at Samadhi yoga studios.
E.T. Full Moon Midnight Half Marathon, Rachel, Nevada
Put on your brightest DayGlo running apparel and headlamp and run during the full moon along the enigmatic Area 51, a stretch of highway known as the "Extraterrestrial Highway" thanks to the high number of reported UFO sightings. A beloved course for UFO enthusiasts and runners alike, the marathon provides plenty of stunning mountain, desert, and sunrise vistas, opportunities for fun costumes, and a chance to embrace full moon rituals along the way.
Where to stay: Escape the hustle of pre and post-race chaos by driving to and sleeping the night off at the newly renovated The Cosmopolitan of Las Vegas. When you wake up rejuvenated, after spending the night in one of the plushest beds ever, station yourself by one of the three pool overlooking the Strip for more quality naptime.
Where to eat/drink: For a less rich and heavy experience than your typical Vegas fare, eat at Estiatorio Milos, a healthy Mediterranean restaurant known for its Greek approach to fresh seafood. The health-conscious can pick up a fresh green juice or homemade nut milk at The Juice Standard, which also offers cold-pressed alcoholic cocktails featuring buzzy ingredients like alkaline waters, ginger, turmeric, and coconut water.
Where to recover: Partake in a Moroccan bath ritual at the Sahra Spa & Hammam. Relax inside the hammam before taking a detoxifying bath meant to reduce fluid retention, restart circulation, and remove toxins or book a cleansing black neroli soap treatment that's followed by an exfoliation, mud masque, and intense moisturizing.