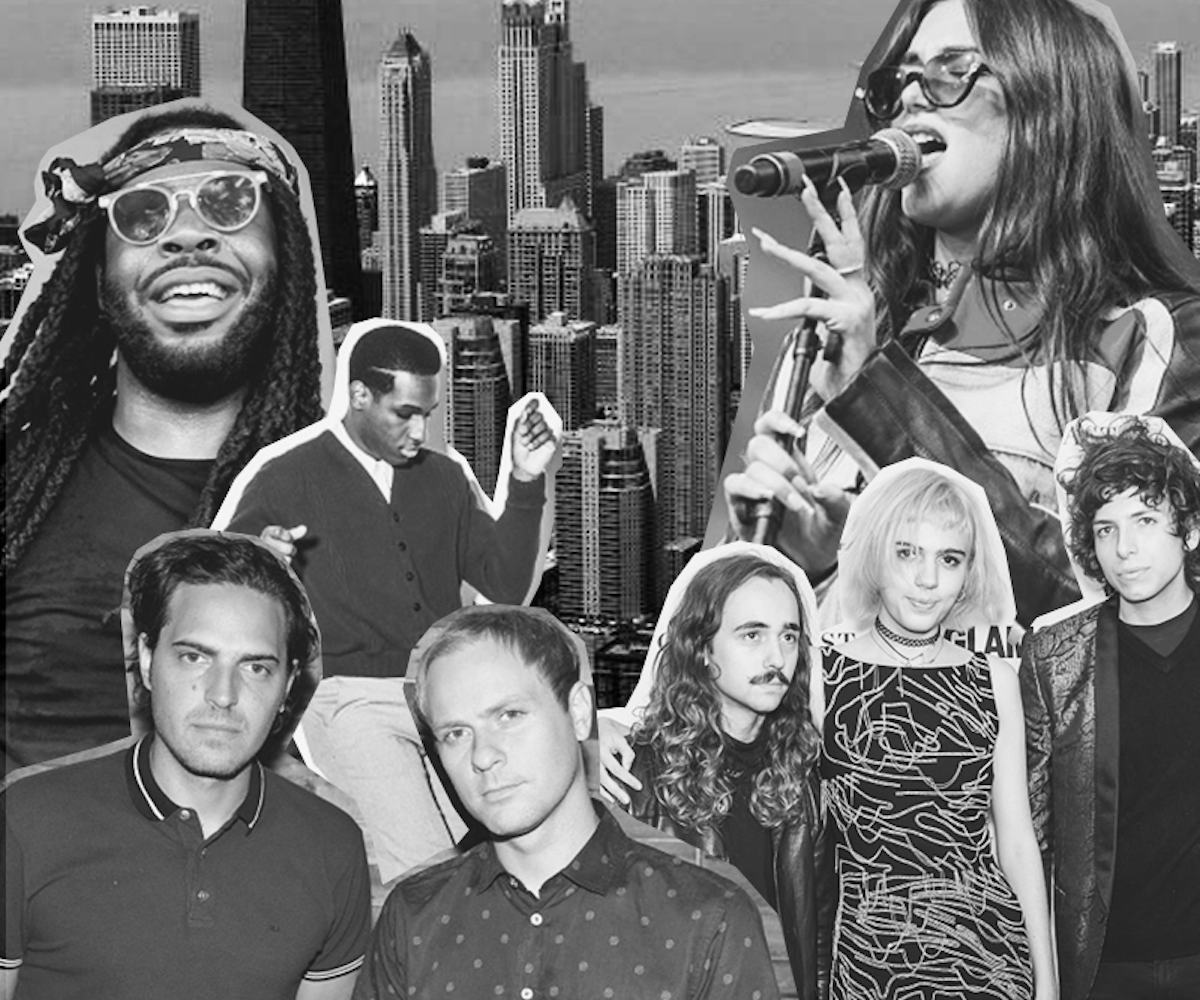 Collage photos via Getty Images
The 10 Best Under-The-Radar Artists At Lollapalooza
Don't sleep on these sets
For its 25th anniversary, Lollapalooza has not surprisingly put together an amazing lineup. As per usual, the headliners include old favorites like Radiohead, LCD Soundsystem, and the Red Hot Chili Peppers, alongside a number of modern, contemporary artists like Lana Del Rey, J. Cole, Future, and M83.
While these household names are big enough to draw a huge crowd, the acts whose names are written in the smaller fonts at the bottom of the bill are the ones who really give the festival its flair while also upholding its musical integrity.
Since all the headliners don't hit the stage until after 9pm anyway, we picked our top 10 coolest up-and-coming artists that you won't want to miss this weekend. If they're not already on your radar, they definitely will be by tomorrow. Click through the gallery and learn more about them, below.
Pop music doesn't have to be sugary sweet, and British-Kosovan singer Dua Lipais here to prove it. On the cusp of releasing her debut album this fall, the 20-year-old is already making waves in the industry with hit singles like "Hotter Than Hell" and "Be The One." These nuanced, dark pop tracks showcase her entrancing alto voice, expressing sultry sentiments no less, with evocative electronic sounds giving the tunes their rightful power.
Coming off the recent release of their debut album Human Ceremony, Brooklyn-based trio Sunflower Bean are on their way to becoming one of the most promising names in indie rock. The band brings a fresh perspective to the scene with their psychedelic sound, effortlessly poetic lyrics, and lead singer Julia Cumming's breathy, hypnotic vocals hat seamlessly transport you to a mystical, symphonic heaven.
Kiiara used to spend her days as a sales associate at a hardware store before going home to produce innovative tracks from her bedroom. But after gaining a strong following on SoundCloud thanks to her bass-heavy, striking electronic singles, the young singer and producer got herself a record deal. Now, she has released stunning, stand-alone tracks, like "Gold" and "Feels," proving she is on her way to becoming the best in the game.
Across the pond, Lapsley is well on her way to pop domination, but it's about time that the English singer-songwriter is heard in the States as well. Her debut album Long Way Home was released back in March, and while it features subtle, ambient synth-pop, her radiant voice transforms the sound into its own element of immenseness, one that is at once miraculously atmospheric and bold.
You should have already been keeping an eye on Vince Staples when he started collaborating with beloved hip-hop artists like Odd Future and Mac Miller, but his debut album Summertime '06 speaks for itself. The New York-based rapper's cunning and honest songwriting makes him stand out from the rest with lyrics that narrate his introspective observations on himself and his family. Oh, and the beats always hit hard. Make way for the mosh.
Leon Bridges' soulful, indulgent voice will take you on a trip back in time. This Texas-born singer is officially a Columbia Records signee and has made a name for himself in the industry on the basis of his voice alone—one that's resonant of the rich artists of the past that streamed radio waves in the early '60s. Bridges' debut album,Coming Home, was released a little over a year ago, but even today it is irresistible as it's the perfect compilation of nostalgic simplicity and soulful depth in the 21st century.
D.R.A.M. stands for Does. Real. Ass. Music., and that is exactly what the Virginia-based rapper does. Last year, his single "Cha Cha," went viral and sparked the success that was Drake's "Hotline Bling." That said, he is not a one-hit wonder, and the hype over his first single is not fleeting. Since then, D.R.A.M. has been busy at work in the studio, churning out infectious beats like that of his past two EPs, #1Epic and GahDamn!. He also collaborated with SBTRKT and Mabel McVey on a fire track a few months ago. Did we forget to mention that he's Beyoncé-approved?
Just as their name suggests, Potty Mouth is foul in all of the best ways possible. These post-punk rockers hail from Northampton, Massachusetts, and produce nothing short of gritty goodness with their crisp guitar rhythms, upbeat drums, and clever lyrics, creating their own take on '90s alternative. Though the trio has been around since 2011, they have recently been gaining notoriety with the release of last year's self-titled EP, and it can be expected that only more great things are to come from this grungy trio. 
Classixx, a Los Angeles-based DJ duo made up of childhood friends, Tyler Blake and Michael David, are sure to get you dancing. Their sophomore album Faraway Reach was released earlier this year, and it inevitably mesmerizes the listener into a groove, as its production, buoyant rhythm, and thoughtful lyricism (which features notable vocals from artists like Lil Wayne and Michael Angelakos of Passion Pit) are proprietary, classic takes on electronic music. 
Long before Cashmere Cat was collaborating with Ariana Grande on songs like "Be My Baby" and "Adore," the Norwegian producer was uploading his beats on SoundCloud. His Mirror Mirror and Wedding Bells EPs are all we have to stream, but he's been busy in the studio working on his grand debut album on LuckyMe, which we hope will drop sooner rather than later. His sets are full of nothing but feel-good vibes and a whole lot of happy dancing.