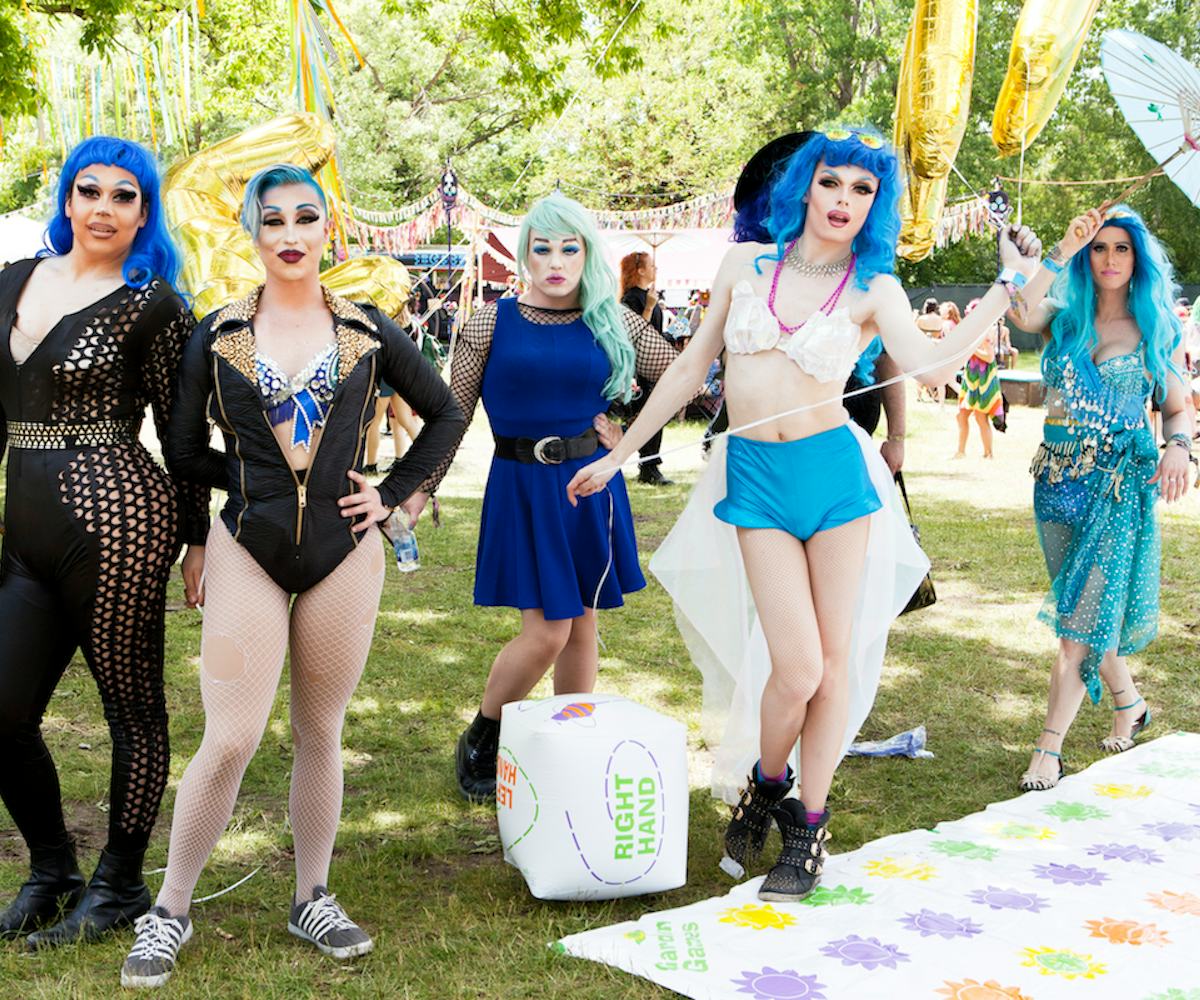 photography by aaron wynia
bestival 2015: a giant eff you to festival fashion
Summer has arrived, ringing with it such a bounty of music festivals that just leaving your front door without an all-access wristband is nearly impossible. But standing out amongst all the staples of the festival circuit is Bestival, the UK's own musical utopia where an elated celebration of the diversity of music and the people it connects has been taking place on the Isle of Wright since 2004. Started by BBC radio one DJ and personality Rob Da Bank, this was the first year that the festival was held outside of the UK, landing on the shores of the notoriously hedonistic Hanlan's beach on the Toronto islands.
Boasting a lineup that even Spotify couldn't tie together, Bestival truly had all their bases covered with stages, tents, and beaches that featured the likes of Jamie XX, Nas, Flume, Florence & The Machine, and Caribou. The yearly fest has attracted a huge following for its anything-goes attitude and themes; encouraging guests to dress up to their hearts content and offering the elaborate production value to match. This is really a festival that needs to be seen as much as heard.
For the Toronto incarnation, there was a Bollywood themed stage ripped from the collective acid flashbacks of every Brit who's backpacked through India, an inflatable cathedral for spontaneous wedding ceremonies, and an oasis of chill via the ventilated Perrier Greenhouse complete with an astro turfed floor perfect for shoeless dancing. 
The whole thing was a wonderful, kaleidoscopic freak fest; kids taking ectasy for the first time mingled with the families there for babies first rave, electronica warmed up a crowd for hip-hop, and free love suddenly didn't seem so old fashioned. Coachella, this was not.
Here are our favorite looks, lovers, and sights from Bestival. Click through for a gallery of some of the most outrageous Bestival looks. 
The science of conga lines is that they're impossible not to have fun in, so a carnival parade midway through day two was a brilliant pick me up.
This guy must have just seen Mad Max: Fury Road. "I'm one of the war boys" he told me. "I'm here with my wives."
It's metal, it's punk, it's futuristic, and most importantly, it's water bottle compatible.
The Bollywood stage, making other stages look like basic.
The onesie is the most spacious and freeing outfit to dance in, provides customizable sun coverage, and makes you like a freaking animal.
Dreamgirls, of the manic pixie variety.
Playing dressup. Get it?!
Whether this is a pose or an outfit that requires constant teamwork, we can't be sure—but anything is possible at Bestival.
When you're dressed like a smoothie bar and beaming bright smiles, you're going to make everyone feel better about themselves.
While everyone else is looking for a phone charger, he's absorbing enough festival energy to send snapchats with his bare hands.
With awesomely distracting activities like Drag Queen twister, it often felt like Bestival still could've operated without a single musical act.
We hope this guy enjoyed sizzling in the sun before the food pavilions dinner rush when he was ritualistically torn limb from limb.