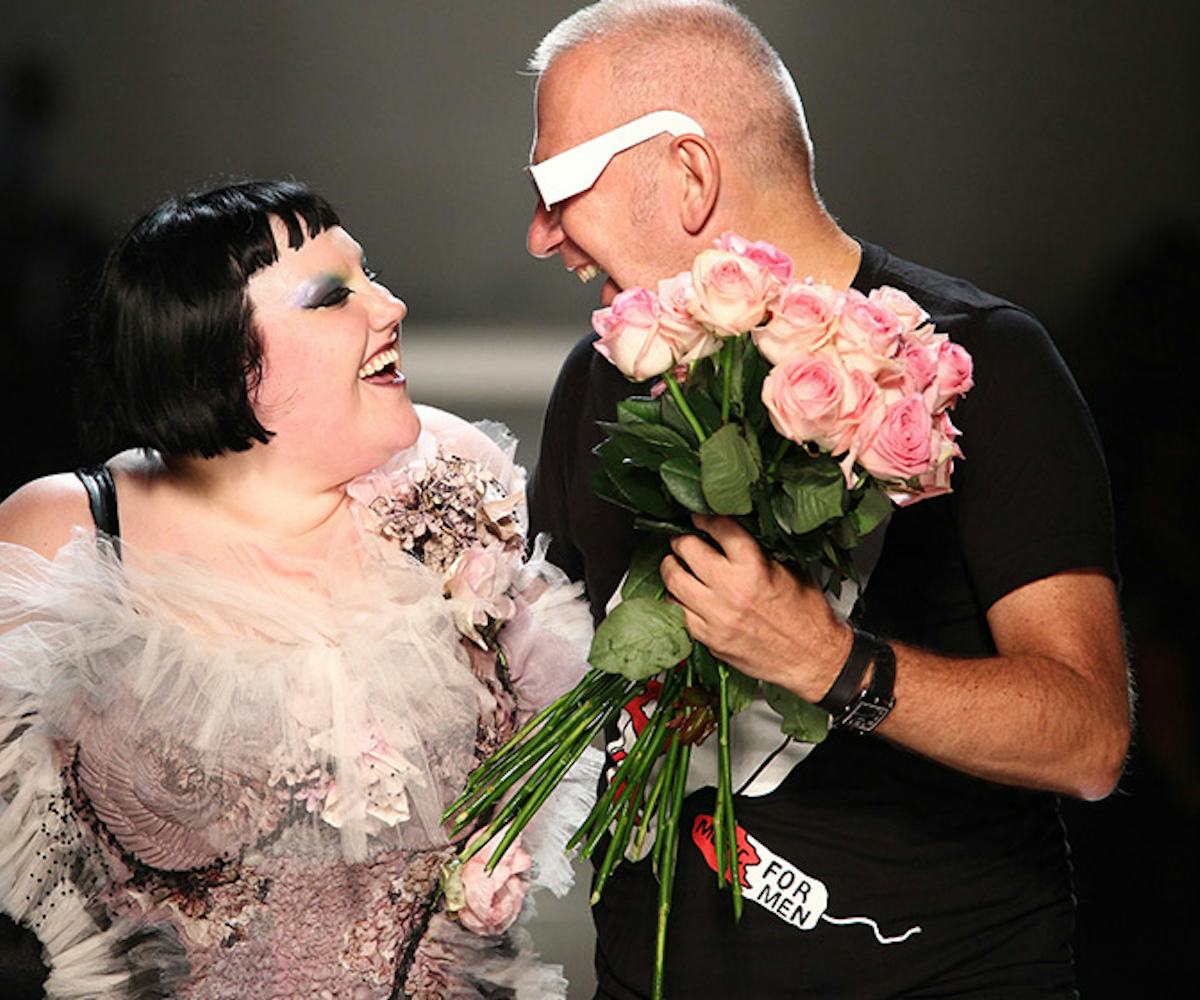 photo via bethditto.com
Beth Ditto Is Launching A Plus-Size Line + Jean Paul Gaultier Is Involved
oh, and people are kind of mad about it
Beauty is diverse and diversity is beautiful, and yet there's a real lack of readily available fashion and beauty options for those who aren't white and sample size. Still, big (albeit slow) strides are being made to change that. This year, ASOS partnered with Gabi Gregg to showcase their Curve line, Nadia Aboulhosn collaborated with boohooPLUS to create budget-friendly plus-size collections, Rebel Wilson teamed up with Torrid to release a line of clothing targeted toward curvy women, and Christian Louboutin cast model Clémentine Desseaux as the brand's first plus-size face. And today, Beth Ditto announced that she is launching a line of plus-size clothing by releasing her first piece, a T-shirt made in collaboration with Jean Paul Gaultier. 
The line, which drops in February, is not Ditto's first foray into plus-size clothing design. The singer released a collection of sequined, printed, and generally ornate clothing for British high-street brand Evans back in 2009. This time, Ditto will create vintage-inspired pieces featuring custom prints, embroidery, and silks.
While the collection seems promising, people are not too thrilled about her first piece, particularly in regard to the fact that it's an oversized, "shapeless" shirt with a graphic of a corset on it, which some believe "comment[s] on how fat she is," as one Jezebel commenter puts it. Although it's certainly not body-conscious, it is just a T-shirt. But should the first garment that Ditto released celebrate shape and curves? Or should it be whatever the badass singer chose to release? Whatever the answer, it doesn't change the fact that she picked this $165 shirt, and come February, you can shop the entire line at bethditto.com.
photos courtesy of beth ditto