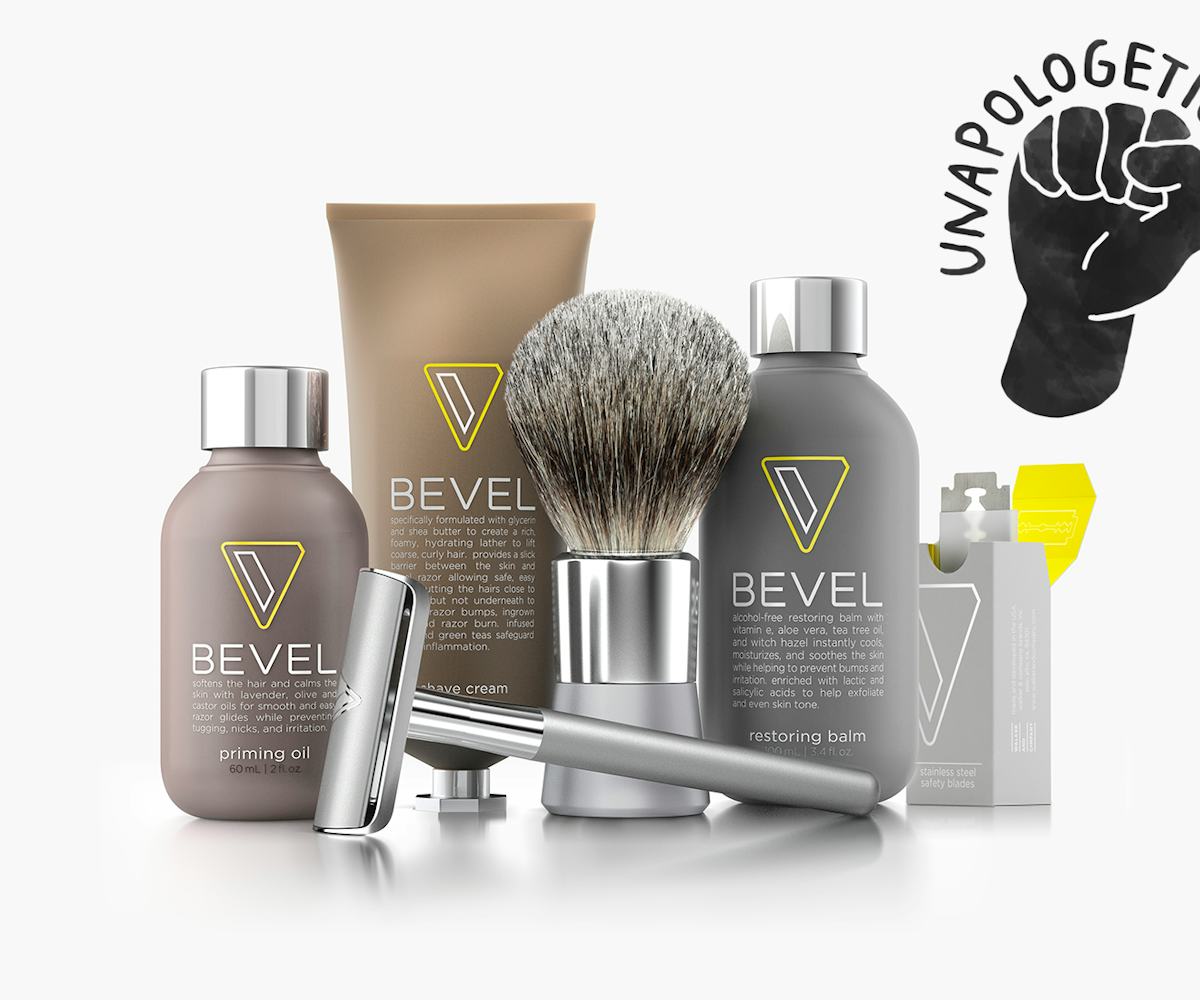 Photo courtesy of Bevel
How Bevel Is Diversifying The Shaving Experience
PoC-approved products to stock up on
In celebration of Black History Month, NYLON is running a spotlight series called UNAPOLOGETIC. Every day, we'll celebrate different aspects of black culture through profiles, interviews, roundtables, reviews, videos, and op-eds. #Blacklivesmatter and we hold that truth to be self-evident.
For the past 10 years, I have been a victim of shaving. My body has suffered from a decade's worth of burns, nips, and cuts at the hand of disposable razors. Deciding to change the way that you shave is a complete lifestyle adjustment though. You are literally breaking away from a pattern that has been ingrained into your memory for a huge chunk of your post-pubescent life. When I started maintaining a budget, certain items had to get cut out of the equation. Shaving cream was one of the first things to go on my list because I never felt like it made a difference in the hair removal process.
I'm not proud to admit that I tend to go a long time before changing razors. I've always made sure to disinfect my Gillette Venus Women's Disposable Razor with alcohol after using it because of the bacteria that can build, but I used the same razor for about a month. (Note that most companies claim that their razors last up to four weeks.) So, switching to razor blades was going to be a big transition. In addition to re-teaching yourself how to use them since the consequences are more hazardous, it's a huge investment to make financially. But after watching the full-on transformation of my co-worker when she upgraded to a 14-karat gold razor, I felt inspired to give blades a whirl.
My browser history must have been doing some serious creeping because I kept seeing advertisements for Bevel on Facebook. The brand is a branch of Walker & Company, a Palo Alto-based start-up founded by CEO Tristan Walker that is diversifying Silicon Valley with its mission to "make health and beauty simple for people of color." Bevel offers premium grooming products and services that claim to reduce razor bumps and skin irritation. The razor is specifically designed for men and women with coarse and curly hair. The brand is also endorsed by entertainers like Nas and DJ Khaled who are big fans of the trimmer, which is meant to be a barber's best friend. (Not to mention that Magic Johnson, John Legend and Google Ventures are also investors in the brand.) 
After testing out Bevel's Starter Kit (which is totally worth the price), I honestly can't revert back to the way that I used to shave. My old routine consisted of me doing a quick shave at the end of my shower with soap, which typically took five minutes or less. Now that I have a lavender-infused oil and aloe vera-based shave cream at my disposal, I take the time to moisturize my skin before, during, and after the process. As a result, my body has never felt smoother from shaving. Since I don't shave as often or as many areas as I did when I was a teenager, it also makes perfect sense to toss a blade after every use. I'm still prone to stubble, but it seems like it takes a little bit longer for the hair to grow back on my legs, armpits, and bikini line. Practice makes perfect, and Bevel's six-part system is flawless.
If interested, you can also register for a three-month supply, which comes with a razor, brush, priming oil, shave cream, restoring balm, and 60 blades for only $32.90. Bevel also expanded its line to Target, and the Starter Kit is available to order on Amazon.
Bevel, Safety Razor, $49.95, available at Bevel.
Bevel, 20 Blades Razor, $9.95, available at Bevel.
Bevel, Priming Oil, $14,95, available at Bevel.
Bevel, Shaving Cream, $14,95, available at Bevel.
Bevel, Restoring Balm, $14,95, available at Bevel.
Bevel, Shave Brush, $29.95, available at Bevel.