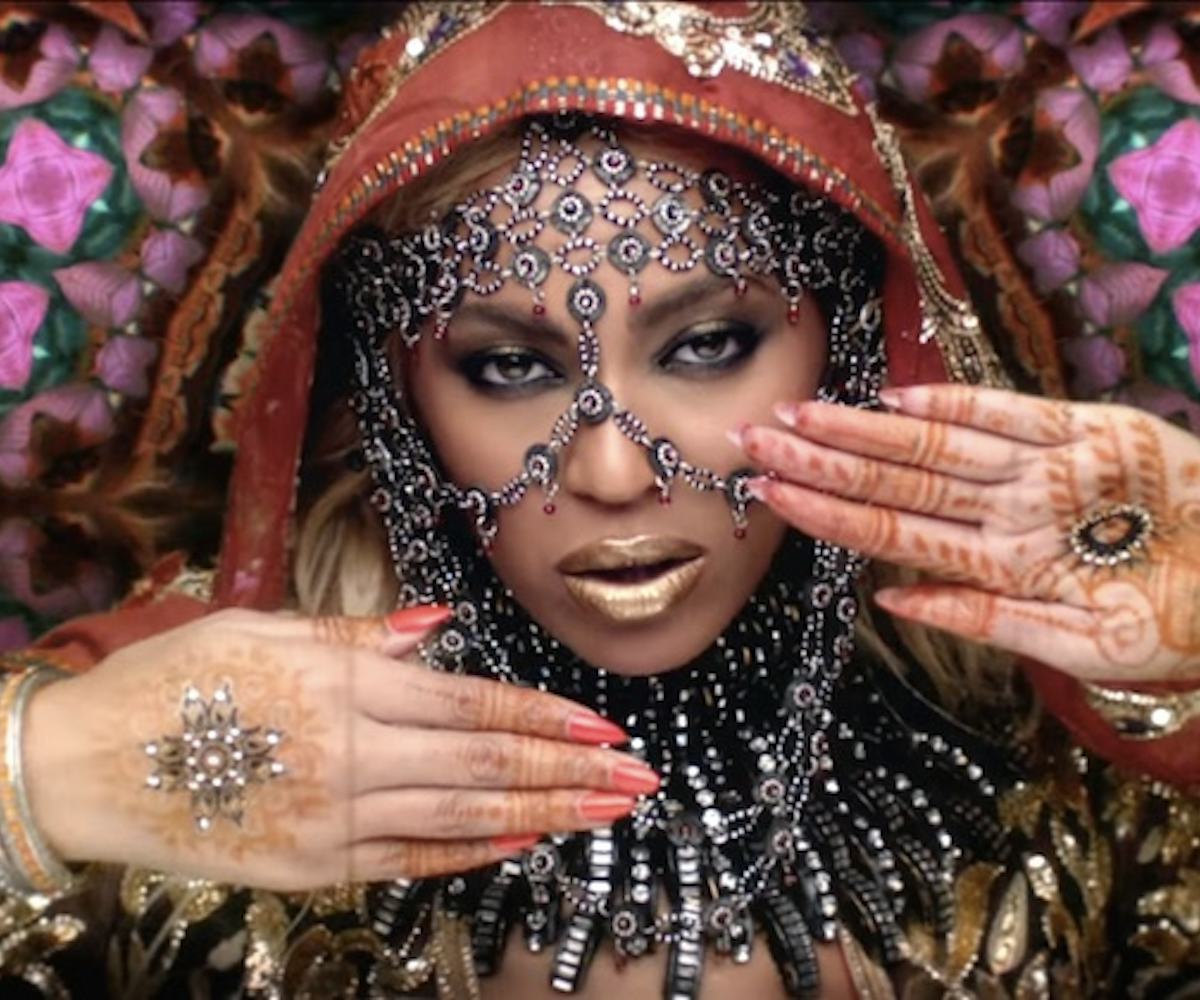 Photo via Atlantic Records.
Is Beyoncé + Coldplay's "Hymn For The Weekend" Video Cultural Appropriation?
First, off, it's not up for debate that the Coldplay video "Hymn For The Weekend" featuring Beyoncé does absolutely borrow tropes and traditional imagery from Indian culture. Though it is set in Mumbai, there's more at play than location here. In particular, Beyoncé's appearance in the video—which you can watch here—either straddles or crosses that fine line between "appreciation" and "appropriation."
The reaction to the video has been immediate and mixed. Just take our very own Facebook comments section where some of you have voiced your displeasure with elements of what was released this morning. We, too, have our own questions and doubts (though our love for Queen Bey remains intact). In the end, though, it's only for individual Indians and members of the global desi diaspora to decide for themselves whether "Hymn For The Weekend" is an appropriate celebration of Mumbai, India at large, and the vibrant culture it birthed, or whether it's an inappropriate example of cultural colonialism. 
That said, we thought it would be interesting and maybe even valuable to reach out to some friends of ours who are not only of desi descent, but either musicians themselves or members of the BeyHive, for perspectives on what has become a controversial bit of pop-culture ephemera. Read on, listen, and then share your position in the comments below or on Facebook. We'll be reading.
Sanjey Ole, Vocalist And Recording Artist
"I actually love the video, it embraces the culture and I don't see it as offensive in my eyes. The attention to detail in the way it's shot is beautiful; the beginning and the end scenes are captured perfectly. Also the song in terms of lyrics go well with the video. Scenes like little Krishna hanging out on the steps and the Holi festival all have been captured very well without any offense.
"Compared to the Iggy Azalea "Bounce" video where the lyrics had nothing to do with any part of Indian culture and was just used and exploited without a purpose, every scene in this video had a purpose and message behind it. Beyoncé's role in the video is a little over the top in true Beyoncé style and I feel that she wasn't portraying the true essence of Indian women. Basically she could have simplified her costume instead of making her out to be in the form of an Indian bride/Goddess. Sonam Kapoor's role and outfit was much more appropriate in the way they capture the true essence of Indian women. Chris Martin and the rest of the Coldplay members blended in with the video and story whereas I feel Beyoncé didn't unless that's what the director was trying to go for. Overall it's a seriously stunning video with amazing cinematography shot to perfection!"
Kashif Khan (aka Rootkit), Recording Artist
"I think they portray the culture in a cool way from a lot of aspects and the video has a fun, happy vibe to it. While I do understand some may misinterpret the intention of the video and clothing style in its context, it was meant in no harm. It might be a bit overdone and misleading for some, but far from any way that will have a negative impact on how the culture is perceived."