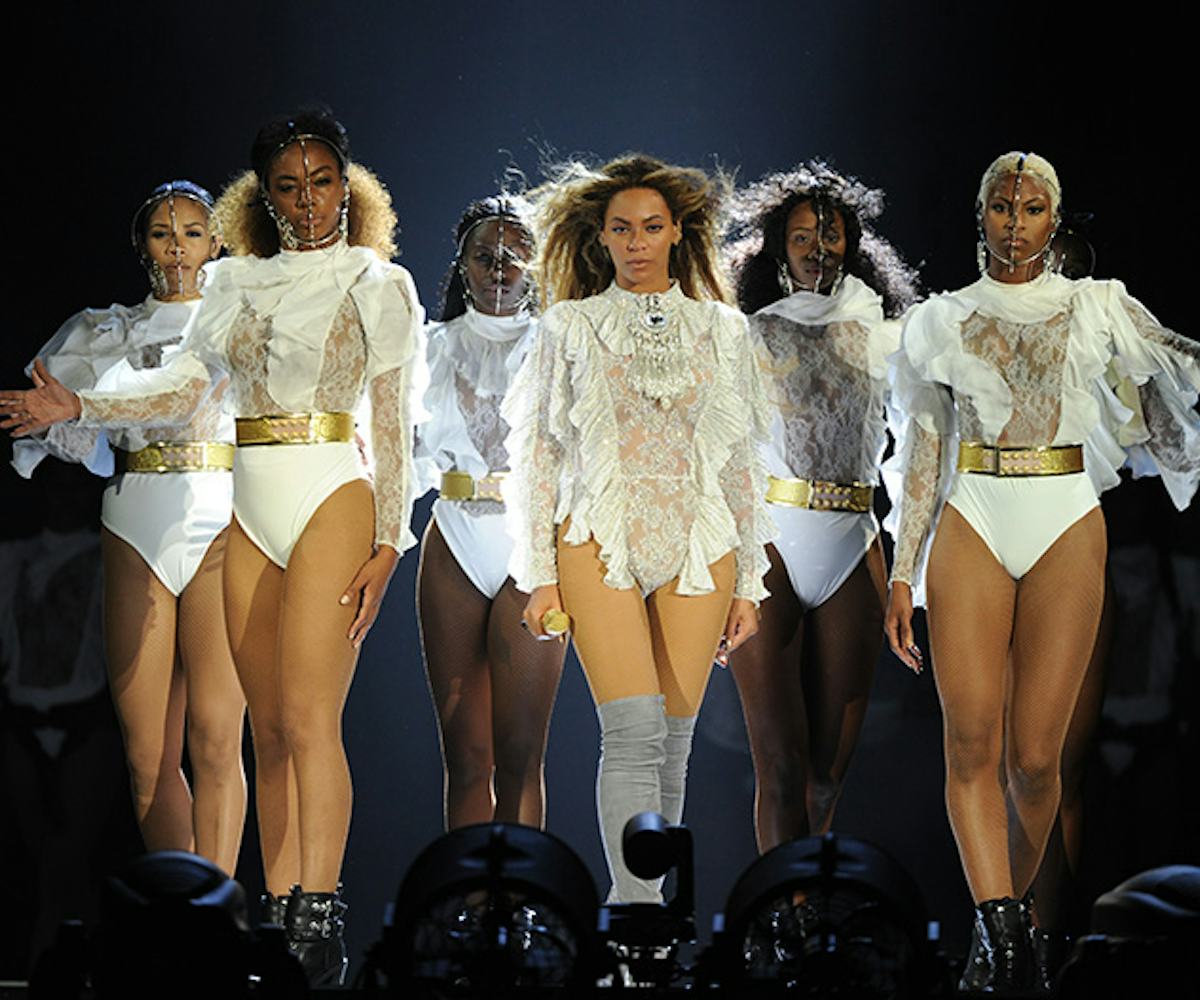 Photo by Frank Micelotta/Parkwood Entertainment via Getty Images
Did Beyoncé Steal Her 'Formation' Tour Choreography?
Okay, ladies, now let's get information
Beyoncé's Formation World Tour kicked off this week in Miami to loud praise and cries of plagiarism. Marlyn Ortiz, a professional dancer and trainer to Madonna, accused Beyoncé of stealing the choreography from smaller productions, like "De La Guarda" and "El Descueve."
In an Instagram video from the tour, Ortiz writes, "You stole from @breakingsurface you stole the stomping from #delaguarda @fuerzabrutanyc." She continues to say it's okay to be inspired, but urges Bey to "at least make the effort to make it your own." The snarky hashtags that follow read "#hideyourideas #hideyoureightcount #hideyourwater #hideallfrombeyonce." 
A video of the performance Ortiz believes Beyoncé plagiarised from was found, and the similarities are loud and clear. The comments beneath Ortiz's Instagram echo her frustration and call for the respect of smaller creatives. Of course, this isn't entirely Beyoncé's doing. She is an institution, and if someone on her team, say her main choreographer Frank Gatson, creates a number inspired by something he sees, she'll be held responsible. Now, it's not widely known, but Beyoncé is a fan of "Fuerza Bruta: Look Up," the New York City sensation done by the same company that did "De La Guarda." Page Six reported that she was seen learning the show's choreography when she and Jay Z attended a performance in 2009. That's not much fuel for Ortiz's flame, but it's something when you consider this isn't the first time Beyoncé and her team have been accused of plagiarising choreography.
Her "Single Ladies" video was called out for being a Bob Fosse copy—something Beyoncé herself went on record to say was a big source of inspiration. Similarly, the video for "Countdown" was accused of plagiarising Antwerp choreographer Anne Teresa De Keersmaeker's work; "This is stealing,"she said in a 2011 interview with Studio Brussel. "Clearly, the ballet 'Rosas danst Rosas' was one of many references for my video 'Countdown,'" Beyoncé said in a statement following De Keersmaeker's comments. "It was one of the inspirations used to bring the feel and look of the song to life."
Beyoncé and her team have yet to respond to Ortiz's comment. Her track record suggests her team will, though. Commenters on Ortiz's Instagram claim there are credits to "De La Guarda" and "El Descueve" in the tour booklet, which other users have asked for photographic proof of. However, no such proof has surfaced yet.