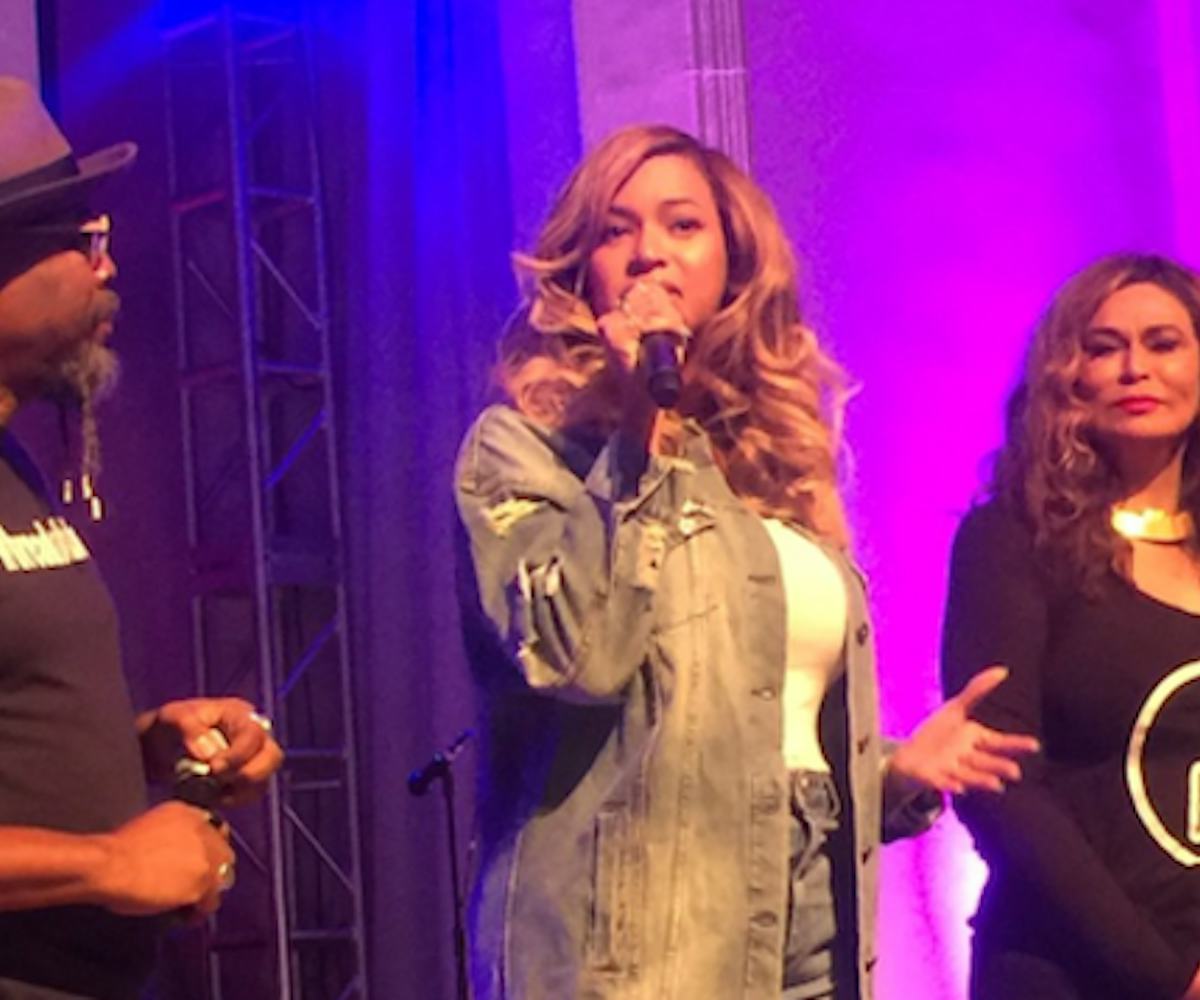 Photo via Twitter @Bey_Legion
Beyoncé Heads Home To Houston To Visit With Hurricane Harvey Victims
You know you're my saving grace
Beyoncé wasn't about to stand idly by while people in her hometown of Houston struggle to rebuild their lives after Hurricane Harvey. Yesterday, the singer visited St. John's Church, the very congregation she was a part of as a child, with her daughter Blue Ivy, mother Tina Knowles, and Destiny's Child member, Michelle Williams. Taking the stage on behalf of her foundation, BeyGOOD, Beyoncé told survivors, "Y'all are my family. Houston is my home. I thank God that you're safe, your children are safe. I think that what really matters is your health and your children and your family. I just wanna say I love you. I've been blessed so that I can bless other people and I ask of God to continue to do that for other people." The crowd appeared to be overjoyed by the singer's presence, cheering as she called Houston her home and shouting messages of love to her. You can check out a short video from Beyoncé appearance below.
It's clear that Beyoncé has been following Hurricane Harvey and has been working to support victims from the start. In addition to showing her support in the usual celebrity way—on Instagram not once, but twice—the singer was already working with BeyGOOD to put solid plans to help in place. Indeed, late last month, Beyoncé told the Houston Chronicle that she was working with her team at BeyGOOD as well as her pastor, Rudy Rasmus at St. John's church, "to implement a plan to help as many as we can." Rasmus told ET Online that the singer had already made a "...significant donation, and that donation is getting us to launch out into some areas that help us more effectively impact the communities that have been the most affected." 
Rasmus also shared how Beyoncé has never forgotten her hometown. He says, "She has, over the years, been very generous to our cause, and we continue to work together. She has been a huge benefactor to our efforts here in Houston, Texas." There is, undoubtedly, still years of work to be done before Houston returns to the way it was before the storm. And while Beyoncé, with all of her influence, can still only do so much in the face of this staggering natural disaster, her trip to St. John's Church and the work of BeyGOOD show that her love and support have already done so much to help survivors rebuild another day.