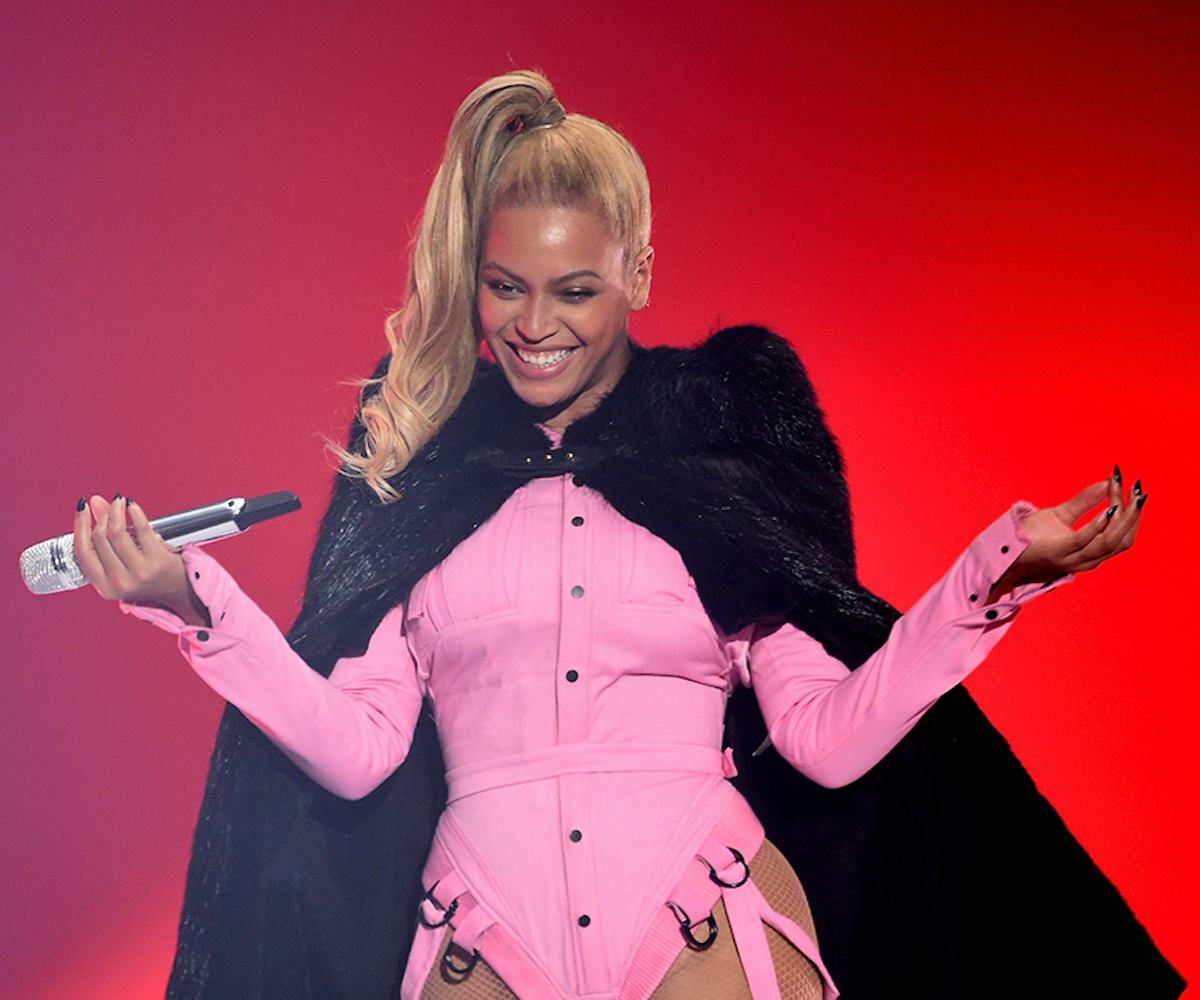 Image via Jamie McCarthy / Getty Images
These Are The Best Outfits From Beyoncé's 'Lemonade'
In addition to being Beyoncé's most emotional, political, literary, and overall groundbreaking work of art, Lemonade was a visual masterpiece, complete with—you guessed it—some fire looks.
Through the film, Bey chameleons into different styles starting out in a subtle, hoodie-and-no-makeup look before upping the drama with awe-inspiring gowns, killer Victorian looks, Southern gothic outfits, and even a simple tank top and jeans combo that accompanied the most unexpected yet best country song of 2016.
The most heart-stoppingly unparalleled look of the video may be the marigold ruffled gown by Roberto Cavalli, which was paired with a baseball bat and attitude of complete inhibition. She changed into a Yeezy bra and leggings set, accompanied by a Hood by Air fur coat for her most unapologetic track yet, "Don't Hurt Yourself." She also wore a Swarovski-embellished leotard by Sernafonte, bringing some lesser known designers into the mix. As a whole, the hour-long film showed the multitudes contained in the singer and proved that, yes, she can pull off literally any look. There may be nothing more haunting than the image of Beyoncé clad in a red lace Victorian gown, walking slowly away from a burning door. The symbolism! The fashion!
So, as you're recovering from the world-shattering viewing experience of Lemonade (and listening to it all over again on Tidal), check out the best looks in GIF form below.
Yaaaaaas.
A look that could kill.
Yeezy makes an appearance.
The finest suit there ever was.
Pure beauty.
So natural and fresh!
"Who the f—k do you think I am?"
Boy, bye.
A heart-stopper, for sure.
Incredible women.
He better call Becky with the good hair.
Simple and so, so pretty.
The most regal of looks.
Bey in glasses? Too cute.
Beyoncé here, just making some amazing country music.
The look that started it all.