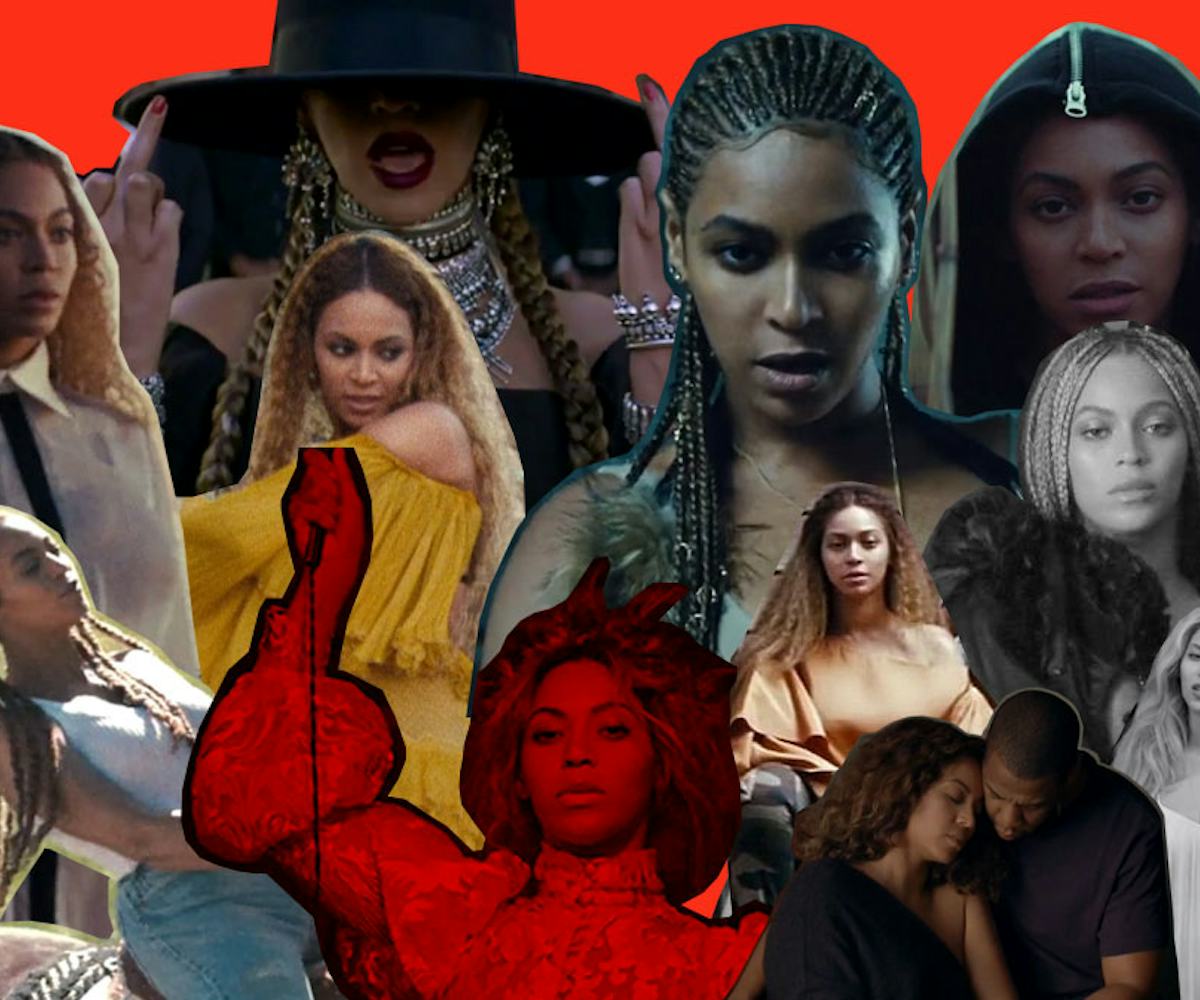 Here's How You Can Wear Every Look From Beyoncé's 'Lemonade' This Halloween
Halloween can be a stressful holiday for many. I mean, there's so much pressure about having the perfect costume because you only get to do this once a year. (Or multiple times, depending on how many parties you're invited to attend.)
Without a doubt, 2016 was the year of Beyoncé. She shut down the Super Bowl halftime show, and she made the world bow down at her feet when she dropped Lemonade in all of its black glory. Thus, it shouldn't come as a surprise if you see some variation of Queen Bey making her rounds on Halloween.
Given that you have almost four weeks to spare, we thought we'd make your shopping list a little bit easier by providing some affordable options for duplicating the many looks of Lemonade. For one night, the power of Beyoncé will course through your sugar-coated veins. (Not that we should need to warn you about this, but please, under no circumstances, wear blackface when dressing up as Beyoncé.)
There can only be one Beyoncé to rule them all. May the best Bey win!
"Pray You Catch Me"
All you need is a hoodie from Ivy Park! Thanks, Bey.
If you're trying to stay on a budget, though, cop this Nocozo long sleeve maxi dress with a hood from ASOS.
"Hold Up"
Not everyone can afford to splurge on a Roberto Cavalli dress from Peter Dundas's fall 2016 collection.
The cheapest baseball bat on the market is this Louisville Slugger bat from Dick's Sporting Good. (But if you want the real Hot Sauce, proceed here.) Your best options are this WYLDR front maxi dress from ASOS or boohoo's Lana ruffle off-the-shoulder dress.
"Don't Hurt Yourself"
Let's face it, you're not about to blow your bank for a Hood By Air fur coat or a Lynn Ban necklace, and there's no chance that you'd be able to get your hands on a Yeezy bodysuit, leggings, and bra.
A faux fur coat from Zara will have to suffice. This is the perfect opportunity to snag some Ivy Park wear like this seamless racer bra and seamless capri legging, both available at Topshop. To finish the look, opt for these pointy toe cylinder heel boots from Make Me Chic and an ankh necklace from Tobi.
"Sorry"
There are many options when it comes to this song, in particular, so listen up ladies. The first requires black booties, tights, and a long-sleeved bodysuit made out of lace to snatch this look. (Originally, Queen Bey wears a Yousef Al Jasmi bodysuit and Givenchy boots.) Forever 21 has this cute bell sleeve lace body suit that you could rock with some sheer footless tights from Urban Outfitters and these Cayden heeled sock boots in black stretch from Public Desire.
The second look would be channeling your inner Nina Simone and finding a black leather bra—because we know you're not shopping at Zana Bayne for a one-night fix—and some earrings that look similar to Maxior's.
This jacket from Nike is similar to Neil Barrett's suit, and you can pair it with these SPANX camo leggings. Good luck finding a jumpsuit with a pattern similar to Gig Couture's.
"Six Inch"
Unless Zac Posen is letting you borrow one of his white dresses, think again.
You won't be wearing a Nicolas Jebran dress, but this contemporary crochet lace top from Forever 21 paired with a jump maxi sheer skirt from Nasty Gal will do. Add this floral crochet lace choker from Forever 21, find a red lightbulb, and you're good to go, girl. Please avoid arson activities at all costs, though.
"Daddy Lessons"
This one is so easy! All you need are a pair of light washed high-waisted jeans like these BDG mom jeans in vintage wash from Urban Outfitters and a white tank top like this 2X1 rib racerback tank from American Apparel. If you want to fully commit, maybe opt for a toy horse.
"Freedom"
The closest thing to a Maria Lucia Hohan gown is this Billabong "Behind the Sun" maxi dress from Nordstrom. Priced at $59.95, at least you can wear it again.
"Love Drought"
This is one of those costumes that could work for the whole crew.
We recommend a stretch shirt from H&M, a jump maxi sheer skirt from Nasty Gal, a satin tie from H&M, and a leather Obi waist belt from Express. Whether or not you choose to bring an inflatable pool to represent the water is for you to decide.
"All Night"
This is another great group costume, but we'll focus on Bey because duh. Bey's actual top was designed by Rosie Assoulin. Instead, you could buy this ruffle wrap long sleeve blouse from Topshop and these rewash camo pants from Tillys. 
"Sand Castles"
This would probably function better as a couples costume, but you can get away with anything black.
If you really want to nail the look, try this Natalie Crop Slash Neck Fisherman Jumper from Boohoo, Nike Pro Cool training shorts, and a pair of Samantha Readers faux reading glasses. In total, you're only spending $66. 
"Formation"
There are so many outfits you can borrow from this sequence, but you'll likely be able to reuse the pieces from the goth scene.
You can snag one of these Ecote hats from Urban Outfitters, a vintage silver metal bib chain necklace from Vipme, and a slinky Bardot maxi dress from Missguided. Add the etched plate statement necklace, ornate bangle set, and etched band ring set from Forever 21 to top the look off.