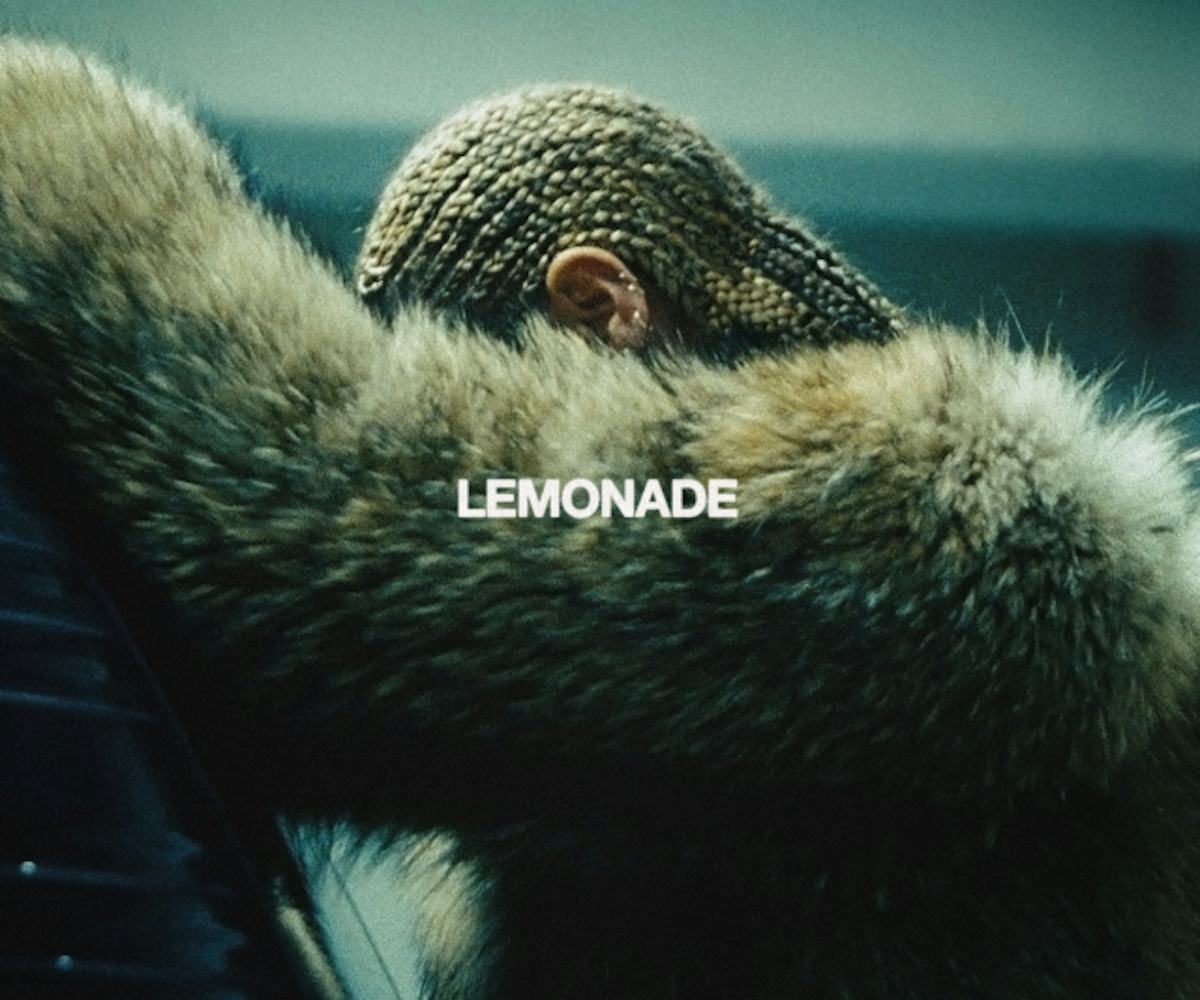 'Lemonade' Is A Love Letter From Beyoncé To Black Women
"The most disrespected person in America is the black woman…"
I honestly don't even know where to begin with Lemonade. Beyoncé has a tendency to drop things on us when we least expect it, and there's no way to prepare for what is coming. There are so many elements to unpack and I still can't quite find the right words to describe all of my emotions, but I suppose I'll start with the most glaring detail that is impossible to overlook: This body of work is dedicated to black women. 
If you're not black, that doesn't mean that you can't appreciate Lemonade for what it is—you're just not going to be able to relate to it, and that's okay because not everything is about you. As someone once said upon the release of "Formation," please take a seat on the sidelines and cheer us on from there. 
Within 12 songs, Beyoncé embodies a narrative about the complex struggles of black women. She presents these issues in the form of 11 parts that operate like the stages of a vicious cycle: intuition, denial, anger, apathy, emptiness, accountability, reformation, forgiveness, resurrection, hope, and redemption. All of this is woven together by the beautifully honest poetry of
. While the visual aspect of 
Lemonade
has a "Southern gothic" theme as it is set in the deep South, this is more or less what black feminism looks like in our minds. Beyoncé artistically shows what it means to carry the weight of the world on your shoulders when no one else is willing to help with the loads of depression, heartbreak, and anger that come with it. In those moments of darkness when we lose faith in society, Beyoncé encourages us to have the will to believe in ourselves and keep the hope alive.
A major stick in the mud has been the subject of infidelity, but that is not the point of this album—Beyoncé is not serving the public her divorce papers on a platter. Instead, she is forcing everyone to accept the truth—we are all flawed human beings. Unlike some of her industry brothers (Kanye West and Drake), Beyoncé declares that she is not a god and renounces the title. She does not want to be praised, she wants to be respected like all of us. Not only does she loosely examine her own marriage in "Sandcastles," but she puts her parents under a microscope as well in "Daddy Lessons." Relationships are complicated and some people will die trying to work things out, but Beyoncé is not one of them. 
While men are integral in the story of 
Lemonade
, they are not the main focus. 
asserted that Beyoncé uses men as tools and this is undeniably true—Jay Z does her bidding on camera while artists like Kendrick Lamar, James Blake, The Weeknd, Ezra Koenig, and Jack White provide their expertise on the tracks. As I listened to "6 Inch" and "Hold Up" which are arguably the most celebratory tracks, I found myself comparing them to "***Flawless" and "Jealous." While the nature of these songs in particular is strikingly similar, it feels like Beyoncé channeled an even more raw version of herself on 
Lemonade
. While we have never been exposed to it, we now know that Beyoncé can go from 0 to 100 and she doesn't hold it against herself. A woman scorned for love is sweet, sour, and everything else in-between—"ashes to ashes, dust to side chicks."
No matter who Becky is based on, she represents the bigger picture of black women being viewed as unbeautiful, undesirable, and unlovable. We are viewed as sexual objects; nothing more than exotic things that can be used. That line about her "good hair" is a micro aggression that still exists today, and is an introduction to
101. Beyoncé briefly nodded to this issue with "Pretty Hurts," but she really goes into it on "Sorry." The texture of black hair has never been a desired trait; it doesn't fit into the socially constructed Eurocentric beauty standards that we are still expected to follow. It's about black women constantly being made to feel less attractive than white women in all aspects. That's why the line hits deep.
The inclusion of young women like Quvenzhané Wallis, Amandla Stenberg, and Zendaya Coleman is a visual metaphor that you can be hit by the struggle at any point in your life, even during your youth. We will never forget the horror of 
The Onion 
jokingly
calling a 9-year-old Quvenzhané the c-word in a tweet or Giuliana Rancic's offensive comments about a 17-year-old Zendaya wearing her hair in dreadlocks or fans of 
The Hunger Games 
making racist remarks about casting a 12-year-old Amandla as Rue because she is black. (It should also be noted that Amandla identifies as queer and non-binary, and came out on their Tumblr. That said,
Amandla feels most comfortable using the pronouns they/them
, but recently wrote that
using she/her is not offensive
for the time being.) 
The presence of Blue Ivy is a constant reminder that these are children being taunted—they are babies while the people that cause them pain are grown adults. It's the notion that if you are black and female in this country, it doesn't matter how old you are. Nobody will hesitate to take you down, even if you are still an innocent child in bloom. The cameos of the mothers of sons that fell victim at the hands of police (Trayvon Martin, Eric Garner, and Mike Brown) could not make this message more clear, though
it has been pointed out that this might not have been the most appropriate place for them to appear
. 
Despite coming to terms with these dark realities, there are brighter moments in 
Lemonade
like when Serena Williams takes the throne in "Sorry." Here she is, twerking on her haters that have spat some of the most foul insults at her for decades despite the fact that she is one of the greatest athletes that has ever lived. When
takes the stage in "Freedom," you are captivated by the pure beauty of that carefree spirit. Between the African tribalism, witchcraft, and references to 
, this is literally
in the flesh. Beyoncé brought all of these different experiences of black women into one place and demanded that the whole world be silent for a moment and watch it all happen. The exploration of a variety of music genres also parallels the diversity of the black woman's experience: reggae, rock, hip-hop, country, pop, and R&B. There are so many tributes to the black arts and these are things that the majority of the "mainstream" audience will not understand, but can learn from.
When Beyoncé's self-titled album released in 2013
,
she showed the world that this is her stage, she controlled the spotlight, and she can do what she damn pleases in the name of feminism—we were puppets and she pulled our strings one by one.
Lemonade 
depicts Beyoncé at her most powerful and vulnerable yet, and it's honestly one of the most beautiful things I have ever seen. In the world of
Lemonade
, she creates an environment to nourish and protect black women—it is almost like a secret society, and I desperately want to escape and be part of it.
Of the few criticisms that trickled through my Twitter feed throughout the weekend, the one that bothered me the most was a claim that Beyoncé is at the point in her career where she can get away with making mediocre music and everyone will applaud her as a creative genius anyway. Nothing about
Lemonade
is mediocre—it challenges listeners and viewers to tap into the mindset of what it means to be a black woman in America, which has never been the norm for mainstream media. Ten years ago, I never would have expected to see the woman who dropped 
B'Day 
to grow into someone that is so politically, culturally, and socially woke.
For anyone that ever doubted whose "side" she was on, please do us all a favor and listen to this album with an open heart and mind. 
Lemonade 
is for black girls everywhere, and nobody can ever take that away from us. All of these anthems were made for us and belong to us. We don't need anyone else's permission to live our lives to the fullest. You slay, Bey.
"The most disrespected person in America is the black woman, the most unprotected person in America is the black woman." — Malcolm X