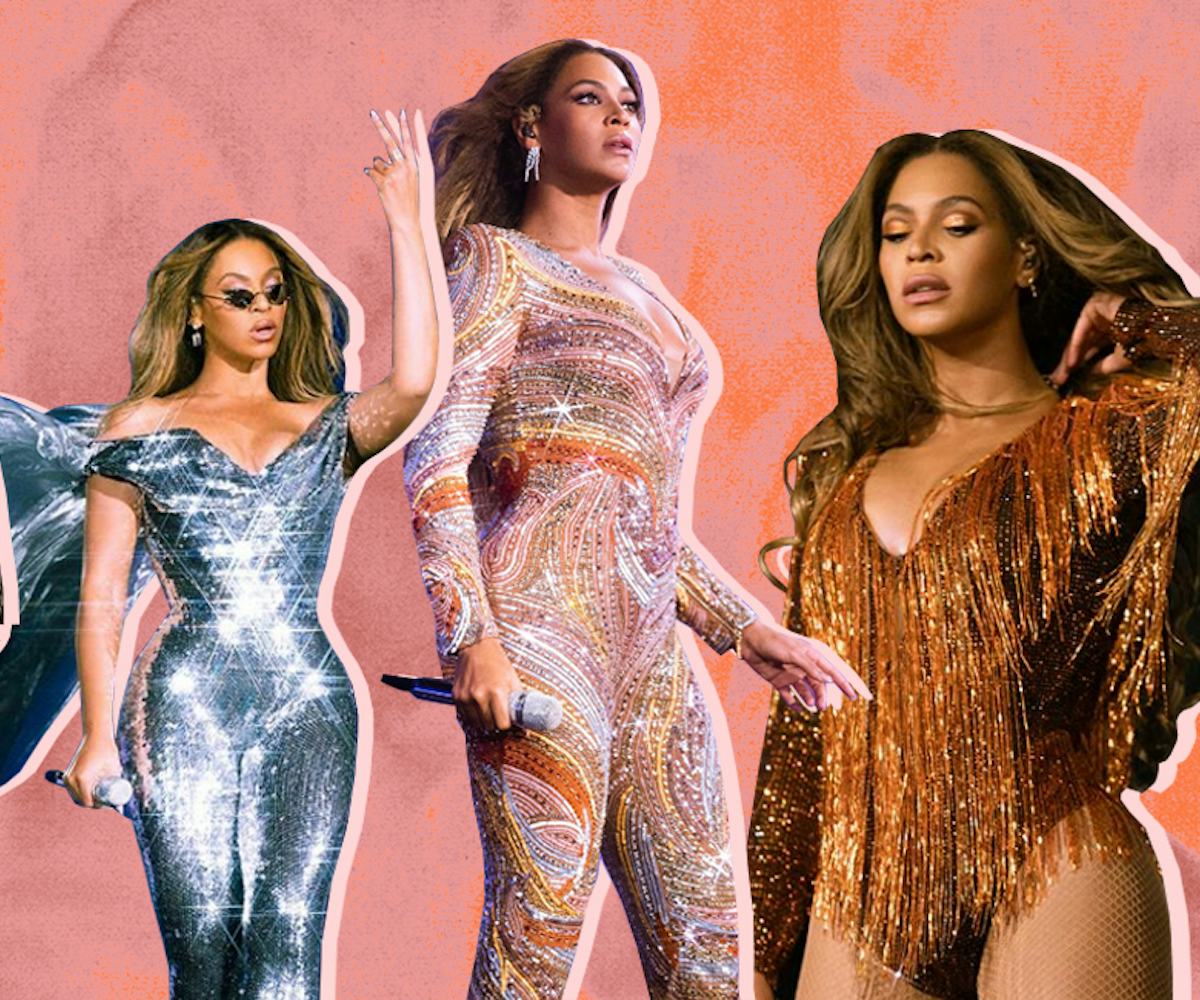 Photos Via @beyonce.
Beyoncé's Stylist Explains The Stories Behind The OTR II Outfits
And reveals a new Beyoncé alter ego: Sasha Fieroncé
Tina Knowles, aka Beyoncé's mom and biggest fan, wrote the other day on Instagram that the costumes from her daughter's On The Run II tour "are so awesome that they deserve their own concert." As anyone who's had the chance to witness the tour in person or experience it through social media can attest, this isn't just a loving parent gushing about her daughter. These costumes really are more than worthy of an additional spotlight—and, don't forget, Mrs. Tina created the costumes for Destiny's Child back in the day, so her opinion holds serious weight. Ms. Tina loved these costumes so much she wrote she even considered going to the last stop on the tour just so she could see them all one last time.
But who's responsible for these gorgeous looks? None other than Marni Senofonte. She's been styling the biggest pop star in the world for a couple of years now and is behind Bey's famous pregnancy shots and the looks from visual album, Lemonade. She also went on the road with Beyoncé for her last Formation tour. "I love that her costumes are an extension of the experience and emit some real emotional reactions," she tells us. "As if Beyoncé doesn't provide enough forms of entertainment." When she's dressing the singer for a tour, Senofonte says she's styling for a combination of Beyoncé and her alter ego, Sasha Fierce. A person she's dubbed Sasha Fieroncé. And Sasha Fieroncé is on a different sartorial plane than the rest of us. 
Sasha Fieroncé wears head-to-toe Dapper Dan x Gucci and custom Mugler. A gold sequined dress paired with a purple cape and the kind of tiny sunglasses that make you reconsider tiny sunglasses. "Every costume is essentially a piece of art," Senofonte says. "Countless people contribute countless hours constructing the costumes." Beyoncé has also added new looks as the tour goes on. Most recently, there was the custom silver Vivienne Westwood bodysuit she wore with a cascading cape that floated in the wind behind her as she moved, and a soft, angelic white tulle dress. And those are just the ones that make it to the stage. "It's always heartbreaking when the world doesn't get to see some of the pieces that were created for the show," Senofonte says, adding that it's been exciting to see new costumes come to life over the past couple of months. 
There are distinct differences between styling for something like a red carpet event which, Senofonte says, may require at most "a super-supportive undergarment, a lint brush, and some double stick tape." But styling for a tour—no, she corrects herself, styling for a Beyoncé tour—requires a "doctorate in engineering." She continues: "Beyoncé and her dancers move in ways most fabrics are not capable of withstanding such intensity. How do you make a fabric with absolute zero elements of stretch, stretch?" Well, where there's a Beyoncé vision, there's a way. And like with most things involving the singer, each person has a role, and each aspect of the tour is carefully calculated. "The creative team, which includes choreographers, art directors, stage designers, lighting designers, content creators, musical director, and more, essentially work as one in bringing her ideas to life," Senofonte says. "There's literally not one insignificant moving part." Not in Beyoncé's world, at least.
Senofonte says every single one of the costumes from the tour is her favorite (including some we've never seen), but we decided to pick out some of our personal standouts. Ahead, check out what we consider to be the best Sasha Fieroncé outfits from OTR II.