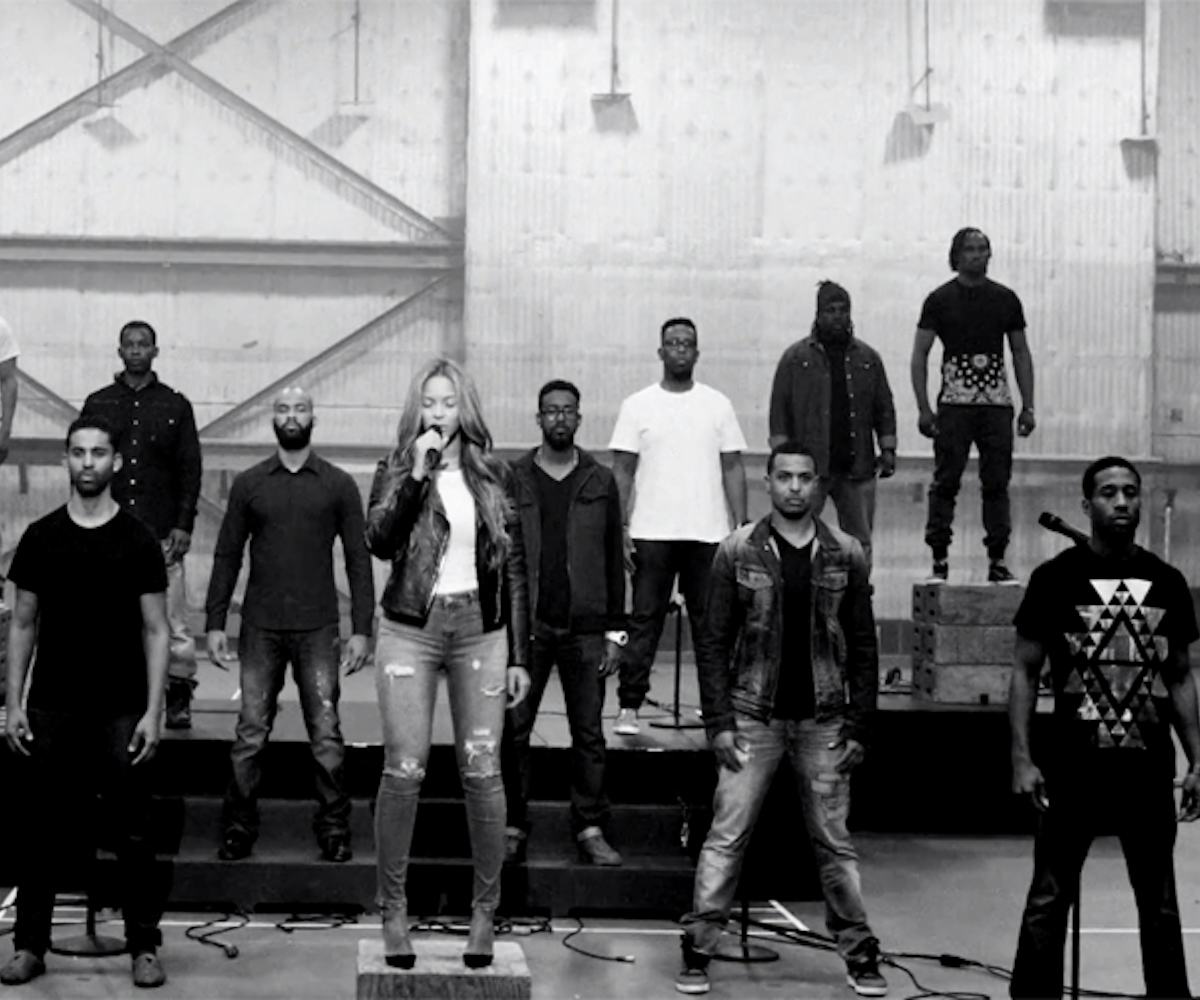 watch beyonce's grammys documentary
music to bring everyone together.
When Beyoncé performed at the Grammys last night, audiences may have been expecting a powerful performance of her newest song, "7/11", or at least something more along the lines of glamour she had shown us in the past. Instead, she performed a strikingly honest and raw version of the gospel song, "Take My Hand, Precious Lord," accompanied by an all-male choir.
In a short documentary filmed during the rehearsal for the performance, Beyoncé explains why she chose to perform the song, why she chose an all-male choir, and what she hoped the song would do for audiences.
Beyoncé talks about her first introduction to the song: Her mother showed her Mahalia Jackson's version when she was a young girl. Even as a child, she could see how the performance had a healing aspect. She then shares, "My grandparents marched with Dr. King. My father was a part of the first generation of Black men that attended an all-White school. My father has grown up with a lot of trauma from those experiences. I feel like now I can sing for his pain. I can sing for my grandparents' pain. I can sing for some of the families that have lost their sons."
Of the male choir, Beyoncé explains, "I wanted to find real men that have lived, struggled, cried, and have a light and a spirit about them. I felt like this was an opportunity to show the strength and vulnerability in black men."
In several personal interviews, some members of the male choir reveal the trials they endure simply for their race, sharing that "as a black man, you're viewed as a threat." This is a powerful message, especially in light of events like Ferguson and the death of Eric Garner. The documentary suggests that the ultimate desire for Beyoncé and the rest of the members of the choir in this performance was to use music "as a way to bring race together." Watch below.