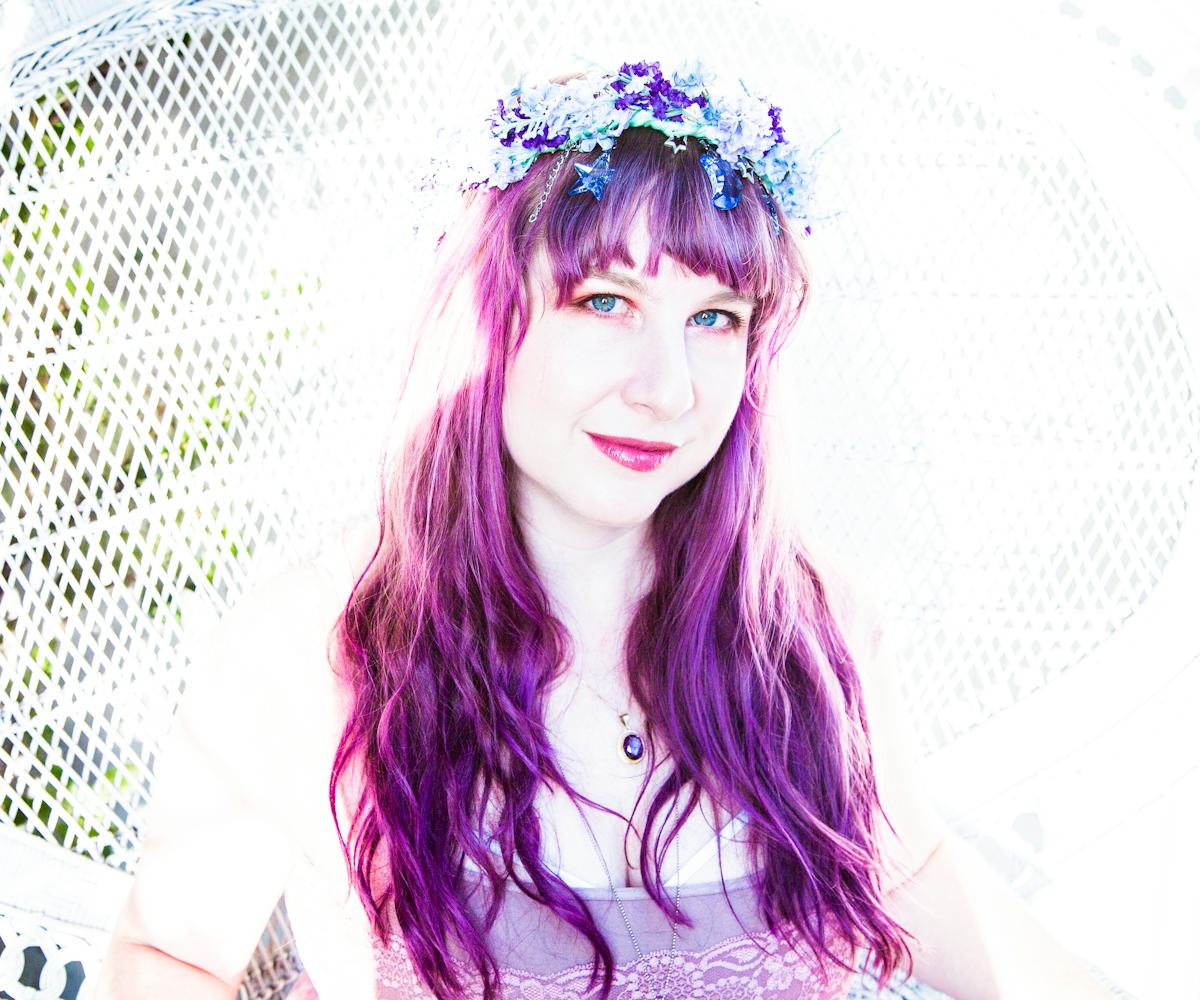 Photograph by Anousha Hutton. Cartoon by Art Dame Darcy.
Beyond Books Is Prepared To Revolutionize Reading
"It's my new bio now: Manic Pixie Dream CEO"
Involving star-crossed love, transatlantic courtship, and a dash of serendipity, the series of events that led to Pam Shaffer's creation of storytelling app Beyond Books sounds like the plot of one of the larger-than-life adventures the app often features. When the nightmare of immigration paperwork forced Shaffer to court her boyfriend—now husband—Alexander Nicholson via Skype for the better part of the year, the two bridged the distance by sharing their artistic passions. Her: the sprawling electro-pop she makes under the name Nyxe. Him: short stories featuring an ever-rotating cast of fairytale creatures. 
"Man, everyone should have a British dude reading them stories!" Shaffer recalls of their time apart. "I told him that, and he laughed. And he said, 'Everyone should have this pixie lady that plays the piano and makes up songs.'"
On a lark, the two combined their talents, welcoming an additional friend into the fold to create artwork. It was then that they discovered how difficult it is to publish words, narration, art, and music as one entity. To borrow a line from Goldilocks herself, no digital service was juuuust right. This proved frustrating when Shaffer and Nicholson had a specific story they wanted to tell, a feminist revamp of Rapunzel called The Hair Woven Rope. "Both of us just thought it was illogical that Rapunzel never said, 'Wait a second, I have my own means of escape,'" says Shaffer. 
Enter the hand of fate—or whatever the social media version of it is. After Shaffer took their quandary to Facebook, she discovered an old friend who offered his programming services in creating a unique platform that could be sold through the iTunes store and easily updated, providing artists—many artists—with a free range to create their literary and artistic adventures. Soon enough, thanks to word of mouth and the burning desire to create stories in which someone other than the "the unsuspecting white guy" saves the day, Shaffer found herself in a new role: project manager, manager, and CEO of a tech start-up with a growing stable of writers, artists, and musicians eager to contribute. 
"You have to be really passionate about what you're doing because you will lose friends and probably go insane for a little while when you're doing a start-up," she laughs ruefully, dashing the idea of fairy godmothers—or deep-pocketed investors. "The people that I still have in my in my life I hold very dear because they were very tolerant and supportive of me being like, 'I'm sorry I have to disappear for a few months and make a thing, but it's very important to me that I do this.' The friends that I lost were the ones that didn't want to hear about the thing or didn't understand why I would be so passionate."
Shaffer, a petite woman with purple hair and a taste for velvet dresses, initially found the traditional tech entrepreneur world tricky to navigate. She rolls her eyes at the memory of being called "Purple Pam" at a meetup, noting that even though the nickname was affectionate, moments like that do make her feel out of place.  
"There are men I've met that have been amazing in this field, but there's also men who are very patronizing," she says. "There's also the pre-conception that if you're a girl, you're going to get more attention simply because you're a girl… I feel like sometimes I want to wear a mask or paper bag over my head so that people will just judge me on the product. I want people to like the app because they like stories with music and art." 
Still, Shaffer wouldn't discourage any woman from start-up life. Two years in, her achievements are slowly mounting. Net-zero has been achieved—which means while Beyond Books has yet to turn a profit, she's no longer spending her own money. ("The fact that people are downloading our app in the first place, I'm like, 'Great!'") They've published a story from her childhood literary hero Francesca Lia Block, been wished well by Neil Gaiman (with whom she hopes to work one day), hosted a storytelling event in Los Angeles, and partnered with the nonprofit Writopia Lab with the goal of publishing several teen authors.
"I think people underestimate the impact of storytelling in their lives," she says. "Running through our heads all day is the story we tell ourselves about our lives. It's how we form our memories and how we inform our identity. The media we take in, definitely impacts that. I would like to create media that positively influences people's inner monologues. Or, at the very least, makes them think."
Shaffer laughs. The struggle has definitely changed her for the better. 
"It's my bio now: Manic Pixie Dream CEO."
Download Beyond Books here