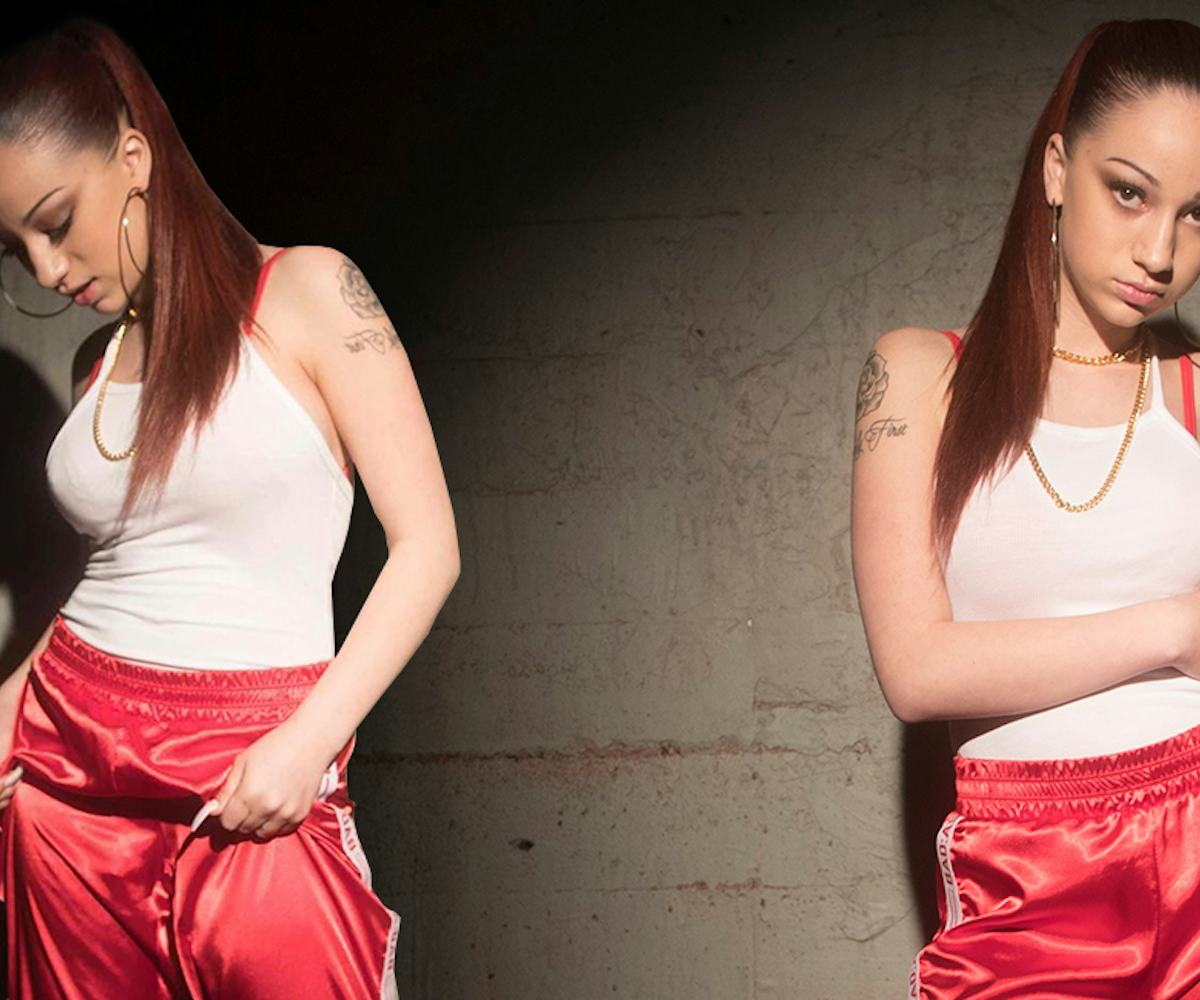 Images via instagram.com/bhadbhabie
Bhad Bhabie Has Some Advice She Wants To Give You
"Do what I do, but don't. You might fuck yourself, because you can't do it like me."
At just 15 years old, Bhad Bhabie is already well on her way to becoming a household name—even if that's not her real name. Born Danielle Bregoli, the self-christened Bhad Bhabie became a walking meme after her "Cash Me Outside" antics on an episode of Dr. Phil, but that 15-seconds of fame also gave her the chance to become the rap superstar she is today.
With her debut single, "These Heaux," Bhad Bhabie became the youngest female rapper to chart the Billboard Hot 100. It was Atlantic Records who cashed in on her talent early on, molding and developing her into an artist that could hang with the big dogs in the urban space. It's shocking to think "Hi Bich" was created after Bregoli's second visit to the studio; the single later went on to peak at #68 on the Billboard Hot 100.
What Bhad Bhabie fans love most is her explicit commentary and no-fucks-given attitude. Though she's moved from her native Florida to Los Angeles and struggled with having to fit within the confines of the music industry, she never falters from staying true to herself. With a cult-like fan base, Bregoli is just your average teenage girl making her dreams a reality.
We caught up with Bhad Bhabie recently, at her sold-out The Roxy in Los Angeles, on her first headlining tour with opener Asian Doll, and chatted with her about what she wants next from her career.
How has your relationship with your mother changed since the Dr. Phil episode?
We've been fine. Everything's always been fine. We just argue like every other mom and daughter argue—[we] just happened to be broadcasted on television.
You're only 15 years old, which is wild. Do you plan to focus your career on something else down the line, or is rapping you're main focus?
Rapping is my main focus, for now.
Do you have other side passions?
Not really. I don't know. [shrugs]
What do you want your legacy to be?
I just want people to remember everything. Even though people think, Oh, you should be willing to have people forget about the past. Oh well, t is what it is. I want people to realize if I can do it, anyone can do it. Don't be a hater, just succeed with me.
Your reaction to the XXL Freshman List is pretty comical. Lil Skies actually didn't show up for the shoot. What would you have done?
I would have done what everyone else was doing, acting regular as hell.
Who would you have liked to see on the cover?
I would like to see Skies on the cover. I get why he didn't show up, but I would really like to see him on the cover. Shit, I'd like to see 6ix9ine on the cover.
Can you talk about your friendship with 6ix9ine?
That man is just a character. He's a troll. He does this for a living. What do you expect?
Is it difficult being his friend with all the social media drama?
I'm not really, like, friends with him. We're just cool, I guess. I don't want no beef with that man.
Do you guys have any music coming?
Fuck no! One day.
How accurately do you feel the XXL Freshman List depicts hip-hop in this generation?
Horribly, it's so bad. There should've been so many other people on there.
Tell us about the record you have out with Ty$ and what that studio session was like.
I recorded it in Atlanta with K Camp. He co-wrote it with me. I was just like, "I want to put someone on the track." At the time, the first person I thought of was, I'm putting YoungBoy on this. So that wasn't going to work too well because of something that happened, and I was like, "You know what? I really fuck with Ty, and I feel like he would sound amazing on this."
You singing now, what's happening? Flexing them vocals?
Mmmm. [smirks]
How difficult is it? I feel like a lot of rappers are doing the singing thing.
Some people just can't do it. With me, I feel they auto-tuned my track too much, because I heard it before it had all the auto-tune on it. Whoever mixed it, I'ma stab them.
Didn't you get the final say though?
I don't think I remember. [laughs]
"Hi Bich" has over 100 million on YouTube. Did you foresee this going viral?
No, not at all!
>
How did it make you feel?
I was just like "Aw shit, alright!" 'Cause I like to just do shit. I like to experiment. So when it went, it was cool.
You're only 15 and you have 13.8 million followers on Instagram. How do you see yourself being a better role model for the youth?
I'm not really a role model, just don't do what I do. Do what I do, but don't. You might fuck yourself, because you can't do it like me.
You recently called out Capitol Records on your Twitter. Can you talk about that experience?
Oh, it was a joke! [I was] talking about some artist I didn't like. At first, I didn't realize that was the Capitol building. I've been living in L.A. for a year and a half and never realized that was the Capitol building until I read it. And I was like "Hey, you know that dirty ass building that you can see from Cahuenga?" Then I look over and said, "Oh shit, that's the Capitol building!" So we started clowning on it. I don't have anything against Capitol, but I was like, "Ay, someone needs to hire an intern, get a hot rag and soapy water, and scrub that shit." So we were walking again and we were talking about some artist, and I asked "Who are they signed to?" She told me Capitol and I said, "Yup, they're in that dirty ass building! Makes sense."
What is your take on the music industry?
This music industry is so fucked up! It's so fucked up. It's so messy! Like between labels, and other artists, and A&R, and managers—managers be the worst. And photographers, they are so bad! [looks at her photographer]
What did you do with your first advance?
I bought a car, then sold it a month later. [laughs] 'Cause I had no permits for it, I legally can't drive! And now people know who I am with this fucking fire hydrant on my head.
What car did you buy?
I bought a white Panamera. And then sold it, because I had no use for it.
How's L.A. treating you?
It's regular. It's just like whatever.
Do you plan on staying here for the rest of your career?
Yeah. Actually no, I want to move to Atlanta.
Me too! I'm curious, who are some of the artists you are bumping right now?
I'll tell you right now. [pulls out iPhone] My Spotify consists of… definitely Juice WRLD. Comethazine. Ty$. I've been listening to Lil Boat 2 lately.
"Count Me In" is a slap! That bass is crazy.
I'm in that video! You haven't seen it? Are you crazy? Wait, let me show you. [plays video on her phone]. I come out, watch. I'm in like the whole video.
Can you talk about working with Yachty?
Working with Yachty was so fun! I love that man so much! He's one of my favorite artists, but he's also my favorite person. He's so bubbly! He's just so funny.
Who's your dream collab?
Travis Scott.
What's a normal day in the life?
Wake up. It's been sunny outside lately, so I've been sitting out in the sun for a good 45 minutes minutes.
Getting your tan on?
You know! I got some lines going on. It is what it is. But yeah, I sit in the sun for a long ass time. Then I finally decide I need to go do something with my life, and I end up hitting the mall or studio or something. But that's only when I don't have shit to do, because sometimes I have to wake up at 7am to do radio interviews and shit. I only have days like that when I'm off tour.
What do you like to do for fun?
Get my nails done.
What if they're already done?
Then you get them done again.
What advice do you have for an aspiring Danielle Bregoli?
Don't do it. There's only one me.
How was that hot tub session with Amber Rose?
I loved it. I love Amber.
What game did she put you on?
She just told me good luck. She's like, "Do you, baby!" I ain't gonna lie though, she got a fat ass!