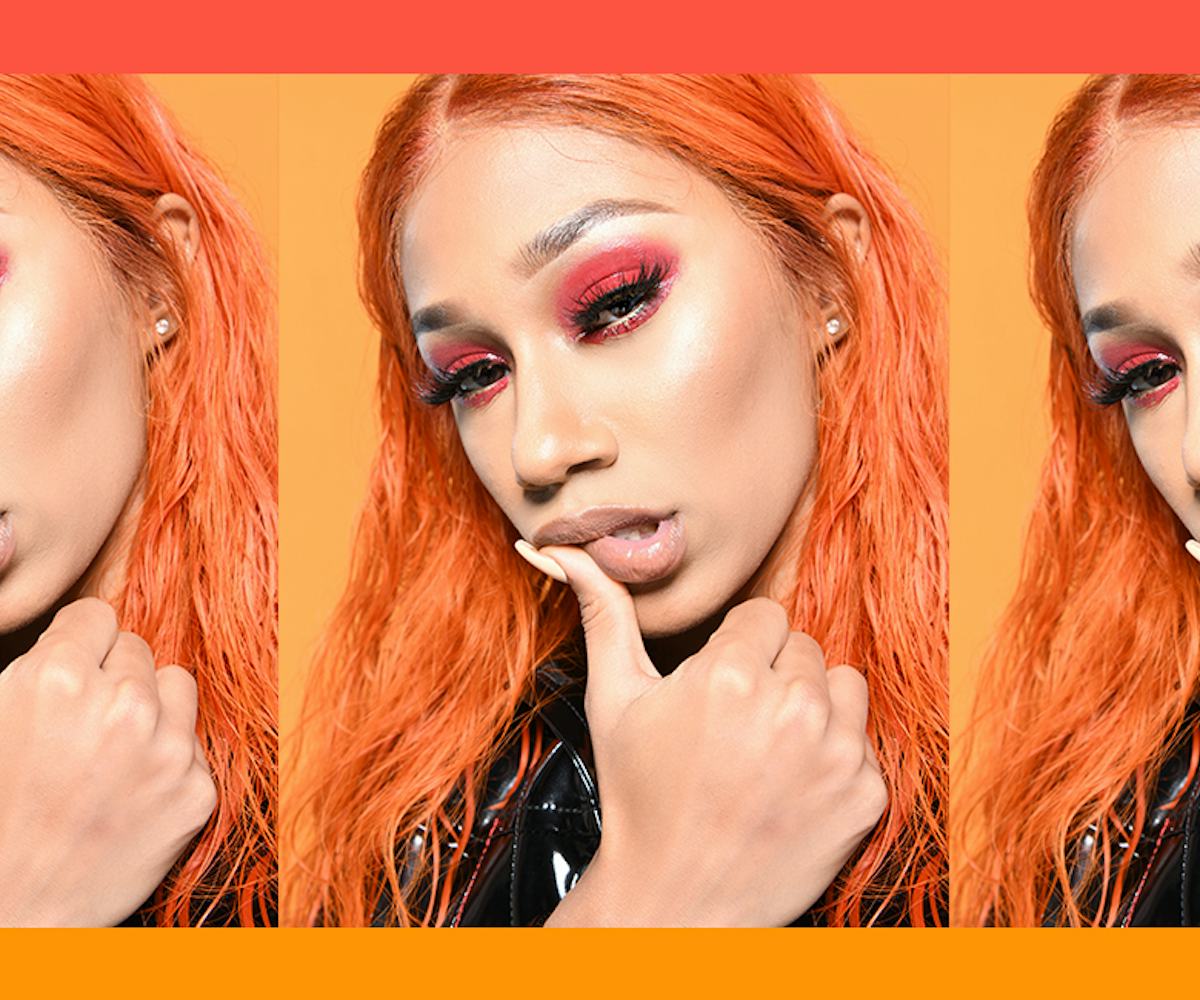 Photo by George Jonathan
Bia Talks About Her New Project, Touring With Ariana Grande, And Pharrell's Best Advice
'Nice Girls Finish Last' is out today
Bia, aka the Perico Princess, is here to represent female rap in the most positive light. The rapper, whose real name is Bianca Landrau, delivers her own definition of hip-hop, drawing inspiration from genres like rap, trap, reggaeton, pop, and R&B.But what does she have that most artists don't? Pharrell on her side. During their initial meeting, the legendary producer challenged Bia to write 16 bars on the spot, an offer which she fearlessly accepted and delivered on. Though she signed to Pharrell's i am OTHER label in 2014, it wasn't until two years later that she unleashed "Whip It" and "Gucci Coming Home," two records that propelled her into the mainstream.
Having toured for the likes of Ariana Grande and collaborated with music elites like J. Balvin, T.I., Jennifer Hudson, and Usher, Bia has grown to be a fan-favorite in the industry. As her experience has grown, so did her conception of what she wanted to accomplish, which led to her creating a whole new project and scrapping her slated debut, Trap Vogue.
NYLON caught up with Bia at OG King Louie XIII's studio in Downtown Los Angeles as she revealed her upcoming project, Nice Girls Finish Last, released today, September 21.
For those who don't know, who is Bia?
A boss-ass bitch. I don't really like to go into spiels about who I am. I'm a girl's girl. I represent women with everything that I do. That's really what it is. That energy has to really feed and resonate with other women.
Where do you fit in the realm of hip-hop and R&B?
It's crazy because I don't feel like there's a particular place I fit. I feel like I'm trying to create a sound in a lane that's not really existent. A lot of people do Latin music, a lot of people do R&B, and a lot of people do rap, but I'm trying to do a fusion of everything that's kind of organic and not really there.
You're from Boston; how does that play into your life and your career?
There's a wittiness that comes from being there. You're street-smart, but you're also real book-smart. I noticed that people who come from Boston are just different. Liberal, but tapped in.
How important do you feel it is to come to L.A. as an up-and-coming artist?
L.A. is like the last stop on the train. Basically, when you come here, you have to have your plan. You have to know what you want to do. For me, it was like a fantasy world. Moving to L.A., for me, was like, "This is not real life." Everybody lives in their own bubble here.
You've been in the city for almost a year now.What's your favorite part?
Aside from the weather, there's always something to do. You can get into so many things here. You can fall into so many opportunities that you would never have anywhere else, just from living here.
What does it mean to be the Perico Princess?
Perico Princess is a nickname that my friends gave me a long time ago. It's like the Cocaine Princess, but I don't do no cocaine. [laughs]
Talk about your journey in music. At what point did you realize that this was for real?
It's crazy because music will humble you. You'll have those moments where it'll feel like, Oh shit, this is real. And then you'll have moments that's like, Oh shit, what's going on? It's just entrepreneurship as a whole. It's a big roller-coaster when you're trying to find your calling and what that shit is for you. You're just trying to figure it out. It always felt real to me, because I've always taken it very seriously, but in terms of [feeling], Oh, I can really do this, that was probably when I linked with Pharrell.
You've been with them for a while now, talk about that.
They found me off YouTube and they just groomed me. They just nurtured me and kind of just helped me become who I am. I would've never really known who I was if I didn't take that leap and go find myself. A lot of people don't know themselves or what they're meant to do here. What I feel like I'm doing is bigger than me. I'm really like a messenger—this shit is so much bigger than me.
What does it mean to be signed to his i am OTHER label?
He's a creative-ass motherfucker. To be signed with somebody like that, you have to be multifaceted. You got to know how to do different things. You have to be willing to learn and willing to be better. It's just really pushing the boundaries with creativity and reinventing different sounds.
What's the best piece of advice that he's given you?
He gives me a lot of advice. He's a genius, so people always want to know, "What does he tell you? What's the juice?" Really, the best thing he's ever told me was to stay loyal to the pen. As long as you keep writing and keep creating, you'll keep getting opportunities and you'll keep making money. The minute you slow down and you stop… like a lot of people do music and then they forget what got them there. They're like, "Now I got some clout" or, "Now I have a hit record, I can do this and do that," but you have to keep doing it.
I remember I saw you perform at The Echoplex last year, that show was dope. What is it that sets you apart from other female rappers?
I feel like there is a lot of female rap right now. Female rap is in a good place. Music in general for women is in a good place. But I like to have a really high-energy show. When I first started performing, my first tour was with Pusha T, and it was like a dry rap crowd. You had to really wow them with bars. You had to really show them, okay, no I can rap for real. So going from that to seeing people that I really like seeing perform—like Travis Scott or Tory Lanez—different people that I'm like, "Oh, they really turn up!" Their performances are crazy. I always wanted to have some shit like that, something that felt like a crazy performance from a girl.
I saw your post that said you're doing it for all the women to "make them feel something." How are you a role model for them?
I really just want women to take no shorts. I feel like a lot of shit is set up for us to take shorts and deal with what the fuck the cards are given. I get so many girls that write to me on the daily like, "Oh my god, I broke up with my boyfriend. Bitch you give me life." I just want to make them feel powerful because I didn't have nobody that really made me feel like that. Like, "Bitch you're powerful, go fuck some shit up!"
"Whip It" is a banger. How has your sound evolved since?
It's actually one of my favorite songs for me.
"Gucci Coming Home" is my favorite.
You're going to like some new shit then! I feel like it's evolved because I have so many different fans now, from going on so many tours, etc. I got the pop fans from Ari(ana Grande) and J Balvin is the Latin fans. It made me start to make music in a different way. I stopped thinking about one target audience, and I started to think, Let me just make world music. Let me make something for everybody.
You were supposed to release Trap Vogue last year. What happened?
I scrapped it. I was going to release it with "Gucci Coming Home" and all that stuff, and I went on tours back-to-back, so my schedule just got really hectic. After coming off those tours, I was just so inspired that I didn't feel right putting it out. I was like, "I can't put this out, it's incomplete. It's not done." So I merged basically that and a couple other things together.
What is the concept behind Nice Girls Finish Last?
Exactly that, don't be too nice. [laughs] Don't be too sweet because nice girls finish last.
Any features?
Yeah, it's a couple on there. Some cool ones, man, I just want to let it be a surprise. But it's some girl shit up there. I got some homegirls. Some girls that's doing some dope shit.
There's a song on there with Kali Uchis, who I fuck with. I'm on her album, too, we cut up a bunch of songs. We were cutting up for a little while. There's one on there from her that I really like, and then there's some shit on there with Lil Bibby. He's so fire. He hasn't been rapping that much lately, so I'm blessed to have them on there and be a part of that.
What is your take on the music industry?
It's a clout circus. [laughs] No seriously. It's just weird. I mean, I'm grateful for the fact that you don't need to be famous to make fans. With the internet in the music industry now, you really can go make your own fans and be your own shit without anybody. You don't need all that shit you needed back in the day, like you needed somebody to cosign you, you needed a major record label. Now, you just need the audience.
How important is social media to your career?
It's super-important because social media is the only thing that is a direct connection between me and my fans. Social media is almost like they can call me, like I know exactly how they feel. They don't let me forget it.
What did you do with your first advance?
I love this question. My manager, Fam, he sat me down and was like, "Listen. I fucked up my first advance and I just want you to know, don't do that." I can't say what he did with his first advance. [laughs]
Honestly, when I got my first check, I was in the mall taking my little sister to go buy sneakers or something for school. I had just checked the bank and it was like, "You have blah blah blah." I was like "woopty woop." I just bought all my friends that was really fucking with me something nice. I was just like, "Buy what you want." I took care of my family and my mom, but I didn't really go crazy. I didn't go and buy cars or buy watches and shit, even though I really wanted to. I was just like, "Let me save and be a little smarter with it."
What did you learn from touring with Ariana Grande?
Oh man, I learned a lot from her. Nobody works harder than that girl. She works hard as hell. She really showed me that there's no ceiling. Whatever you think your career is today, it can be something completely different tomorrow. There's no ceiling. You can take the shit wherever you want. She is just such mogul, and she works so hard. To me, to see her work that hard and see where I'm at, she put a fire under my ass. I was like, "Oh, I gotta go a little bit harder, because look at her. She's way bigger than me and works double as hard as I work."
Three things that you need in the studio?
Weed, headphones, and I go in between a good engineer and good friends. Because you need vibes. You want a good vibe in the studio.
What would you be doing if you weren't doing music?
I don't know, because this shit really changed my whole life. I was just doing some dark shit, hanging out with people that weren't doing shit. I really don't know where I would be if I wasn't doing music.
Favorite song to perform in a set?
I always like performing unreleased music because that's the newest ship for you, so you get really excited. But as far as songs that I've done already, "FUNGSHWAY".
What's a normal day in the life?
What day? [laughs] My normal day, I come home at 10am. I rage. I go out.
What's the best encounter that you had with a fan?
I've had some amazing encounters with fans. My favorite fan—I don't want to say favorite because they'll get jealous—but I got this girl named Jaden. She's like eight years old and she lives in the Bay. She is my favorite thing. She brings me so much joy. She's a kid, so I'll be feeling like I don't know why she likes me so much, because I'm so uncensored, unfiltered. [laughs] That little girl man, she makes me feel like everything is worth it. I try to send her stuff every once in a while. For back-to-school, I sent her a backpack filled with a bunch of shit. I love her. Just to know that you can inspire someone so young, even down to some of my clothes. She'll recreate some of my looks and post them. She'll do videos dancing to my music, just like I can't even believe.
Who's the most played artists on your phone?
G Herbo. That's the homie. I fuck with Swervo.
What's your favorite song?
"Everything." It's not on Swervo, it's on the one before. It's featuring Lil Uzi, and Southside produced it. It's fire. You'll love it.
I love "I Like."
I got a verse for "I Like"! Maybe I'll leak it.
Dream collab?
Rih-Rih. I don't love no bitch like I love Rih.
Anything else you want to let us know?
I really just want to send a message with this shit. Before, I was making music just to make music because it was fun to me. But in the last couple years, especially being around women like Ari who really stand for something, it's made me go back to the drawing board and really tap in with women on a whole other level. And not on no fake women shit, because it's a lot of "women empowerment" shit. I just think that phrase is so tacky. It really has to be something different. I even go back to my videos now and think, How are we sending a message through this visual?