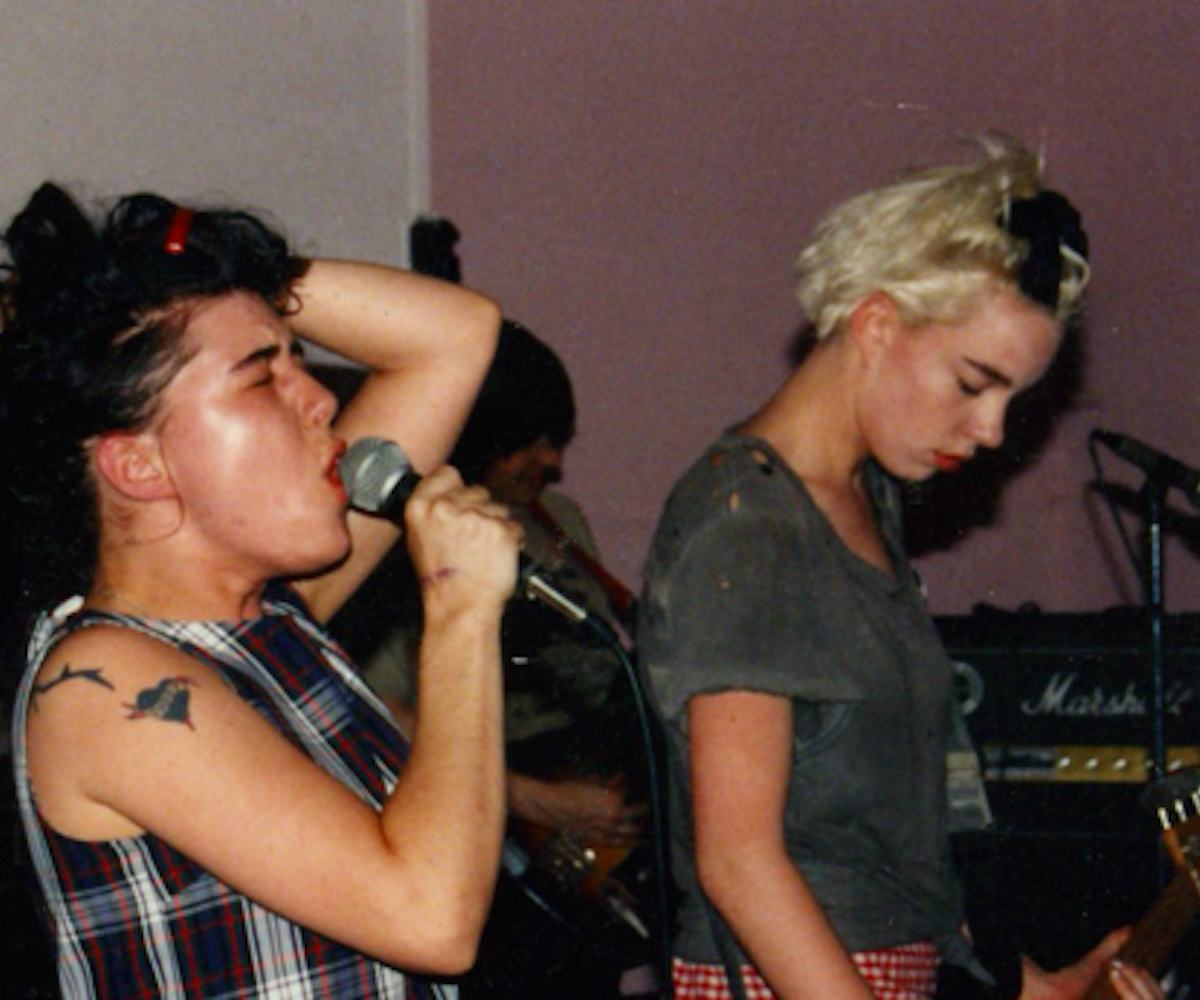 photo via bikinikillarchive.wordpress.com
How Bikini Kill Changed Music Forever
Their eponymous album celebrates its 25th anniversary today
Twenty-five years ago, Bikini Kill burst onto the music scene with their self-titled debut album. Decades later, even if you've never heard Bikini Kill's music, you've undoubtedly benefitted from their contributions to the underground punk music scene, both across the musical and cultural spectrum. The band (made up of members Kathleen Hanna, Tobi Vail, Billy Karren aka Billy Boredom, and Kathi Wilcox) is credited with starting the riot grrrl movement, which had a goal to make the punk rock music scene more female-inclusive. They also used their image to fight against mainstream stereotypes of women, including the problematic way our society is encouraged to view the female body. Song lyrics were filled with unabashed political messaging and shows were fiercely confrontational and unapologetic. The band's in-your-face attitude made it impossible for them to be ignored, and their mission caused a seismic shift in the mainstream music industry, even if the band itself remained somewhat niche (though it garnered fans with a cult-like devotion).
Hanna, the frontrunner of the band, was known for writing words like "SLUT" and "PROFIT" on her skin in lipstick and for taking her shirt off during performances (since guys could get away with it, why shouldn't she?). Hanna did this to show she had full control not only of her body but also of the words hurled at women who had been deemed socially unacceptable. Female artists were still expected to fit a certain mold, but Hanna took that mold and smashed it on the ground.
Bikini Kill strongly advocated for women to start their own bands and create their own media in order to counteract the male-dominated mainstream. They fostered a community that allowed women to share their experiences with each other, in order to create a means of positive understanding. Hanna is famous for calling "girls to the front" at her shows since women were often pushed to the back at punk concerts. She was also known to pass her mic around to female audience members so that they could share their experiences with sexual assault.
The riot grrrl movement may not seem so obviously necessary in the music industry today—women are increasingly being represented in all areas of production and are more and more present in genres which were once completely male-dominated. For this increase in visibility, we have Bikini Kill to thank. The band and the subsequent riot grrrl movement that they ushered in were an inspiring spark for countless other specifically riot grrrl musical acts, like L7 and Sleater Kinney, to more mainstream artists like Alanis Morissette.
More than just being musically important, there's little doubt that the way we currently interact with pop culture and political activism is heavily influenced by riot grrrl. Instead of being an anomaly, women musicians are expected to weigh in on the culturally and politically pressing issues of today. Think of the backlash Taylor Swift receives for refusing to take a clear stance on Donald Trump. And it was Bikini Kill that helped normalize women artists as being important voices in political conversations. 
Although Bikini Kill broke up in 1997, their ethos has only become more relevant with every passing year. With this current political climate and the never-ending sexist, racist, homophobic, and transphobic rhetoric that constantly spews forth from our society (including at its highest levels, i.e. the president), the riot grrrl philosophy is more important than ever as we fight against inequality. Women's rights, LGBTQIA rights, and immigrant rights are still not a given, and, in fact, being taken away by this administration. Bikini Kill would want us to be loud against these measures and to call out the micro-aggressions that anyone other than the white straight cis male has to deal with on a daily basis. 
The riot grrrl legacy lives on, then, through our political activism today. It lives on in protests and community organizing. And it lives on in music: L7 recently released their first song in 18 years, a scathing yet comedic commentary on the current administration titled "Dispatch From Mar-a-Lago." Girls to the front, forever.