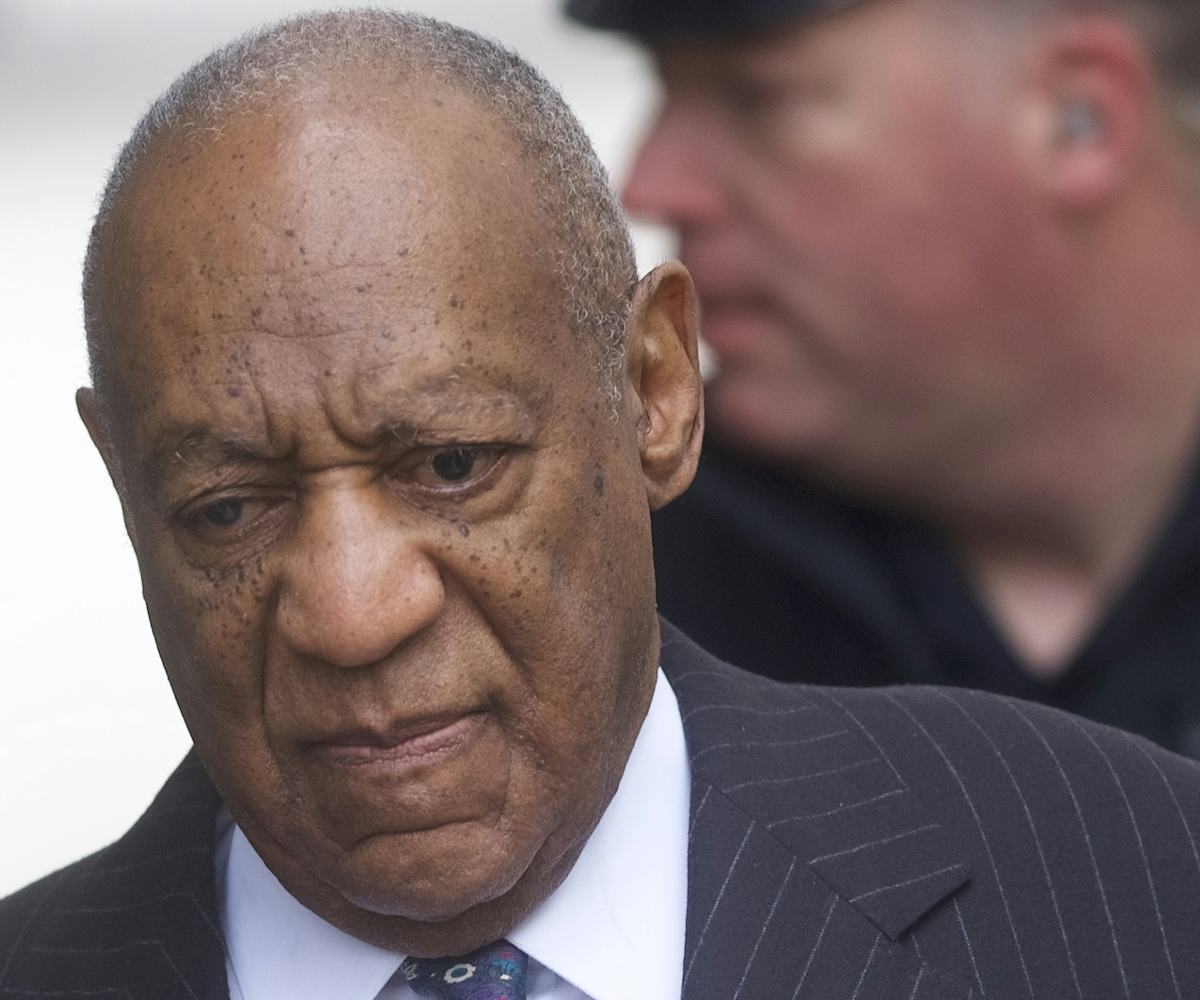 Photo by Mark Makela/Getty Images
Topless Protester Arrested At Bill Cosby's Retrial Was Former 'Cosby Show' Actor
Cosby stands accused of sexually assaulting over 50 women
UPDATE 4/9/18 3pm: The protester has been identified as Nicolle Rochelle, according to the LA Times. Rochelle has appeared in several episodes of The Cosby Show and told publications that she wrote the name of some of his accusers on her body. She said she did not intend to physically hurt Cosby, but that she "wanted him to feel my presence and to feel uncomfortable." Rochelle said that Cosby had never acted inappropriately toward her on the show, but she was "horrified" by the accusations. She has been charged with disorderly conduct.
A protester was arrested outside of Bill Cosby's sexual assault retrial earlier this morning.
According to NBC Philadelphia, the woman, who was topless and had the words "Women's Lives Matter" written across her chest, jumped a barrier and ran toward Cosby as he made his way to the Montgomery County courthouse for opening statements. She was also reportedly chanting the same slogan and accompanied by another half dozen protesters.
Over 50 women have accused Cosby of sexual assault. Currently, he is charged with three counts of aggravated indecent assault. Cosby stands accused of drugging and sexually assaulting Andrea Constand. He has maintained that the encounter was consensual and is pleading "not guilty."
This retrial comes after the jury was unable to unanimously decide on the charges and Judge Steven O'Neill declared a mistrial. However, Judge O'Neill is now allegedly letting both sides extend their arguments for this second trial. Five additional accusers, including model Janice Dickinson, are reportedly being allowed to testify in an "attempt to show Cosby made a habit of drugging and violating women," according to NBC.
According to AP, the protester was part of the European feminist group Femen and targeted Cosby "to call attention to sexual violence and the need to hold perpetrators responsible." Since the arrest, Cosby's spokesman called for increased security.