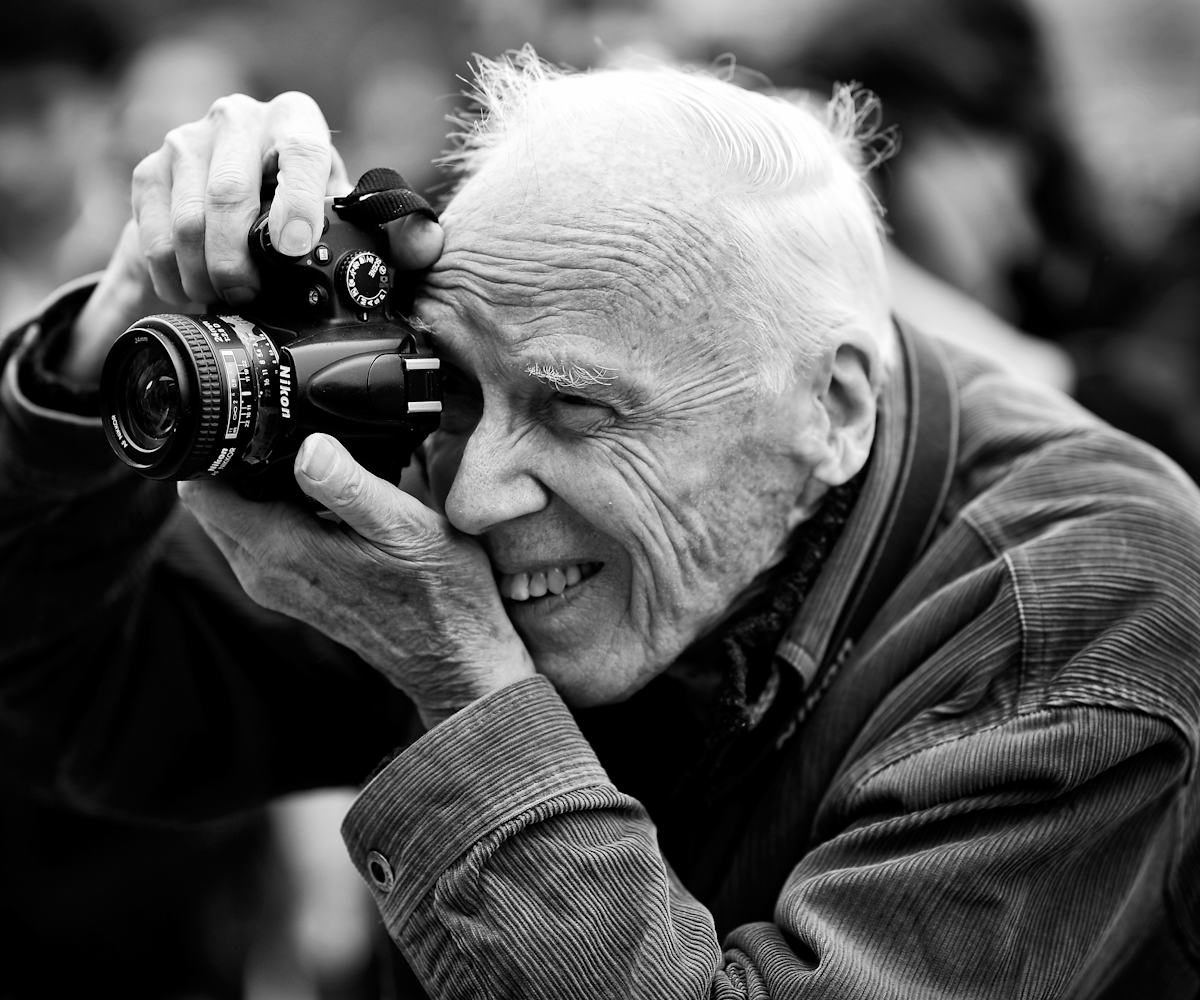 Photo by Gareth Cattermole/Getty Images
NYLON Staff Remembers Bill Cunningham, Fashion Photography Legend
What we'll talk about when we talk about Bill
Over the weekend, the fashion industry lost a legend.
Bill Cunningham, the iconic fashion photographer for The New York Times, was as famous for his utilitarian bright blue jacket and khakis as he was for his work itself. He had been documenting the shifting changes in women's fashion since the 1960s. He had worked as a staff photographer for The New York Times since 1994 and grew to be known and loved by all over the years, especially after the documentary Bill Cunningham New York gave us all a closer look into his humble and hardworking world. 
After hearing the news that the 87-year-old street style photographer had suffered a stroke last week, the entire industry was hoping for a speedy recovery. Sadly, Cunningham passed away on Saturday. Though our hearts are heavy, Cunningham's legendary works and documentation will live on. 
Below, editors at NYLON share their fondest memories of Mr. Cunningham, whether it was the first time they spotted his bright blue jacket in the fashion week crowds or the first time they were lucky enough to be captured by his camera.
Melissa Giannini, editor-in-chief
Over the years, I'd been to fashion shows here and there, but my first official NYFW experience happened this past February, as the newly minted EIC of NYLON (and also as a human whose "personal brand" might best be summed up as awkward and clumsy—my childhood nickname was Messy Missy after all). My initiation involved breaking my glasses in a panicked session of trying to clean the grime off of them and subsequently falling down a flight of stairs post-Lacoste due to a nasty combination of frozen toes squeezed into too-tight borrowed heels and not being able to see farther than a foot in front of my face. Needless to say, by the last day, I was bruised and tired but also inspired and excited to see the much-hyped Marc Jacobs show. I settled into my seat, cozily wrapped in a massive and supremely soft white coat. I was chatting with J. Errico, NYLON's fashion director, when out of the corner of my eye, I spotted an older gentleman in a blue jacket trying to get my attention. Wait, no, that couldn't be Bill Cunningham wanting to take my photo. But there he was, smiling and tilting his head—a polite and silent request for a few seconds of my time. We locked eyes, I smiled gently, and the scene around me, all glittery celebs and brilliant fashion peacocks, went even more out of focus. As he clicked away, J. whispered, "You can retire now." Suddenly, I wasn't an interloping pile of mashed potatoes perched in a fancy seat I didn't deserve. I belonged here, and this was just the beginning.
Dani Stahl, style director 
Having your picture taken by Bill Cunningham, there was absolutely nothing like it. It was the ultimate validation of any look. He was the true original street style photographer. I sat next to him at a cafe in Paris one time during shows, he called me child, and I almost melted, it sounded so kind. I didn't know at the time that that was his thing referring to people as child. He was a sweet, beautiful, talented man. 
Jenna Igneri, digital market assistant
I remember the first time I ever saw Bill Cunningham capturing snaps outside of Bryant Park while I was interning at the old Conde Nast building at 4 Times Square in New York. I wasn't even phased by the models, celebrities, and fashion tastemakers he was photographing, but was more starstruck to spot him running about in his uniform blue coat and camera around his neck. He was truly a legend.
Yasmeen Gharnit, web editor
Whether you've seen his work, watched the documentary about him on a late-night Netflix binge, or seen him riding through Manhattan on his bike, it's safe to say that Bill Cunningham wasn't only memorable—he was a legend. Like most people in the industry, I had the pleasure of watching him run around during fashion week, as well as finding him crossing street corners chasing after some special, odd outfit that caught his eye. He was the inventor of street style, but most of all, he was a purveyor of originality and individuality. He could care less about trends, which needless to say is refreshing—he cared about the wearer of the outfit, and there was always a certain pride that came with being shot by him. 
Two years ago, on Christmas Eve, my family and I were strolling along Fifth Avenue looking at department store holiday windows when Bill started taking pictures of us. Honestly, we weren't wearing anything special, so I'm not quite sure why he decided to pick up his camera, but it made my entire week. I fangirled and couldn't stop repeating, "Thank you, Mr. Cunningham." He smiled, wished us a merry Christmas, and walked away as humbly as always. 
Joseph Errico, fashion director
Getting shot by Bill Cunningham was the only picture that ever really mattered. It meant something. What you were wearing was "newsworthy." Whenever he shot my picture, I felt as though I could pack it in and go home—my work was done. Validated. It was an honor to be noticed by him, and I will miss the thrill of opening the Sunday paper and seeing myself included with all the fabulous people Bill captured. 
Irina Grechko, digital content editor
The first time I saw Bill Cunningham was during my first summer living and interning in New York, while I was attending a party on Governors Island. Young and unfamiliar with the impact that this legend had on the world of fashion and street style, I became keenly aware of a sense of the "sea parting" as an older gentleman in a bright blue blazer, with a camera around his neck, walked through the crowd. The people whispered and buzzed, making me wonder who was it that was in front of me until one girl bravely approached him and said, "I know who you are. I just wanted to say, 'Hello.'" Unknowing of who he was then, I had no doubt in my mind that I just encountered someone one of a kind.
It would be many years before I would interact with him as closely again. While this time I was more than aware of his contributions, and a fashion editor at a magazine, it wasn't the picture-perfect encounter, when you are dressed to the nines, that you hope to have with Bill Cunningham. While it was one of the last days of New York Fashion Week, I wasn't attending. I just found out that one of my photo shoots in Washington, DC, was moved to a day earlier, and I had to skip the day of shows to catch a bus to get there in time. Hungover and exhausted from the week filled with intoxicating fashion and lots of Champagne, I was running to the stop dressed in a chunky, oversized sweater thrown over silky pajamas. My hair was thrown into a topknot pile, my eyeliner smeared, and I was frantically pushing through the fashionably dressed crowd outside of a show in Chelsea, hoping to go unnoticed by all. With his hand raised, Bill Cunnigham slowed me down. Without saying a word, he snapped a photo of me, winked, and moved on. I wanted to approach him and tell him all the reasons why this was a wrong time to capture me, how fashionable I could actually be given different circumstances, and how I've been waiting for this moment to happen. But then, one of his quotes, "All the people who tell the truth are in the last rows," came to mind. I wasn't even sitting at the show, but here I was captured, as real as I would ever be, by the most fashion-forward mind of our time. Who was I to argue with that?
Marissa Smith, fashion market editor
I have two.
During February of 2010, I was interning at ELLE magazine when all of a sudden my boss, the assistant fashion editor, came in and said, "Marissa, go to the Nanette Lepore show, it starts in a half hour." Of course, I died inside as this was my first fashion show ever. Luckily, the Hearst Tower and Lincoln Square were only a few blocks away so I didn't feel too rushed. Once I got to the block, between the snow and slush that was still around from a previous snowstorm, I spotted Bill Cunningham. I froze, thinking do I approach him? Do I ignore and just freak out silently in my head? He was the OG of all fashion street style and, to me, a bigger celebrity than most. I decided to brave it, and approach him and ask for a picture (thinking about this makes me cringe now), and he was, of course, so nice and smiled big for a selfie. Meanwhile, I look horrible but who cares? I now have that to treasure forever.
This past winter, I got a text from our fashion director, J. Errico, just saying, "BILL CUNNINGHAM." At first, I was like, "Huh?" and then my mind automatically went to "Oh god, what happened to him?" To my surprise, I get a picture from J. with MY PHOTO in the Sunday Styles. I naturally started crying. It's such an honor to be photographed by him. I didn't even remember this happening, which is shocking, because if I had seen him taking my photo, I would have freaked out. But to be chosen and put in that section is a major life accomplishment for me. I naturally bought five copies of the paper, screenshot the website, and saved everything. It might be my biggest fashion accomplishment to date, or ever.