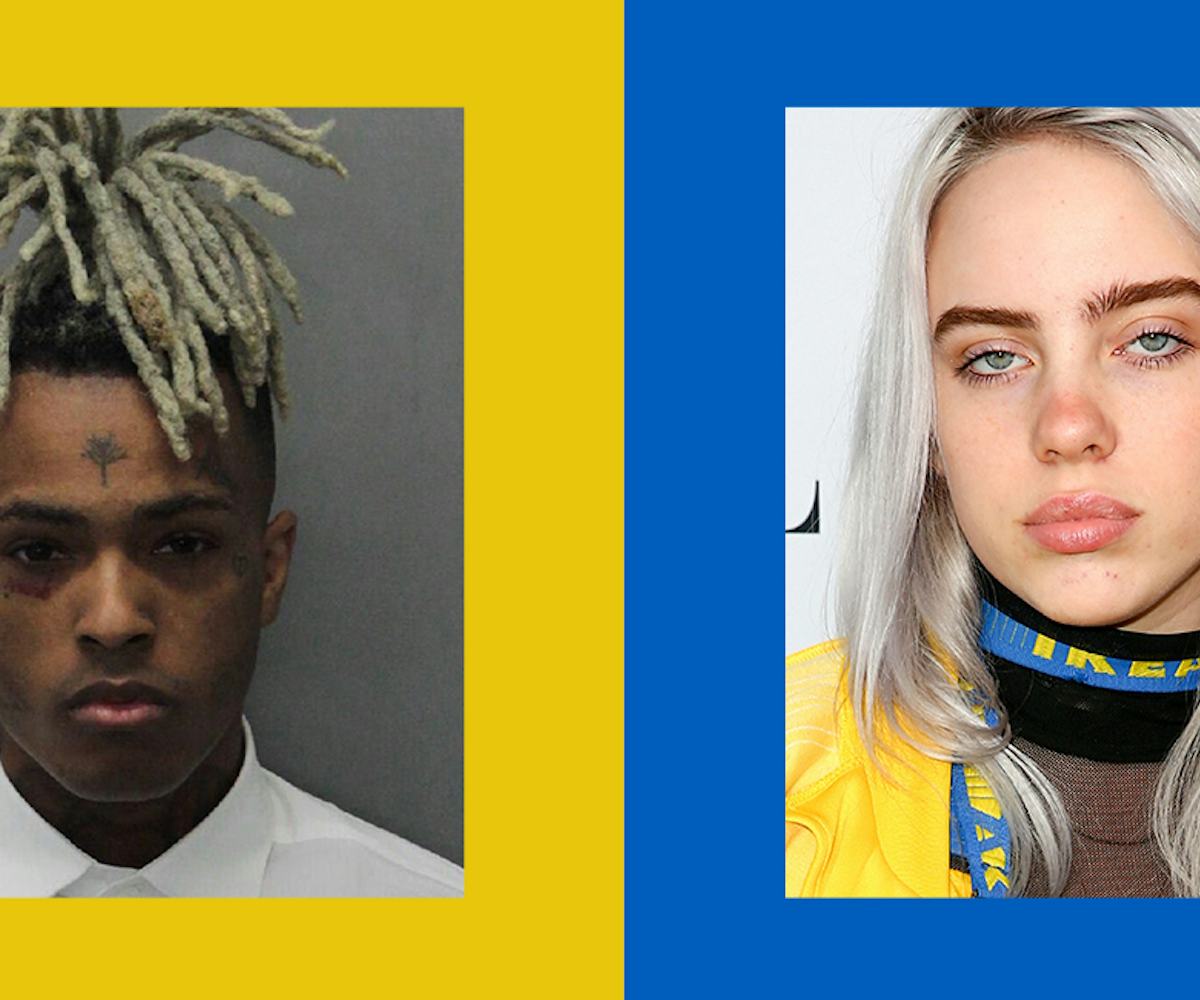 Photo By Rich Fury & Miami Dade County Corrections/Getty Images.
Billie Eilish's Tribute To XXXTentacion Is Disappointing
She performed a new song dedicated to him
Over the weekend, Billie Eilish performed a tribute song she wrote in honor of XXXTentacion. The song was titled "6.18.18"—a reference, XXLpoints out, to the day XXXTentacion was fatally shot. At the show, Eilish explained that the track is "about a very powerful person," who "made me feel okay when nothing else did." Later in the show, Eilish played XXXTentacion's "Look At Me!"
"No matter what was going on in his life, he was always there for me," she reportedly said. 
The tribute song doesn't come as much of a surprise: Eilish posted an Instagram tribute to XXXTentacion on the day he died, calling him "the strongest human being ive ever known."
However, Eilish's tributes—then and now—to the alleged domestic abuser are a disturbing reminder of the way friends ignore even the most credible accusations of abuse when they are close to the alleged abuser. For those unfamiliar with XXXTentacion's situation, at the time of his death, the rapper was awaiting trial on domestic violence charges due to his alleged treatment of his pregnant girlfriend, Geneva Ayala. According to a report from Pitchfork, Ayala claimed that the rapper threatened to kill her "literally like every day." Not only that, but she says he also had a history of punching, head-butting, and hitting her. Ayala also claimed that XXXTentacion threatened to penetrate her with either a barbecue fork or wire brush after she complimented a male friend. 
As a result, XXXTentacion was charged with aggravated battery of a pregnant woman, domestic battery by strangulation, false imprisonment, and witness-tampering. XXXTentacion pleaded not guilty, and also publicly denied the charges, claiming Ayala wasn't pregnant and that she was attacked by another person. Though the case will never be legally settled, it is worth noting that prosecutors certainly thought it was a strong enough case to bring to trial. Yet, following XXXTentacion's death, Ayala has remained the subject of intense harassment—online and in person—at the hands of fans who've accused her of lying. 
Seeing Eilish—an artist so many young women admire—continue to ignore the accusations against XXXTentacion, and only prioritize her personal relationship with him is deeply unsettling. Neither XXXTentacion's death nor his friendship with Eilish absolves his alleged abuse, and so, at the very least, we hope this song never gets a formal release—the message it sends is not merely one of tribute to a lost friend but is rather a promotion of the idea that women's claims of abuse are meaningless when the alleged abuser has powerful friends.