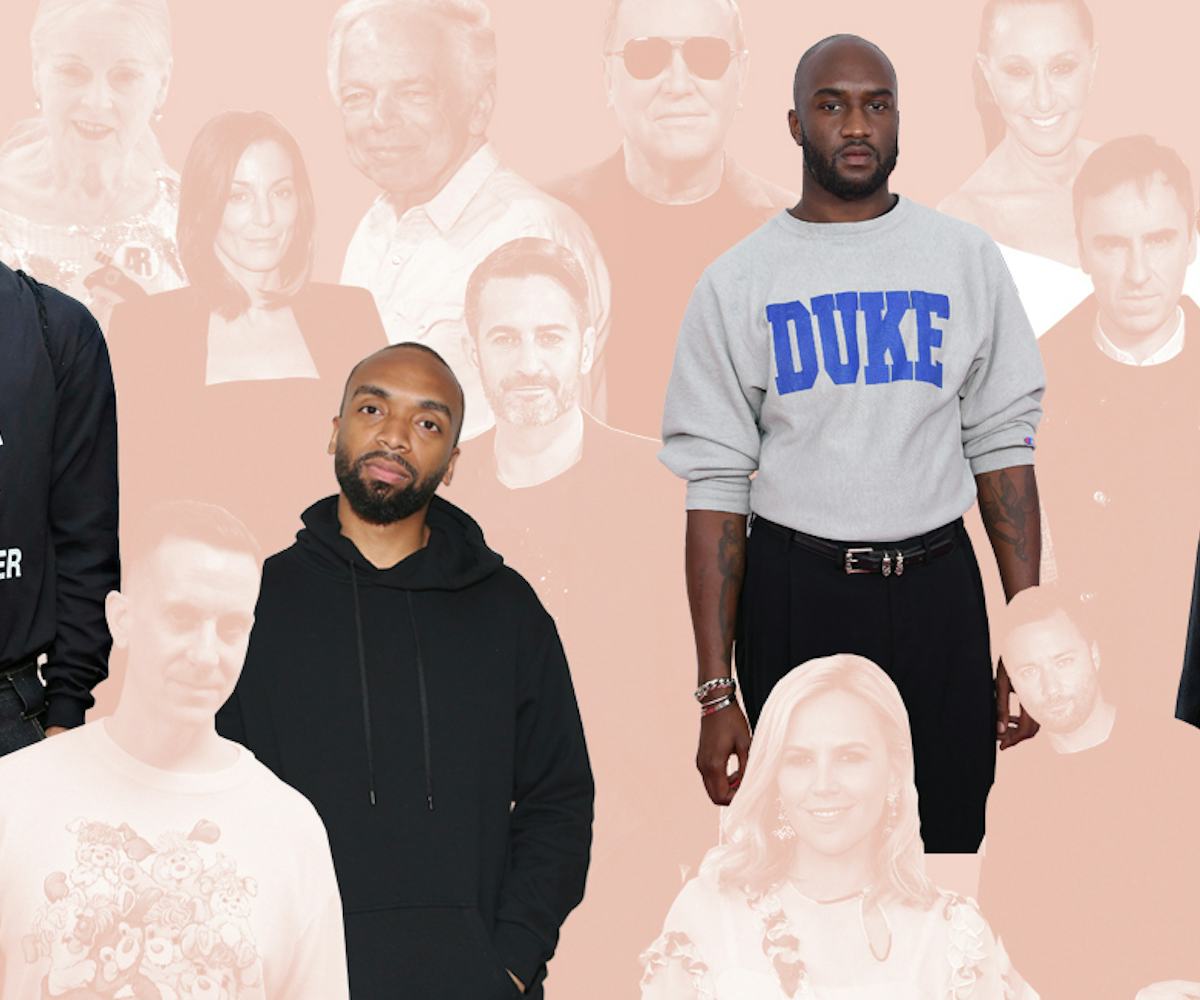 Why Aren't Black Designers Given The Recognition They Deserve?
A look at the lack of color at the highest levels of the fashion industry
Fashion houses are experiencing shake-ups of seismic proportions. Brands like Céline, Mugler, Burberry and, most recently, Dior Homme have been playing musical chairs with designers over the past couple of seasons. There have been some surprises and some disappointments in the new head of house selections, but one thing is consistent: It's almost always a guy—and, in each of the aforementioned examples, those guys are white. 
This is nothing new. Historically, it's been very rare for black designers to be picked from the pool of potential candidates. Olivier Rousteing for Balmain is the most notable example, as is Shayne Oliver of Hood By Air who was chosen to be a designer-in-residence for Helmut Lang last year. But, Oliver hasn't been appointed permanently, despite the success of his debut collection. And both these designers are very much the exception, not the rule.
What we first have to acknowledge when we get into a conversation about black fashion designers is the fact that there are so few in a position to be chosen to head major houses at all. Of the hundreds of shows that occurred during New York Fashion Week this season, only a few were fronted by notable African-American designers. The more mainstream names like Tracy Reese didn't show, and neither did Oliver nor Maxwell Osborne of Public School. And so that leaves Kerby Jean-Raymond (of Pyer Moss), Telfar Clemens, Carly Cushnie (of Cushnie et Ochs), and LaQuan Smith, all of whom—with the exception of Cushnie—are rising stars but not universally known names yet. So, we've got a grand (pitiful) total of four shows headed by black designers.
Some might say the number of black designers in the industry, others, like model Pat Cleveland, think the number is "about the same." She lists Stephen Burrows as one of the more notable names from the '70s, when she started her career. He became the only black fashion designer to compete in the iconic Battle of Versailles and brought along black models (including Pat Cleveland, Alva Chinn, and Ramona Saunders), who are believed to be the major reason the Americans came home with a win. Cleveland says of Burrows: "You can look at the metal dress—the Gianni Versace one—that was originally Stephen Burrows. I wore that dress to Europe and then everybody saw that dress. He did so many original things like the wrap dress, the lettuce edge... He was an innovative, natural creator, he never copied anything." Yet his brand and his career weren't nearly as lucrative as those of his American colleagues' (Oscar de la Renta, Halston, Bill Blas, and Anne Klein) or European ones (Yves Saint Laurent, Pierre Cardin, Emanuel Ungaro, Christian Dior, and Hubert de Givenchy). And it's a similar situation that black designers find themselves in more than 40 years later.
Haitian designer Azede Jean-Pierre says that she's always been one of very few—if not the only—people of color in classrooms, showrooms, and in offices. She's worked at Ohne Titel and Ralph Rucci. She did her due diligence. She learned from the best and had great schooling and created beautiful designs. Rather than stay at a brand and try to rise in the ranks, though, Jean-Pierre decided to start her own self-titled label. She wanted more creative control, but she also felt like it was her only option at the time. "I can't say my opinion wasn't valued at the places I was," she says. "I think the issue was, if I stayed, would I have felt that I could move along as quickly based on talent as someone else? I'm honestly not sure."
If the industry you work for doesn't serve you, branch out and do your own thing. It's what black people have been doing from the beginning of time. "You can either stand at the door and keep knocking, or you can find alternative ways to get in the house," Brandice Daniel, founder of Harlem's Fashion Row, says. But, sometimes that window you think you can climb into is sealed shut. Jean-Pierre says the biggest roadblock for black designers is money. "To start a fashion design business, you have to come from some kind of money or you have to find access to it—that's a huge barrier to entry." 
That's one of the aims of Daniel's company, to help black designers gain more financial backing, but also to set them up for success. As anyone hoping to promote change in a stubborn industry knows, it's a task easier said than done. "For my first 10 years, my mission was: Let me get these designers in front of editors, let me get them in front of celebrity stylists who are styling people all the time in magazines and have really high social media followings, and people who work in the industry," she explains. "Let me expose them to this audience and the bonds will start to grow and it will impact their business." They would get press and be featured in esteemed places like The New York Times, but it still wouldn't move the needle with their business, Daniel says. "I've seen designers come in for like three years, be really hot, and they would leave and stop designing because, at the end of the day, their income not only has to sustain their business, but it also has to sustain their livelihood, and that's tough." And unless you're Kanye West, you can't afford to, say, take a break and come back. You have to move on.
And then, when you do manage to crossover to the mainstream industry, you often get pigeonholed. Jean-Pierre recalls a time when designers effectively had to whitewash their collections in order to get noticed. "You had to have all white models for it to feel professional because, if you didn't, people would say, 'Oh, this is a black thing,'" she says. "And it's unfair because you're just putting out there what everyone else is putting out there—your art, your beliefs—and the standards of quality could be all the same, but the way that you present it or if it's coming from a different perspective, you get scoffed at."
Designers Clemens and Jean-Raymond have both spoken about having similar experiences, but their complaints center around their disdain of the word "streetwear," which their clothes often get labeled as. Clemens says he doesn't necessarily have a problem with the term, but it doesn't hold as much respect in the industry. "The fashion industry basically wants you to play a character of a black designer, instead of just accepting you for what you are," Clemens told us last year. "There's no artistic credibility, they're labeling it without actually having to look at it."
But what you miss out on when you prematurely dismiss black designers are often the most innovative collections of the season. Jean-Raymond uses his shows to speak on political issues, ranging from police violence and drug addiction to the immigrant experience. Clemens, who won the CFDA/Vogue Fashion Fund last year, donated 100 percent of proceeds from his White Castle capsule collection to pay bail for minors held on Rikers Island. While other brands seem to be using social justice as a means for profit and/or to appear more woke, many black designers use it as a means of education and change. And they do it with authenticity because they're pulling from experience. As Cleveland explains: "Being black is like, you have music, you have art, you have all of these things that came through pain, trying to create beauty. It's the same case for fashion: Every stitch hurts, every stitch takes time, every stitch has meaning." And you can't try to recreate that without coming off as disingenuous.
As Jean-Pierre wrote in an Instagram post recently, it's not enough to put a black person in a campaign or on a runway anymore, when those same people aren't also in the design rooms and behind the scenes. It not only makes the company look bad when the inevitable fuck-ups happen (and we've seen them happen time and time and time again), but it short-changes those with true talent and—what companies are truly concerned about—the consumers. "Our cultures are so varied, there's such a mix, and we need people of color to really convey a message that everyone deeply understands," Jean-Pierre says. "If you don't have that, you don't really have quality. You just have one singular message."
Daniel agrees and has noticed brands making more of an effort. "I think people are looking for ways to make themselves fresh and to feel like they are on the cusp of something different and new in fashion," she says. "And, trust me, there's not a lot of new things happening right now, so if you don't start to do things that are different than what you've always done, you won't be able to sustain yourself." Black culture is trending right now, she says, pointing to the popularity of Black Panther as proof. And Daniel believes now is the perfect time to make changes that actually stick. Over the next couple of years, her main focus for HFR is partnering with larger fashion brands that are interested in working with multicultural designers. She points to the collaboration between Gucci and Dapper Dan as the perfect example. "There were a lot of people who had never heard of Dapper Dan, but because of his partnership with Gucci, he's able to leverage that partnership with a lot of other different things," she says. "And Gucci is able to leverage the cool factor that Dapper Dan has, so it's a mutually beneficial relationship." She's also planning to launch a new eight-week program to help designers learn more about the business side of the industry. 
Jean-Pierre, on the other hand, is cautiously hopeful. She thinks the industry is going to have to suffer a bit in order for real progress to be made. "I think it's definitely going to blow up from the inside, and it already has, but that doesn't mean it won't improve," she says. "The dollars will evaporate a little bit or lessen coming in and people will have no choice. The culture is evolving at such a rate that you have to catch up with it or get left behind." Kibwe Chase-Marshall—who wrote an op-ed for Business of Fashion two months ago in which he outlines the faults of the industry and lists ways it can improve—holds a similar opinion. "I don't think people give up a hold on power, access, and privilege easily," he tells us. "What I'm optimistic about is a moment in which cultural inequity is being called out." He notes that the change has to come from black designers like himself. "Those who have actively or passively architected this discrimination can't be left to dismantle it without the essential contribution of those who face it."
Which brings us in a very roundabout way back to creative directors. As Jean-Pierre explains, there is plenty of qualified talent. "I know that creative directors have to be chosen out of exceptional people, and to be exceptional and black is to be beyond exceptional," she says. Black designers have just been stifled. If they had more opportunities, they would be at the head of major houses right now. Which is why it's up to the industry to decide whether or not it wants to actively dismantle the existing, homogenous mold, and make some changes. If and when that happens, Jeanne-Pierre says: "That will be a feat for everyone."