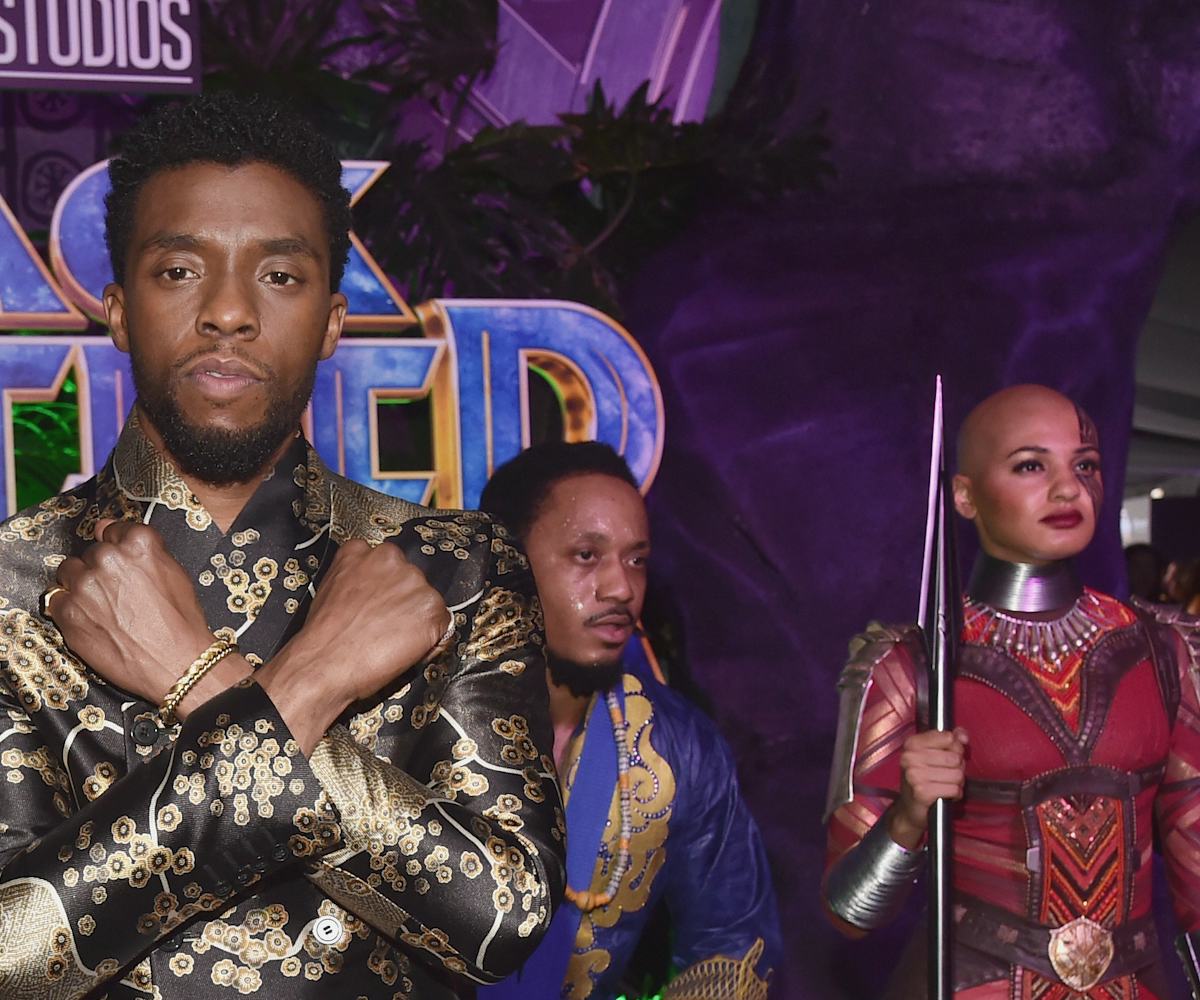 Photo by Alberto E. Rodriguez/Getty Images
People Are Faking Posts Of Assault By "Black Thugs" At 'Black Panther' Screenings
This is actually horrible
In a disturbing turn of events, what should have been a monumental night for Black Panther was marred by trolls and terrible people determined to make up posts about racially motivated attacks at screenings of the film.
According to BuzzFeed, some have been attempting to "stoke outrage," by claiming they and/or people they know were attacked by a "black teenager" or "some black thugs." And the "evidence" they're presenting are photos of blood spatter or battered women—which, for the most part, have been identified as pictures from unrelated news stories. As many on Twitter
, these posts are being "created to make black people look bad and the sad part of it is some people will believe them." 
For example, one of the fastest circulating tweets was a post that used the viral photo of a 19-year-old Swedish woman who was hit with a bottle at a club last month "after rejecting [a] groper's advances." The caption attached to the image is, "i went to see #blackpanther with my gf and a black teenager shouted 'u at the wrong theater' and smashed a bottle on her face." Another internet user used a Flickr photo from 2009 to claim that, while at the film premiere, "a group of black youths said this movie wasnt for me. I am white." 
Thankfully, it looks as if those two particular accounts have been suspended. However, a number of fake tweets are still up and circulating with images of women who were assaulted in incidents completely unrelated to the movie, including the first ex-wife of former White House staffer Rob Portner.
Also notable is a smaller camp of people claiming the opposite.
Needless to say, this is horrible, especially when considering that this movie is supposed to be a celebratory moment for representation, diversity, and, in the long run, unity in Hollywood. But aside from the trolls actively trying to divide people, it's, also, deeply upsetting to see photos of women who have been assaulted being circulated in such a flippant, irresponsible way. 
As BuzzFeed reminds us, if you see a suspicious tweet, it's easy to reverse image search it, and, if fake, report it.