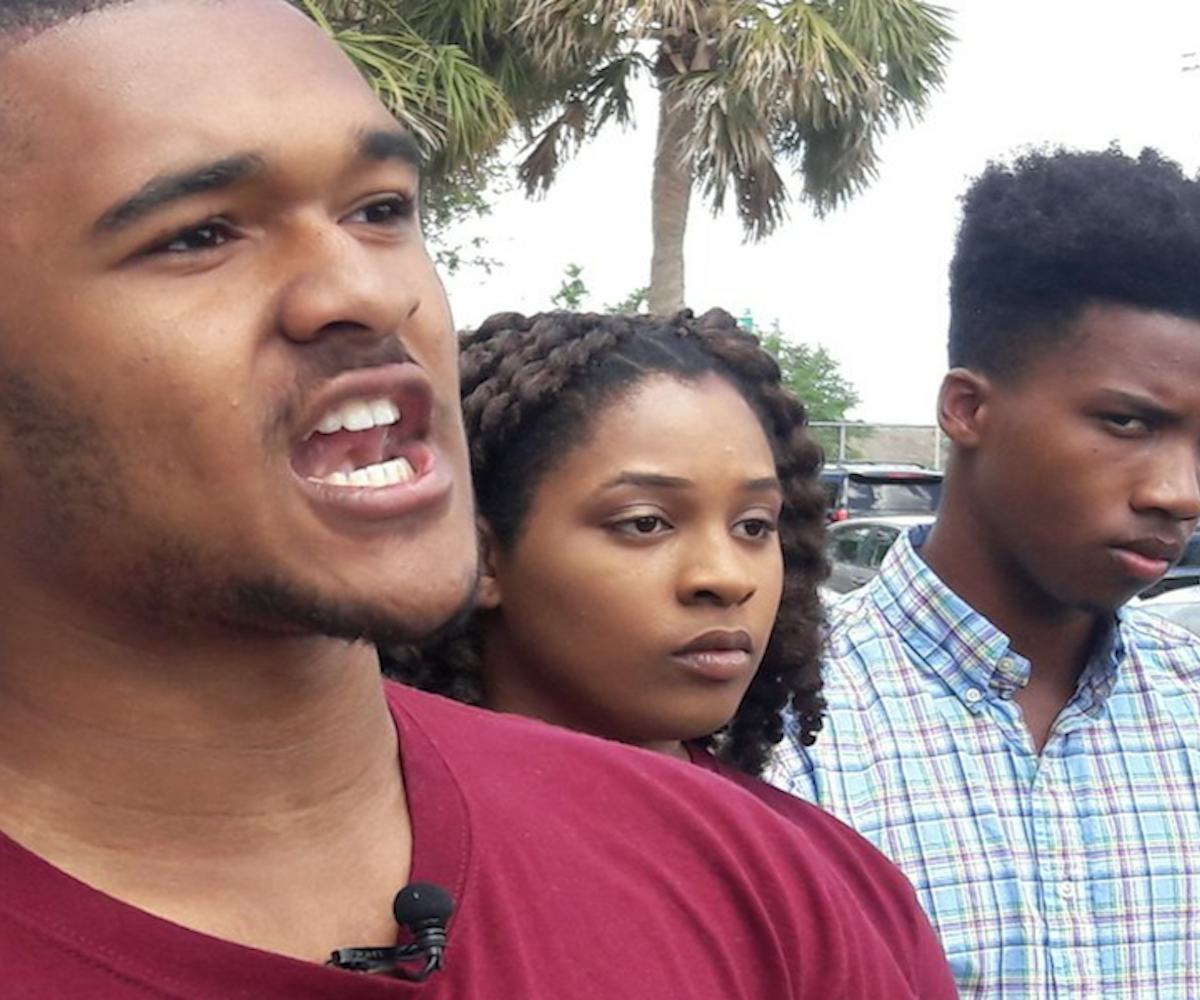 Photo via Twitter @NadegeGreen
Black Marjory Stoneman Douglas Students Want—And Should Have—Their Voices Heard Too
"We have been neglected by the media"
Media attention on the brave students of Marjory Stoneman Douglas High School has helped to invigorate a new activist movement, but many feel that not every voice is being heard. Black students at Douglas High are now speaking out on the disproportionate representation their white classmates have received by the media, and on the difficulties that come with the increased police presence at their school in the wake of the recent shooting.
According to the Miami Herald, 11 percent of the students at Marjory Stoneman Douglas are black. At a press conference in Parkland, Florida this week, many spoke out against their treatment from various news outlets, noting the racial disparity in the media's coverage of recent events. The group also addressed the biased ways law enforcement behaves towards non-white students.
"It's bad enough we have to return with clear backpacks," said 17-year-old Kai Koerber. "Should we also return with our hands up?
"If we are going to have more police officers at school, that only makes the problem worse," Koerber continued, according to Teen Vogue. "We are trying heal from the tragedy we experienced, but we're being made to feel like prisoners."
Reverend Dr. Rosalind Osgood, a Broward County school board member, echoed Koerber's sentiments:
I don't want the minority kids to be angry and feel that they're being ignored. I don't think anybody's intentionally excluding them, but nobody's intentionally including them either ... Is the solution to less gun violence more guns, just with police officers' names on them? We have to have that conversation.
"This press conference was held just to say, Douglas does have black students and here we are," added 17-year-old Tyah-Amoy Roberts, according to Teen Vogue. "We have been neglected by the media."
The issue of whitewashed media representation has also been raised by some of the students who have become the faces of the March For Our Lives movement. David Hogg discussed this very issue in an interview on Axios, saying that the media was "not giving black students a voice." Hogg also agreed that the school now feels "like a prison."
A New York Times report indicated that armed guards had been placed at the entrances of the school, along with new security measures that would force students to carry ID badges at all times. The school was also considering installing metal detectors at entrances.