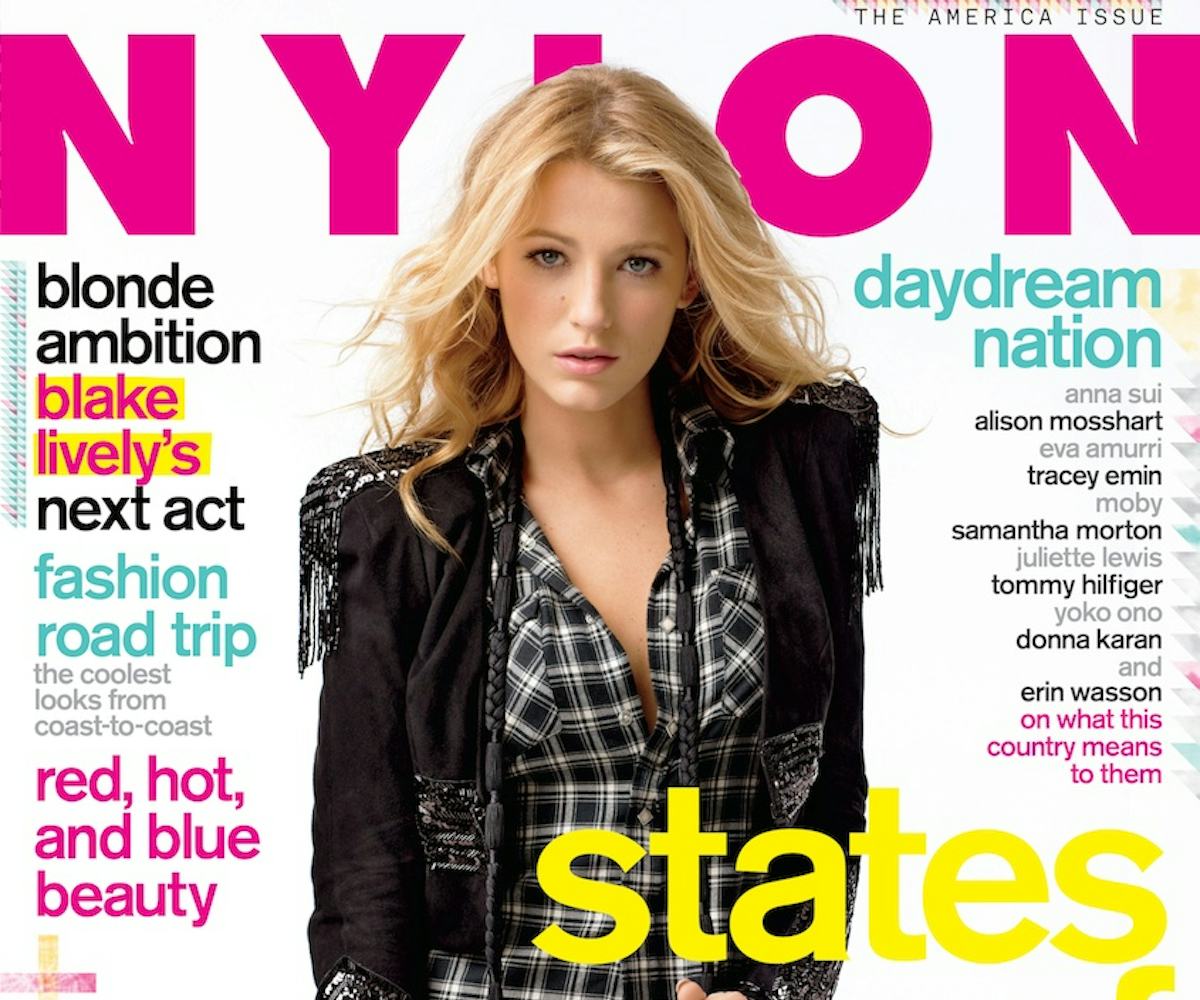 flashback friday: blake the great
reread blake lively's 2009 cover story!
Our weekly Flashback Friday just got a whole lot cooler. We're still posting some of our favorite covers from past issues of NYLON, but now you can go even more in-depth with our faves by reading the cover stories in their entirety! Yep--consider this your really rad trip down memory lane. We're celebrating our America Issue with the November '09 cover girl (and new L'Oreal face) Blake Lively, who told writer Stephanie Trong all about Gossip Girl, her style, and life after Serena Van Der Woodson. Read on:
Dressed up in a white bullet bra and frilly pink boy shorts, with her blonde hair in pigtails, Blake Lively innocently clutches a doll while standing in a big crib. A woman snaps away on a camera, a vision of groovy sleaze sporting tight knit top, cut-offs, knee-high boots, and a shag haircut."Nooo, don't let her take the baby. That's your baby!"she yells from behind the lens. Next comes the spanking, and after that, the dog collars. Lively starts crawling around on all fours, her big, blue eyes pools of submission as she looks up at a dominatrix who is clad in a latex bodysuit and leading her around the bedroom.
The whole setting is so deliciously perverse. A few thoughts come to mind: Ooh, avant-garde fashion magazines are going to be so jealous for no thinking of this first, then, Spotted: looks like Gossip Girl's Upper East Side princess Serena van der Woodsen has gone bottoms up. And finally, Wow, this girl really can act. Because, alas, the above is actually a scene in Lively's new movie, The Private Lives of Pippa Lee, and she is fantastic in it."I had a leash around my neck, and Julianne Moore was taking pictures. I thought, What am I doing with my life? What is happening? How is this a good idea?"says Lively, now curled up on a couch in a Manhattan photo studio wearing a sienna-hued sweater dress, a scarf in swirls of violets and blues that she's insouciantly thrown around her neck, and a pair of lace-up, rugged brown boots."You think acting is such a respectable job."She lets out a laugh. 
To be clear, The Private Lives of Pippa Lee will be respected. It boasts a stellar cast--the aforementioned Julianne Moore, Robin Wright Penn, Alan Arkin Keanu Reeves, Maria Bello, and Winona Ryder--and is based on the novel of the same name, adapted to the screen by writer-director Rebecca Miller, daughter of acclaimed playwright Arthur Miller (and wife of Daniel Day-Lewis, as long as we're dropping names). It is a quietly crafted film that--through a series of flashbacks juxtaposed with present-day vignettes--tells the story of a woman who is constantly running from her demons. Lively plays the young version of the titular character, then known as Pippa Sarkissian, before she married a renowned book editor three times her age, before she became the good wife (that's where Wright Penn picks up). 
Lively depicts Pippa with the same sweet vulnerability that she organically radiates on screen, humanizing her questionable decisions. These include running away from home at 16 because of a speed-addicted mom; doing gay porn while shacked up at her lesbian aunt's place (that would be the bondage, above); taking massive amounts of drugs while crashing in New York City lofts; and ultimately, stealing a man away from his wife."I had seen Gossip Girl, but it didn't give me that much information about what she'd be like as a film actress,"says Miller."I auditioned her really hard. I needed to know that she had the emotional capacity to do the scenes; I needed to see that she'd be willing to go that far down the dark road. She was so willing and really threw herself into it."Lively had nailed the part by the time she walked out of the room."I'm attached to tragic characters,"Lively says,"because I sympathize with them. I want to tell their story in a way that makes them the good guys."In Pippa's case specifically, Lively says she wanted to see how a lack of parental guidance and love and support would manifest itself."I was really attracted to seeing how it creates a girl who's just trying to make good decisions, but who is completely doing the wrong thing and is hurting so many people. And hurting herself." 
Lively comes off as a lot better adjusted than many of her Hollywood peers--make that people in general, actually. She sits casually with her legs folded behind her, an arm resting on the back of the sofa; her hand is perennially playing with strands of absurdly shiny hair. Her eyes sparkle like blinking Christmas lights, a kindness behind them. There's a nurturing tone to her voice, especially as she calls out for her dog, Penny, a rust-colored Maltipoo that has wandered away from the mug of water and scraps of turkey wrapped in tin foil that Lively has lovingly laid out for her. ("I'm a bad mommy. I forgot her canned food today.") She tends to slap her thigh like a down-home Southern woman before telling a joke and erupting into laughter. Lively says her family is to thank for keeping her so normal."I don't now what I would do that guidance. I feel very lucky", she says. 
Lively was born into a showbiz clan. Her father and four older siblings are actors (brother Jason played Rusty Griswold in European Vacation and sister Robyn starred in the awesomely cheesy '80s cult flick Teen Witch), her mother a part-time acting coach. But instead of aiming her sights on the silver screen, Lively developed interests firmly rooted in all-American, good, clean fun, participating in show choir and cheerleading, and going on to become the class president at Burbank High School. It's a wholesomeness she maintains to this day."I have a wonderful group of friends, and most of them aren't in the business at all,"she says, twisting her scarf."If I invite them to events with me, they're like, 'Nah, can you just come to my house after and make brownies?' No like, 'Oh yeah, great where can we go shopping first?'"This seems crucial to her low-key existence, considering that Lively and her fellow Gossip Girl castmates have pretty much been given keys to a city that, when prudent judgment is not exercised, can become a playground of decadence and excess."There are so many temptations,"she admits."There are so many different paths you can take. And I feel that the people I've surrounded myself with will only allow me to take a certain path. If I didn't have that, I would just be out here in all of this."She points toward the window--the Hudson River is glittering as the sun sets."I would be so lost."
Instead, pretty much the most mischievous thing Lively gets up to is"credit-card swiping"her friends. If you're not familiar, she can explain:"I swipe my friends with, like, my phone or something--I slide it in their butts."She swooshes her arm in the air, a grin on her face."Like in middle school! You say 'Visa! MasterCard!' Just to give somebody a jump. I'm a prankster."Clearly, Lively isn't one to play it cool, nor does she seem to be in this game for the wrong reasons. In fact, despite her family's vocation, the idea of entering the industry didn't even occur to her until high school. Even then, her ambitions formed only vaguely, when her brother Eric took her on a two-month trek across Europe."That's when I knew I wanted a job where I wouldn't be tied down to being in an office everyday. Something where I could make money to have the freedom to travel and have amazing experiences."Acting eventually fit the bill, and like a success story straight of The Secret, Lively is now getting great gigs and recently took a month-long trip with her boyfriend and GG co-star Penn Badgley to India, the Maldives, and Thailand, where they visited the Maesa Elephant Camp in Chiang Mai. 
"It sounds cheesy--we didn't expect it to be a spiritual experience--but it really was,"she gushes about her time at Maesa, still in awe."Elephants are the most incredible creatures I've ever been around."The couple spent a day at the sanctuary, which was established after the country outlawed rainforest logging and the government could no longer support the animals."You think, Is this gonna be like a circus?"she says, acknowledging that the venture might sound exploitative. But once Lively arrived on the pristine grounds, all her concern washed away in the nearby river, where the couple bathed KongKam and Maema, Lively and Badgley's assigned companions, respectively."You're sitting in this water that they poop in, and somehow it's not gross. You're scrubbing the bottom of their feet and behind their ears... "she trials off, fidgeting and leaning forward as if trying to find the words to do the experience justice. She delights in relaying that her and Badgley's elephants mirrored their own personalities, as if speaking about little cousins."KongKam was such a ham,"she says, noting that he, too, liked to credit-card swipe his friends."The other elephants would be eating, and he'd take his trunk and, like, slide it up their butts."She cracks up."But Maema had been around since the logging days, so there was more tragedy behind her eyes. She was calmer, more stoic, and still."She recounts the day's activities with wonder--riding bareback through the jungle, lying in the grass, and, incredibly, paining with the animals."You show them with your fingers that you want them to draw. I would ip the brush in the paint and then hand it to him. He drew an elephant for me,"she says, beaming with pride. And then there was the sweet goodbye:"He coiled his trunk and grabbed my hand and held it. Oh my gosh, it just melted my heart." 
The actress hopes to write a children's book about the experience someday, with KongKam doing the illustrating honors and the proceeds going to charity. To her personify these creatures with such painstaking care and detail, you come to see that the actress has an astounding amount of empathy and compassion."I feel a lot,"she says."I get really bad stomachaches all the time. SO I went to a doctor, and he said, 'You're a feeler. Normal people, they don't really feel what's going on in their bodies [so distinctly]. But you can feel everything that happens--in every aspect of your life--and that's why it hurts so much.' I think that's true. I take on people's pain a little too much. Like when my friends are upset or a family member is going through something hard, I feel it inside my body so much. A lot of times it's worse than when something bad is going on in my life. 
It's an interesting trade-off: While Lively may be in personal pain, but her ability to pick up on and synthesize other people's emotions as her own is part of what makes her so engaging in the gray areas of morality matches up to her strengths as a performer. Says Maria Bello, who plays Lively's diet-pill-addicted mom in Pippa:"It was important for her to portray a deep love and biding compassion for this woman who's her mother. I don't think you ever felt--even what she said, 'I hate you'--that she ever really hated me. [On set] I was always thinking that Blake had been doing serious acting, for you know, 40 years."Another part of Lively's technique comes down to the costumes."When I'm doing a movie, I hide behind the character's hair or makeup or cloths. If I can transform myself, then people will really believe that's who that is--and I need to believe that's who that is."These days, she's sporting a sick set of acrylic nails for her role in The Town, a heist thriller set in Boston and directed by Ben Affleck. The movie is filming concurrently with Gossip Girl, which means that--gasp!--Serena is rocking press-ons."They're really amazing,"Lively says of the talons, which usually have sweet tiger-print tips but have been painted white for today's cover shoot. Speaking of Gossip Girl, there has been much ado about her character's style, which is a masterly mix of Kate Moss cool and polished uptowner. So is that where her affinity for on-screen disguises started?"No, because I dress just like Serena! [Laughs] I won half of her wardrobe, so it's far too similar to the way I dress. I feel ridiculous at times with her because I'm, you know, killing someone or marrying someone, but I look like me. I'm like, 'Oh, this is absurd.'"
But just as Lively has not killed or married anyone, she likewise has not abandoned her career to become an S&M pinup. Rather, she is simply a down-to-earth girl who must now make her way back to her apartment to cook dinner. She gathers up Penny's food, as she and her pup get ready to go."I make a three-cheese puff pastry with sundried tomato pesto. I use gruyere, asiago, and whole-milk mozzarella-pit's so gooood,"she says, a dreamy sigh escaping her lisp as she talks about this evening's menu."So I'll probably make that, with some grilled chicken and balsamic-rosemary roasted potatoes with Tahitian vanilla salt."The meal sounds amazing, a mix of top-notch ingredients that will no doubt be presented beautifully. Which, come to think of it, is a lot like the chef herself.  --STEPHANIE TRONG