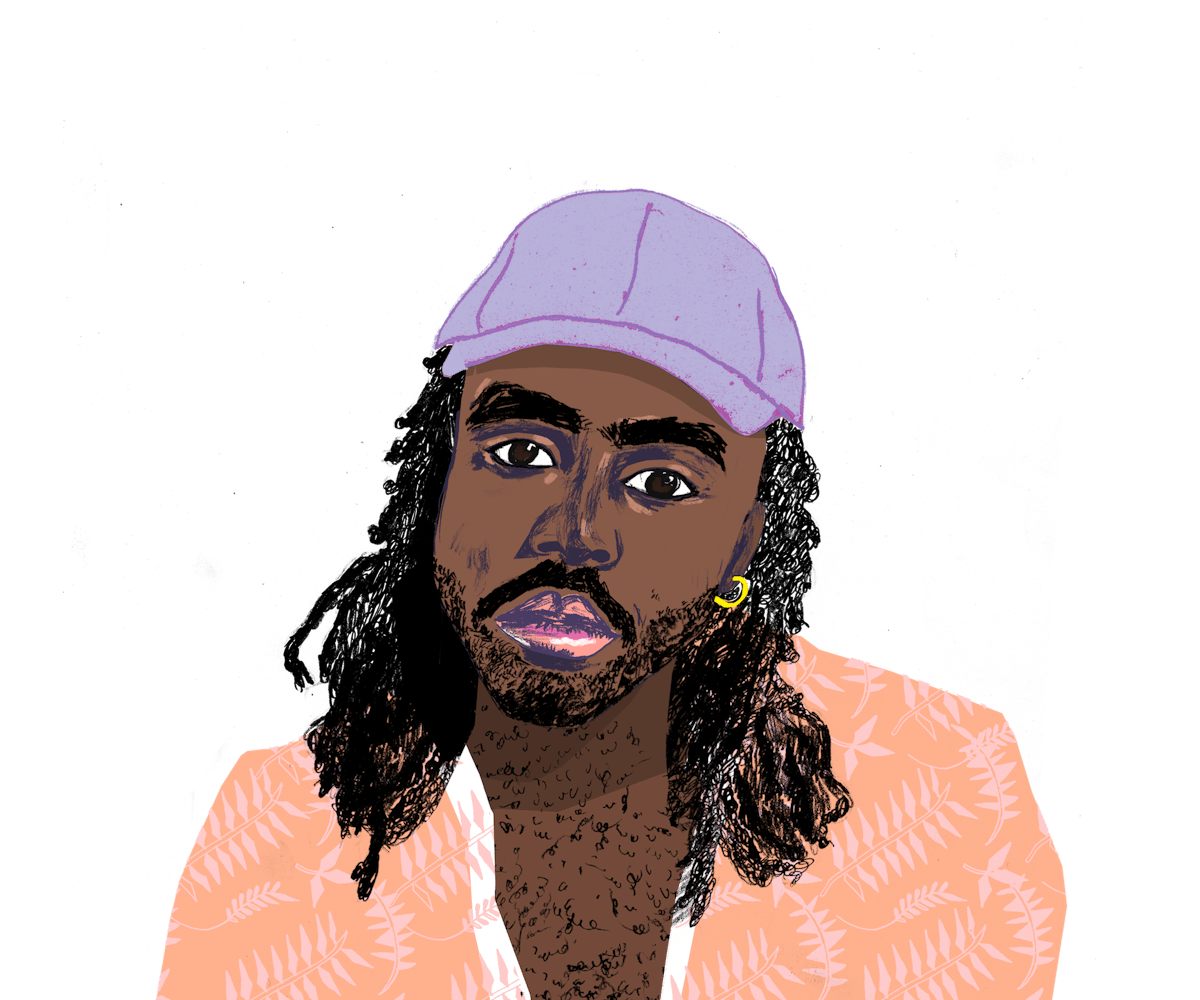 Illustrated by Liz Riccardi.
Dev Hynes AKA Blood Orange On His Third Album 'Freetown Sound'
"I'm tired of mincing my words"
The following feature appears in the August 2016 issue of NYLON.
Dev Hynes wouldn't hurt a fly—or a bee, for that matter. We're sitting in New York's Washington Square Park under a cloudless sky when we're suddenly joined by some unwelcome black-and-yellow guests. "I think it's my juice. Should I ditch it?" asks Hynes, smiling as he considers the Pressed Juicery bottle in his hand. "I think it's time to ditch it." It's our first time meeting, but the gentleness of the moment is a sure sign of the lanky, Metropolitan Museum-T-shirt-clad musician's sweet nature. But after hearing Freetown Sound, his politically and socially charged third album as orchestrator of the musical project Blood Orange, it's clear that beneath this pleasant demeanor brims an energy that can no longer be contained.
Hynes was exposed to music from an early age while growing up in Essex, just outside of London. He took lessons in dance, cello, piano, and the drums; his family played classical music, reggae, rock, pop, and hip-hop in the house. But he had never considered pursuing music as a career. "It was natural to me, kind of like breathing," says Hynes, who has synesthesia, a condition that helps him compose by drawing from the connections that his brain makes between color and sound. "The idea that breathing could be a job seemed insane."
Nevertheless, in his late teens, he joined dance-punk band Test Icicles, which signed to Domino Records before splitting up. Then there was his indie-folk project Lightspeed Champion, which marked his move to Brooklyn, New York, in 2006. Now, Hynes' name is essentially synonymous with Blood Orange, a project that highlights his writing, production, and engineering abilities alongside the likes of Kindness, Nelly Furtado, and Kelsey Lu, with an '80s pop feel that was established early on 2011's Coastal Grooves and 2013's Cupid Deluxe—both of which contain songs that could easily blend into a Prince rotation, not only for their sonic resemblance but also for their thematic focus on sexuality and relationships.
Freetown Sound, released in June, expands upon this with a "stop-start" element, inspired by cassettes and Hynes' love for hip-hop artists like KRS-One and J Dilla, both of whom are sampled on the album. ("I'm a big Dilla fan," gushes Hynes about the late producer. "That's like, Stravinsky shit.") "Dave Cooley—he's the guy who mastered [Freetown Sound], he's also mastered Dilla's stuff and Madlib, that shit—he got it," says Hynes. "He said [the album]'s kind of like a hip-hop record and how that's made, which makes sense because I listen to more hip-hop than other things."
But Freetown Sound differs from its predecessors in that it gets even more personal, touching on Hynes' continuous journey to understand religion, sexuality, and his identity as a British immigrant and the son of a Guyanese mother and Sierra Leonean father. The album is peppered with references to his efforts to bridge that gap: The track "Love Ya," for example, borrows the hook from Guyanese singer Eddy Grant's "Come On Let Me Love You" and features audio of a Sierra Leonean woman talking about maintaining her Christian faith as rebels entered Freetown, her country's capital.
The theme inevitably includes Hynes' experiences with race and police brutality in the States. He has talked about a disheartening encounter with Miami law enforcement in the past, and was accosted by security at Lollapalooza in 2014 (while wearing a shirt honoring Trayvon Martin, no less). The trauma of these events has had a palpable effect on his work. On Freetown Sound, he trades his signature metaphors for an explicit and clear-cut literal glimpse into the mind of a black man in America. "The album is more me just asking questions," he says. "I'm not even saying what I think is right. I really am just contemplating on the album, thinking back and forth about different things and vocalizing them for people to take it how they want to take."
The change in tone is especially apparent in the outro of "Chance," in which Lu sings from Hynes' perspective as the "dark-skinned nigga in a sold-out crowd" at ASAP Rocky and Tyler, the Creator's Madison Square Garden concert. "There was this white kid in a "RIP Pimp C" shirt and this blonde girl with cornrows and a thug life T-shirt," says Hynes. "I'm not—well, I guess I am judging. I'm just observing!" he clarifies with an innocent chuckle, acknowledging that he can't assume the concertgoers weren't fans of the rappers referenced in their outfits simply because they weren't black. "It's like, obviously, you're allowed to wear cornrows. You can do what the fuck you want with your hair. But you should be aware of where it came from."
And in that moment, I meet a new Hynes, one who's not willing to sacrifice any part of himself for anybody. "With everything that has happened in the last few years in my life and in America, there's no time to not be super direct," he says with a sly smile. "I'm tired of mincing my words."