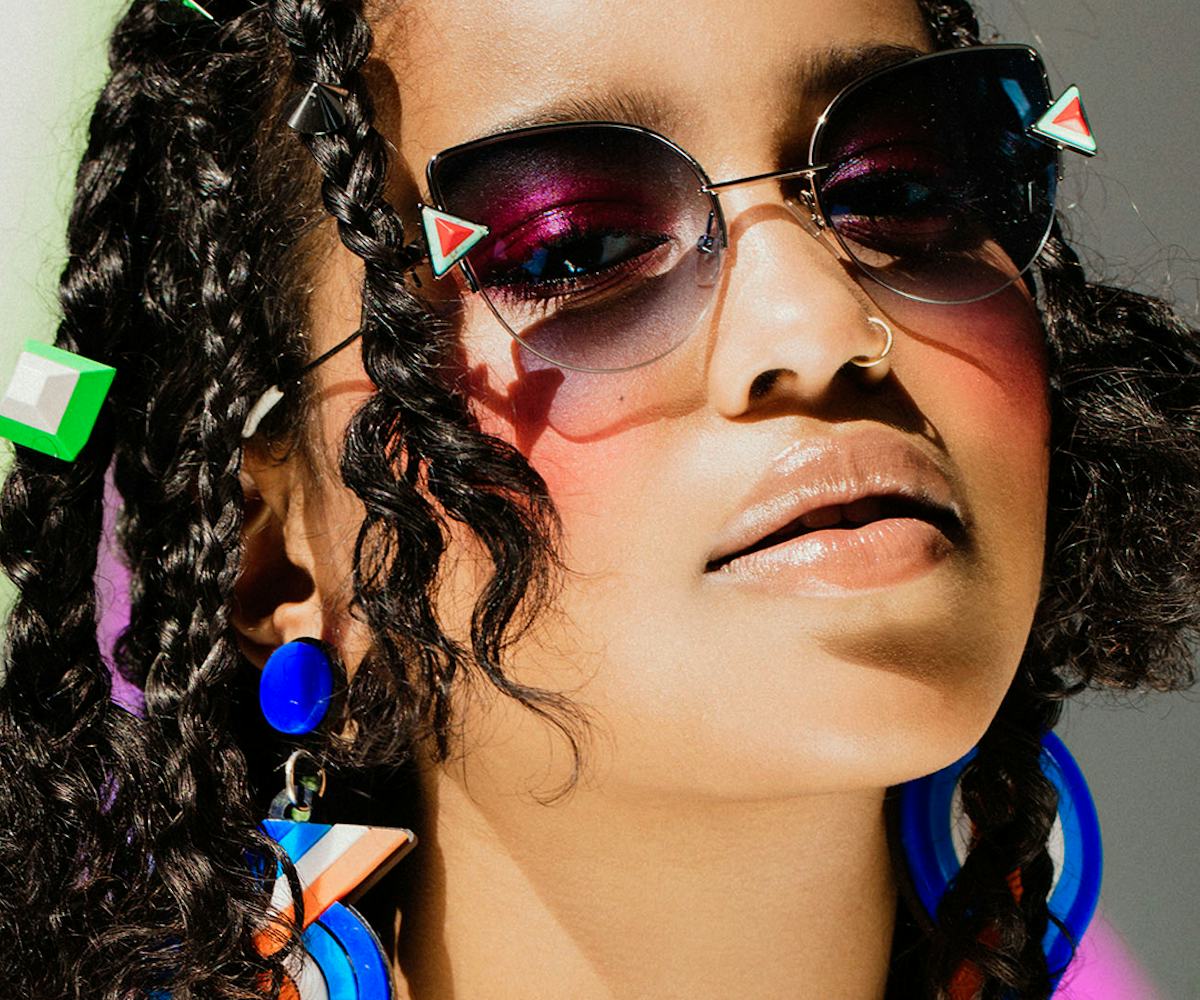 Photographed by Tory Rust, Styled by Heather Newberger
Bold Spring Accessories Bound To Make You Blush
When Glossier released its quad of cream blushes recently, the internet went bananas. Or maybe that was just my Instagram feed? No matter which way I swiped, I couldn't escape the pint-sized tubes, nor the accompanying dreamy how-to videos. Suddenly, it seemed like everyone had blush fever all because of some very clever and enticing marketing. Well, if that's what it takes for everyone to take note of the underutilized makeup item, then fine. (It also doesn't hurt that the products are pretty damn good.)
Blush is an easy way to experiment with your look, but it's often viewed as an afterthought in beauty. It's also only associated with shades that fall into the powdered pink family. Makeup artist Tony Tulve reflects on where we went wrong with the staple, stating, "I feel that we got wrapped up in an idea of 'too much' or 'clownish' and replaced blush with neutrals which turned into contour and highlighting. Blush has done that for ages, and can be more effective when taken with purpose."
There are so many other colors and textures out there waiting to be swiped, tapped, and buffered on. Including but not limited to red, wine, and purple. Yes, purple. Don't click out of the story just yet. Think about how much fun we've all been having with colorful mascara and lipstick and eyeliner lately. Blush can be bold, too, without going campy. The key is knowing which shade works best for you—your skin tone and your way of life.
Ahead, Tulve helps us navigate the wonderful, wild world of blush. Some words of advice before clicking through: "Don't be afraid, blush is never an end-all to your makeup. If it's too heavy, you can always soften, and if you mess up, it can be washed off and you can start all over." It's why the beauty world invented makeup remover.
Photographer: Tory Rust
Stylist: Heather Newberger
Makeup: Tony Tulve
Hair: Remy Moore
Models: Nika, Agnes, Aidana, Tina and Hadar @ MSA models. Hanna @ Wilhelmina.
Peachy Keen
Peach, or, as we like to refer to this particular shade, sorbet, can seem intimidating in the container, but as our model shows, can look quite sweet. Tulve says the shade is ideal for those with fairer skin as "peaches create that warmth from within that we all love." He continues: "A swipe of peach across the apples can multitask as it brightens the face and adds warmth without bronzer."
Why stop there? Take a page out of his book and swipe a bit on the lids and lips also for a monochrome look that's neither boring nor basic.
Glossier, Cloud Paint in Beam, $18, available at Glossier.
Royal Flush
Ha! Remember when we said coming across a pot of peach blush was intimidating? Forget we said that because next up is purple. Are you already shaking your head back and forth? Okay, stop, and take a hard and long look at how stunning it looks on our model. She makes the strongest case there is. We'll allow Tulve to explain. "Purples on deeper skin create an instant sense of joy and brightness," he tells us. "Buffed into the skin, it can shift into a soft pink that is easily wearable but out of the box and will bring all the right attention to your look." And one doesn't wear purple blush unless they're looking for attention, so it might as well be the good kind.
Urban Decay, Afterglow 8-Hour Powder Blush in Bittersweet, $26, available at Urban Decay
Swipe From A Rose
Red is a color best left to those whose skin tone is on the medium to medium-deep spectrum, Tulve says. Seeing as it "can go costumey real quick," a good trick to make sure your blush stays in the natural territory (if natural is what you're going for), is, after generously applying it, to cover it with a light veil of foundation so that it's not just sitting on top of your cheeks.
RMS, Lip2Cheek In Beloved, $36, available at RMS. 
Tipsy Tinge
Get it, because the next color up is wine? Anyway, Tulve loves this shade for those with olive skin tones. Instead of keeping the color on the apples of the cheeks, he pulled a Kenzo and allowed it to drift up the cheekbone area, onto the temple, and has it almost touching the tip of our model's eyebrows. This blush draping technique "enhances the existing contours by creating a bit of coolness where the light turns into shadow on the face," Tulve explains.
&OtherStories, Blusher in Oldham Red, $15, available at &OtherStories.
Golden Glow
"I LOVE orange blush on deeper skin tones," Tulve says. "It is the quickest way to bring a glow of life into the skin without having to do much else." Pairing a richer matte shade with a similar hued shade with a sheen allows you to sculpt the face without getting into heavy makeup territory. Glow on, girl.
NARS, Blush in Taj Majal, $30, available at NARS; Urban Decay, Afterglow 8-Hour Powder Blush, $26, available at Urban Decay. 
Pretty In Pink
We're aware we just threw some truly funky colors at you, but there's nothing wrong with some simple pink blush action, either. "A cool-toned pink on fair skin is divine; it brings about the flush one gets when they are in a state of happiness or in the moment," Tulve says. If you want it to look a little less classic, he recommends dragging the color below the apple and outward to create an unexpected but still wearable moment.
ColourPop, Blush in Thumper, $8, available at ColourPop.