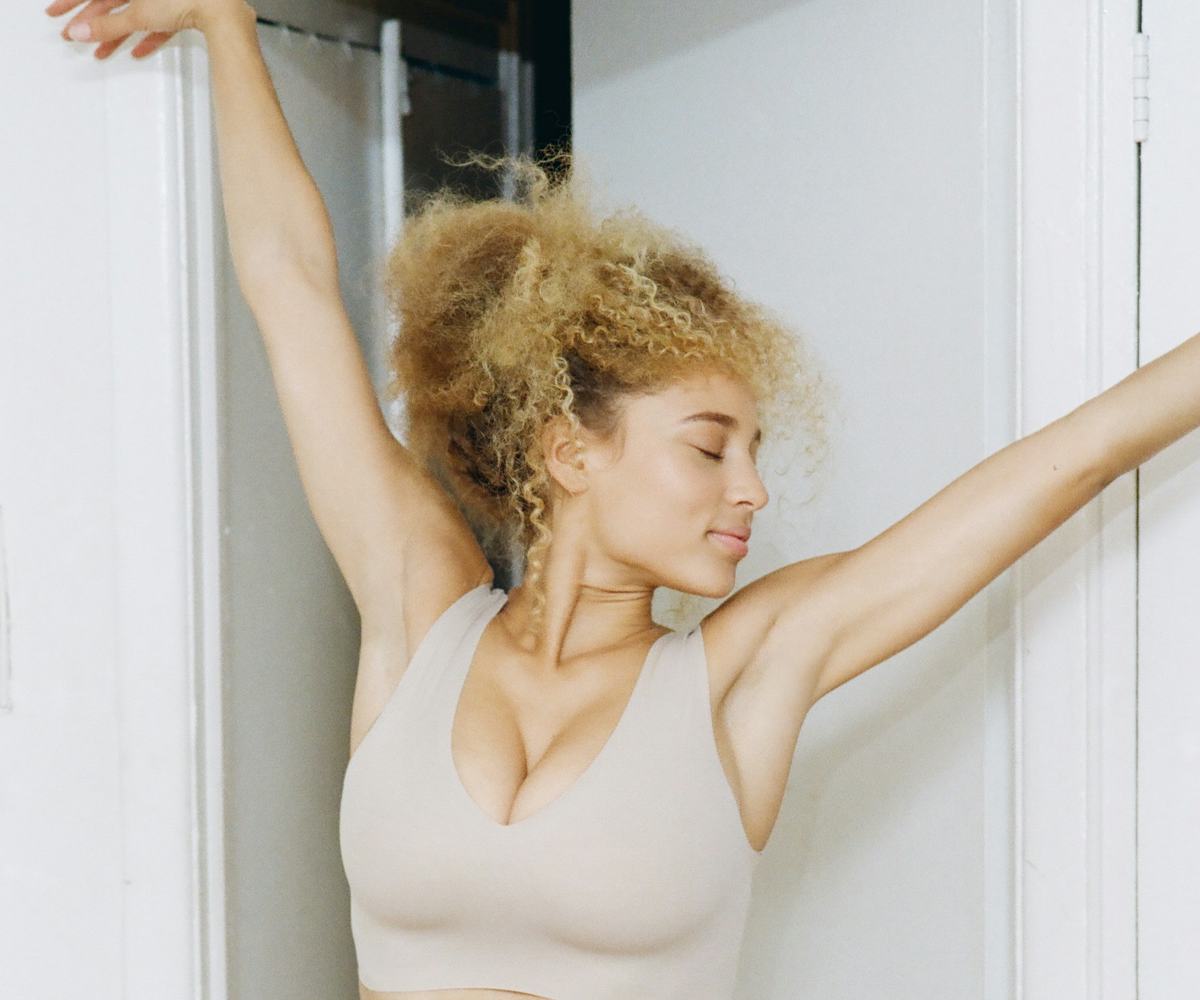 Photo courtesy of True&Co.
These Are The Body Positive Lingerie Brands You Should Know
Lingerie has power. While it may be something designed to be hidden, it's no coincidence that lingerie is kept close to the heart; after all, what other clothing item has the potential to make us feel good about showing off our bodies?
But not all power is deployed responsibly. Many of today's lingerie brands—especially those produced by giant corporations—prioritize a specific, model-thin body type and solely advertise unrealistic beauty ideals. The good news is that there are other companies working to bring diversity into the lingerie world, labels that promote bodies of all sizes, colors, and shapes.
And since it's almost Valentine's Day, what better moment to chat with these very brands about the power of self-love?
Below, read about how six advocates of body positivity are changing the industry and how women look at themselves in the mirror. These labels are feminist, and while they don't exist to sell sex, that doesn't mean they're not sexy. They are the brands we should be embracing and, more importantly, buying.
Lonely
New Zealand-based label Lonely is what the luxury lingerie market has been missing. Helene Morris and Steve Ferguson founded the brand back in 2009 to offer luxury lingerie (and, more recently, swim and loungewear) to an inclusive range of body types and sizes. Their pieces are sensuous and romantic while suitable for every body.
Lonely is also behind the empowering Lonely Girls Project, a photo series that captures the creatives that embody the Lonely spirit in their natural habitats—embracing their unique, unretouched bodies in their favorite feel-good pieces.
"Constantly chasing 'perfection' is so time-consuming, expensive, and stops us from living in the present," says Morris. "If we're able to see ourselves with positivity, rather than see our perceived negatives, it really can be life-changing. We're then able to reflect our positivity and help others to feel this way. Valentine's Day is a great way to encourage women to be kinder to ourselves, and we can then, in turn, be kinder to those we love."
Nubian Skin
Ade Hassan founded Nubian Skin after experiencing frustration with the lack of inclusive "nude" lingerie options. After realizing that the nude she would see in lingerie shops never included her skin color, she started her own brand to redefine what nude means, based on the philosophy of "empowering women and embracing our color." The label offers a wide variety of nude shades so that all women of color have the option to find the perfect set for themselves.
"Self-love is the most important love there is," says Hassan. "I was asked the other day about how I learned to love my skin. I'd never thought about that before—I've never not loved my skin, and I think part of that came from having a mother who was so comfortable and happy in herself. That feeling is palpable, and you never know who's observing."
Neon Moon
Neon Moon is a feminist lingerie label that's here to flatter and support women of all shapes and sizes. The brand is body positive in everything that they do—from designing their pieces to accommodate all to the empowering campaigns they put out. They're always Photoshop-free, leaving traditional "flaws" untouched because of their strong belief that natural bodies deserve representation and celebration. And rather than sizing products in the traditional numbering system, you'll find sizes renamed as "Lovely" or "Gorgeous."
"We aim for Valentine's Day to be a self-gifting day," says CEO and founder, Hayat Rachi. "We want you to make yourself feel amazing, and have that body confidence and validation come from in. The male gaze perpetuates Valentine's Day, and we're a proud feminist lingerie brand that's here to reclaim it."
True&Co.
True&Co. was founded on the idea that women should be able to purchase lingerie that actually fits. They choose to keep all of their campaigns Photoshop-free to promote a positive celebration of all bodies. "Body positivity, in general, encompasses so much more than just weight—I can't stress that enough," says founder Michelle Lam. "As a lingerie company, we absolutely want to support in any way we can from not changing our models' shapes through Photoshop to showcasing many different bust sizes in our campaigns. If we're selling to real women, how can we not show our brand on real women?"
Being so inspired by women and how powerful the female support system can be, Lam started the #TheFutureIsFemale campaign, which includes a $3,000 scholarship awarded to a female student toward a course of their choice.
"We push a message that the most important takeaway you should have when putting on any piece of lingerie—at any size—is that you love what you see in the mirror and you feel great in it, and this is especially true for Valentine's Day," says Lam. "Anyone can say that a bra isn't fitting you properly, or a dress, or a pair of pants, but if you feel great and you like what you see, that's all that matters. In the end, that feeling is going to show up in your confidence, posture, and mood."
Inspire Psyche Terry
Inspire Psyche Terry is a soon-to-be-launched line of lingerie that does exactly what the name says: inspire. Founder and designer, Psyche Terry, created the label to empower women of all sizes to be unabashedly bold and fearless. 
"In the intimate apparel world, I encounter women of all different sizes all of the time, and a woman that is free in her body positivity, no matter what size, is the most regal and romantic woman in the world to me," says Terry, "She seems to hold a next level of confidence that is attractive all within its own self." This very positivity is, at least, what Terry intends to promote with her pieces and campaigns when they launch on March 1. 
Dear Kate
Dear Kate is a lifestyle lingerie and athletic brand that's made for women, by women, with an understanding of a woman's busy, on-the-go lifestyle. Their pieces are created using Underlux technology, which is sweat-proof, moisture-wicking, absorbent, stain-releasing, and breathable, perfect for whether you're running about town or it's that time of the month.
"We believe that confidence comes from within," says Gina Baxter, the brand's business development director. "When wearing Dear Kate, women can be at their best and have total confidence in coverage. Women know there are no limits or boundaries, and that's why Dear Kate equips them with lingerie and apparel that lives up to the challenge. Our products empower women, reminding them to love themselves first, every day."