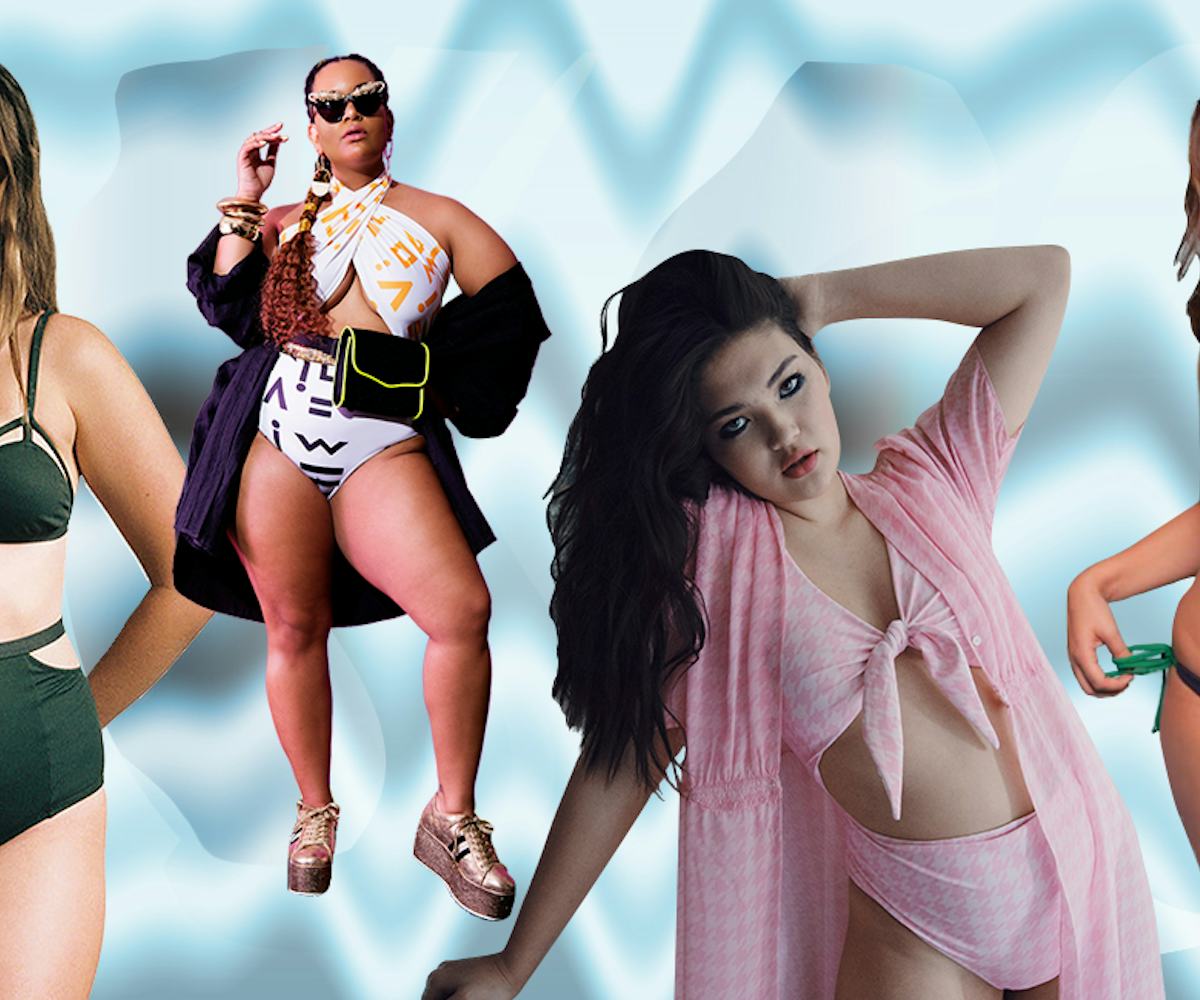 8 Body-Positive Swimwear Labels To Shop This Summer
Swimwear shopping should not be scary
Despite fashion's recent movement toward embracing body positivity, there's one sector of the industry that's lagged behind: swimwear.
Though it feels decidedly antiquated to see swimsuits showcased by rail thin, blonde, and tan (and, most of the time, Photoshopped) models, it's still very much the norm. And since swimwear—which requires us being close to naked, and usually on a beach or by a pool surrounded by people—can have us feeling our most vulnerable, it's important that size diversity and inclusivity become a regular part of this industry, with every woman feeling represented.
We rounded up eight labels who operate with an inclusive ethos; they want women of all shapes and sizes, everywhere, to feel beautiful, confident, and powerful in a swimsuit. Read a little more about each of them, below.
You're bound to fall in love with playful, whimsical swimwear line Alpine Butterfly. Not only are its styles the absolute dreamiest, its designs, which run from sizes L to 5XL, evoke feelings of self-love and happiness. While carefully positioned bands and underwire create comfortable suits for bodies of all shapes and sizes, the line is far from looking like just another plus size swimwear line.
"Put your confidence on first. Then your swimwear," is the motto of Brazilian swimwear designer Bruna Malucelli's namesake label.
Malucelli created the line with the aim to bring "cute and cool" swimwear to bodies of all shapes and sizes. Her designs can be enjoyed by all, and are far from the norms of most (and generally very covered-up or unflattering) plus size swimwear. "Curvy women don't want to wear swimwear that looks like it was made only for plus size women, they want to wear what everyone else is wearing, because they're just like anybody else," says Malucelli. This is why you won't find any style changes across sizing—and you'll see bodies of all sizes modeling them on her website.
Additionally, the brand is teaming with curvy clothing site CoEdition to sell sizes L to XXXL and is in the process of developing a capsule collection with blogger Katie Sturino, launching next month.
Brooklyn-based label Nakimuli is here to do more than just dress us, it aims to promote self-love. According to founder Tenille McMillan, the brand embraces "a love of self at any size, inspires sisterhood, individuality, comfort, and lots of fierceness." That's why she designs pieces that range in size from S to 3X and makes sure that the full range of sizes is represented in brand campaigns.
While McMillan designs a full offering of apparel, her swim line is what tends to catch our eyes. Her cuts, prints, and colors are not only unique, but they're made to look good on all body types. And they're a hell of a lot of fun.
"Size inclusivity is a no-brainer," says McMillan. "If the average size of the U.S. woman is 14-plus, it just makes sense to create clothing for them. We try to have multiple sizes represented in our photos. I think it's important as someone who designs for real women's bodies to showcase them in our brand imagery."
New Zealand-based Lonely Label has long been a brand we've admired for making waves in the lingerie industry. Whether it's embracing bodies of different shapes, colors, ages, or those facing breast cancer, it continuously aims to show just how beautiful they all are—that's why you'll never see a retouched photo in any of the brand's campaigns. While we've already considered it a body positive lingerie brand to know, its swimwear earns them a spot on this list, too.
Its current offering features swimwear that's not only romantic and sensuous but available in a range of cuts, to satisfy anyone's swimwear needs.
Season after season, we're not only blown away by plus size blogger and designer GabiFresh's ongoing swim collaborations with Swimsuits For All but also the gorgeous campaigns that run alongside them.
She consistently works to show that all bodies are beautiful and utilizes a pretty amazing cast of ladies to model the looks. Back in January, she tapped model-activist Philomena Kwao and breast cancer survivor Ericka Hart to star in her Resort 2018 campaign, before casting non-models for her Summer 2018 campaign.
When it comes to the New York Fashion Week runway, can you name a brand more body positive and inclusive than Chromat? We think not.
The swimwear and athleticwear label is designed with strong and powerful women, femmes, and non-binary folx in mind and embraces bodies of all types. Season after season, its runway is not only filled with models of all shapes and sizes, but also all gender identities, ages, and with disabilities. Back in February, one if its models rocked her breast cancer scars with pride, while another sashayed down the catwalk in her prosthetic leg.
For body positive swimwear brand Phylyda, it's all about reaching women in a vast range of sizes—and not leaving out anyone in between.
Founder Lydia Maurer knows fashion—with a past resume including Yves Saint Laurent, Rue du Mail, Givenchy, and Paco Rabanne, she knows just how much the industry can fail to cater to a real woman's needs, especially in terms of inclusivity and size diversity. And that's exactly why luxury tailoring and design plays such a big role in how she designs Phylyda's swimsuits. "I wanted to offer a line that enhances and celebrates individual beauty for as many sizes as possible. It just seems so antiquated to categorize fashion as 'straight' and 'plus size.' What about sizes in between?" she says in her brand bio.
At Phylyda, you'll find an expansive range of swim—from one-pieces to high-waisted bottoms and bikinis—offered in an equally as expansive range of sizes.
Recently launched swimwear label Alyned Together is not only here to empower women, it's here to save the planet, too. Its pieces are designed with the belief that its suits are for everyone to wear, available in sizes XS to 3X—and you'll find these sizes represented in campaigns, too.
But the brand's work in sustainability puts them on the map as an entirely new wave of inclusivity. Not only does it work to raise awareness regarding ocean pollution and supports other brands that provide sustainable alternatives to normally pollutant activities, its body positive collection is eco-friendly. Fabrics consist of 82 percent recycled polyester, made from collecting plastic bottles from waterways.