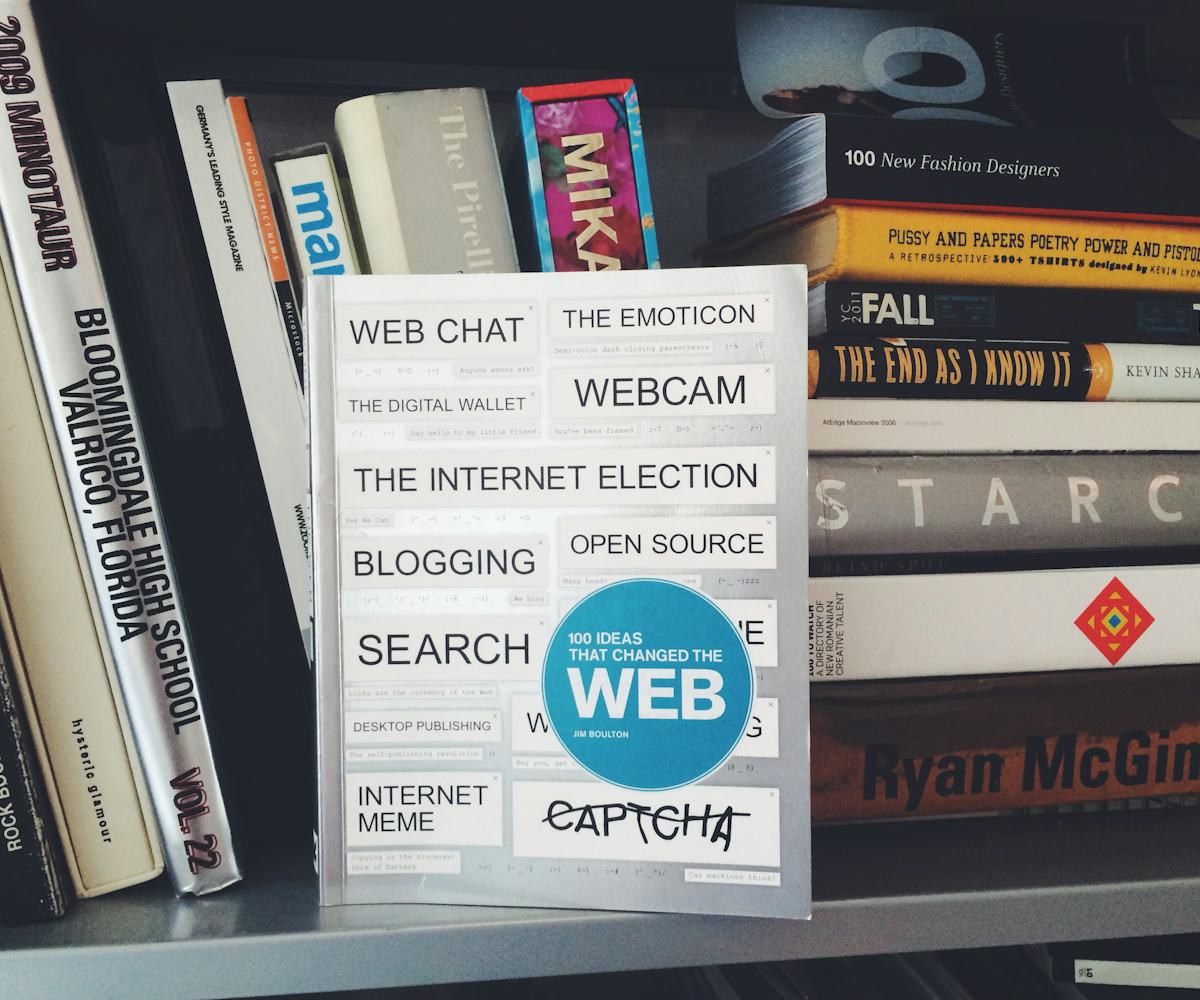 book club: 100 ideas that changed the web
emoticons, webcams, blogging, web streaming + more.
Unless you've been literally living under a rock for almost two decades, chances are you've been swept up with the contemporary revolution that is the World Wide Web. And now, 21 years after the internet's inception, it's hard to imagine the nails-on-chalkboard screeching, aka dial up, was once a thing. Not to mention old-school computer games like Minesweeper and Solitaire or the fact that not too long ago, WiFi didn't exist. The list seriously goes on. And chances are most of your day-to-day life revolves around the web, whether it's sending out work emails, listening to a Spotify playlist to pump you up, or even getting directions via Google Maps. That's why it's amazing to take a step back and actually see what really made the internet what is it today.
A little over 200 pages, 100 Ideas That Changed the Web, is every person's insider guide to how the internet came to be. From the 1934 Belgium vision for an "electronic telescope" to the social sharing sites like Facebook we now use 24/7, the book dissects every major milestone in web development. But don't think that you have to be a computer whiz to enjoy—each idea is broken down in fun anecdotes and startling facts that will make you appreciate (and totally school everyone else) on our modern day lifeline that is the internet. Check out our favorite moments below and order the book here.  
The Emoticon 
Early telegraph emoticons were most famously '73' meaning best regards or '88' meaning love and kisses. In 1963 Harvey Ball was paid $45 to create a smiley face for State Mutual Life's 'Friendship' campaign, when he was the first to create the simple circular yellow face, with two black eyes, and curved mouth, taking him a total of 10 minutes. Within 9 years the image had gone global and when web chat took over in the 90's, emoticons evolved into the images that we use today. As of today, there are now over 2,000 icons based on the Smiley alone. 
The Webcam 
The first use of a webcam wasn't for human communication; it was for two students to keep an eye on their morning coffee. In 1991, Quentin Stafford-Fraser wrote a program to have a camera face a coffee pot to capture images of it every 30 seconds. Two years later, he projected the video footage to be seen through a Web browser. 
The Blog
The first blogger was Dave Winer in 1994, who created DaveNet, a daily newsletter for computer industry updates and in 1999 his writing was coined as "blogging". Modern blogging platforms have opened up sites to be written from people of all walks of life, reinventing a media landscape that used to be dominated by the broadcast industry. 
Web Streaming 
The first web stream was from the band Severe Tire Damage, whose band members also worked at Apple, DEC, and Xerox PARC when they decided to live stream one of their gigs in the summer of 1993. The next year, The Rolling Stones broadcast their Voodoo Lounge tour with STD gate-crashing the live streaming, opening for the legendary band without asking. Mick Jagger called them "Furry Geeks," who were "a good reminder of the democratic nature of the internet." 
YouTube
The first video ever uploaded was on April 23, 2015 from co-founder Jawed Karim called "Me at San Diego Zoo". After two years, YouTube was priced at $1.65 billion. Now, more than six billion hours of video is consumed on YouTube each month, making it the third most visited site on the Internet.