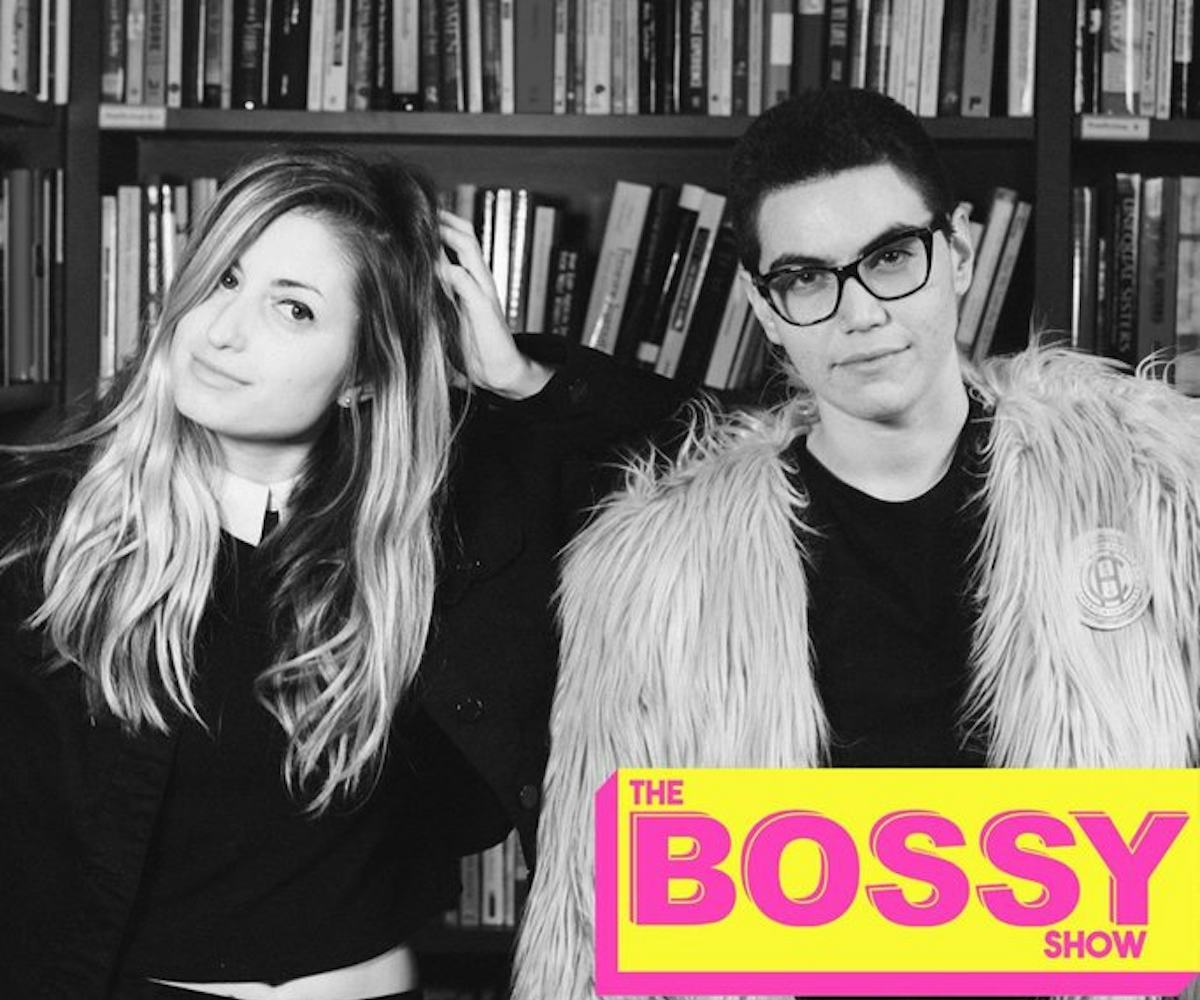 Photo via @THEBOSSYSHOW Twitter
Meet The Podcast Showing Why The Resistance Shouldn't Be Voiced By Straight White Men
How The Bossy Show is changing the anti-Trump game
In late January, as progressives across America were mourning Donald Trump's presidential inauguration, Carmen Rios and Jill Gutowitz were guiding YouTuber Miles McKenna through a specially curated game of Tinder in a Hollywood recording booth. After swiping left on the former Goldman Sachs executive and the "definitely not gay" silver fox, McKenna listened as Gutowitz described the next candidate: a man who had been denied a federal judgeship by the Senate for being too racist in 1987.
"I would just delete the app at that point," said McKenna.
"It's actually gonna get worse," said Gutowitz. The next potential suitor was Tom Price, Trump's pick for Secretary of Health and Human Services. They were playing a round of Trump Tinder for the first episode of The Bossy Show, Rios and Gutowitz's new political podcast.
Left-wing media has recently been experiencing something of a renaissance. Thirteen of iTunes' Top 20 "News & Politics" podcasts premiered in the wake of election night, and The Rachel Maddow Show is currently the highest-rated prime time show on cable. But even within this crowded media landscape, The Bossy Show stands out. It is the only show in 2017 that produces political content expressly geared toward young women. Every week, Rios and Gutowitz feature commentary from political experts like Sally Kohn and Sarah Kendzior, alongside game show-laden segments with YouTubers and Disney Channel stars. (For their second episode, Gutowitz attended the D.C. Women's March with Lauren Jauregui of Fifth Harmony.)
If Rios and Gutowitz's approach to political commentary strikes you as a Capitol Hill spin-off of Tiger Beat, well, that's kind of the point. After the election, says Gutowitz, "I saw that all of these young Fifth Harmony fans or Disney Channel fans were talking about politics and about how upset they were." She also saw a sentiment she recognized: a pervading sense of helplessness. "They wanted to get involved somehow, but didn't really know how." So she teamed up with Rios, who works as the digital editor at Ms. Magazine, and The Bossy Show was born.
The Bossy Show has arrived at a prescient time for women in politics. The aftermath of Hillary Clinton's loss has demonstrated that the resistance is female, if not the future: The Women's March was the largest single-day protest in U.S. history, and since then, women have been making 86 percent of the phone calls to Congress—not that you'd know it by looking at most of the anti-Trump media. "Men are profiting off the resistance either with capital or with social capital," says Rios, citing a number of popular male-run political shows to prove her point. (For example, Pod Save America and The President Show, both of which launched this year.) "Men are growing their presences and their voices as political pundits and women are sort of doing the work."
"It's like people want to hear what women have to say, but they want to hear it literally through the filter of a straight white man's voice," adds Gutowitz.
That's why she and Rios are so unapologetic about their signature style, which is peppered with up-speak and filler words. "We don't play down our queerness, our femininity, the fact that we are young and we do use colloquialisms," says Gutowitz. In other words, The Bossy Show forces its listeners into close quarters with its femininity—at its own peril: "People resist it so much. Like, even peers we have in feminist media—or just media for women—have outright refused to post about us or talk about it."
Fortunately, this hasn't kept The Bossy Show from finding its audience—or vice versa. (Season 2 premieres on September 7 with an episode featuring Ira Madison III.) "We got fan art in, like, the first week from two different people, and I would like to think there are some Bossy Show stans out there who want me and Jill and [our sound engineer] Drew to sign their boobs," says Rios. 
Gutowitz puts it a little more eloquently: "I talked to a 14-year-old girl at Politicon who said, 'I got involved in politics recently because I don't want old out-of touch white men legislating my body.' So, as much as we get criticized by men for using colloquialisms and using female-coded language, that is also the reason we haven't tuned that down. This is how we speak, and this is how those young women speak."
And for once, like, those young women are totally being heard.