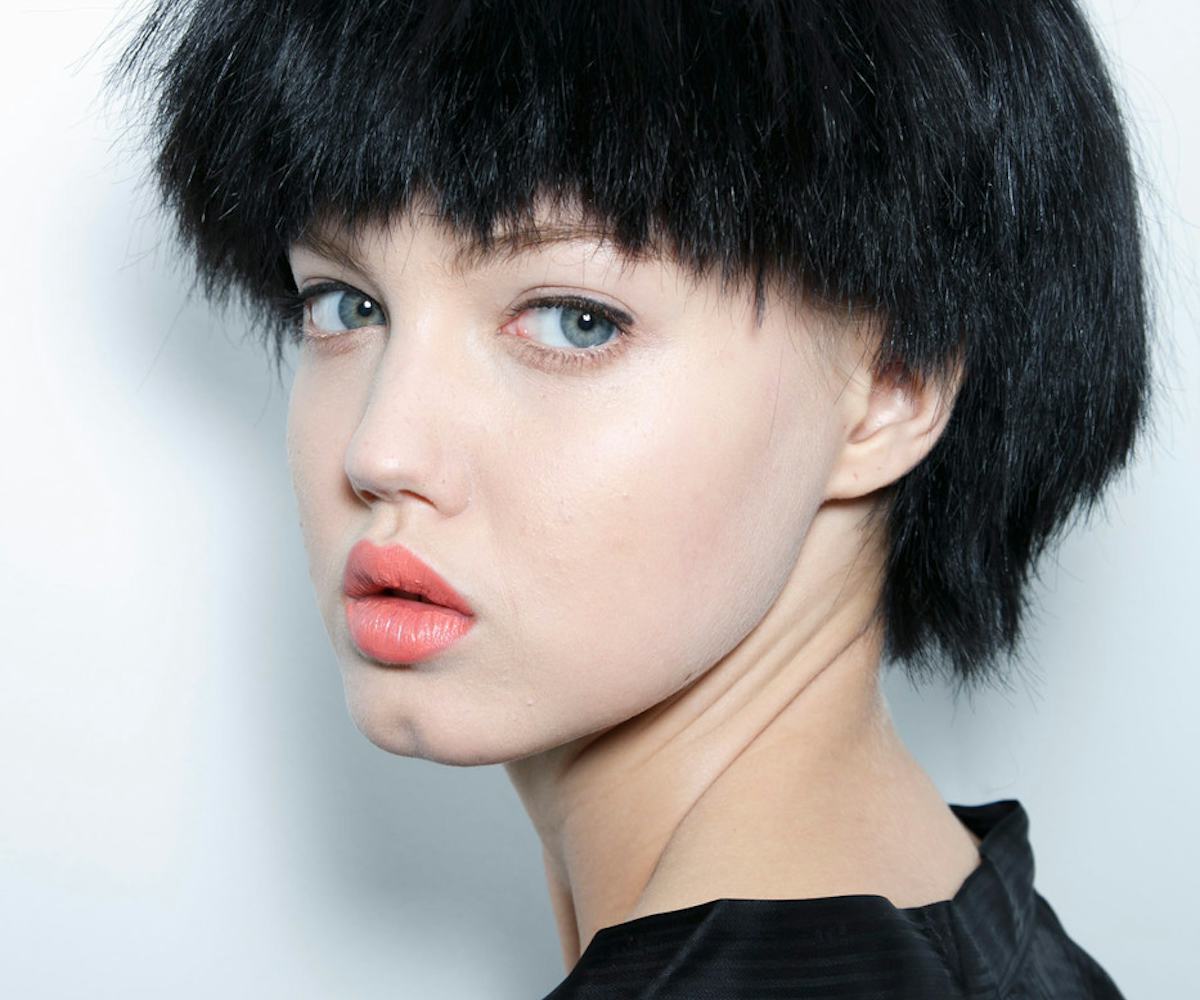 Fendi
dos and don'ts: the bowl cut
experts weigh in on spring's trickiest runway trend.
The bowl cut might conjure up some cringeworthy memories, but Marc Jacobs, Karl Lagerfeld, and L'Wren Scott don't care about our awkward elementary school moments one bit. Designers like these (plus many others) have made this iconic hairstyle spring '14's biggest hair trend. Whether it's shaggy or slick, long or super-short, there's no denying the fact that the bowl cut is having (yes, another) moment.
And while it might be tricky, don't write off the style just yet! It takes some serious confidence to rock this look, but it totally can be done. We polled two celebrity stylists, Anh Co Tran (the man behind Agyness Deyn's famous chop) and Tommy Buckett of Garnier Fructis, on the matter. Check out their advice below--and if you're feeling daring, flip through the gallery below for some hair inspiration of your own.
DO HAVE BANGS
"One way I'd recommend doing it is with bangs. If you look at the runway, almost every single bowl cut had bangs--sometimes covering the eyes. The main thing about bowl cuts is that it frames the face--so if you don't have bangs, it's sort of like, what's the point?" --Anh Co Tran
DON'T TAKE IT TOO LITERALLY 
"There isn't just one type of bowl cut. You could make it longer and swingy, with bangs brushed to the side. There are ways to ease into the look without necessarily having the bowl cut on the runways. It's about softening it up so it's not so blunt and heavy. On the runways an extreme bowl cut might look good or super 'fashion,' but pulling it off on a daily basis is tough." --ACT
DO EXPERIMENT
"One look I like is a collar bone-length cut. You can make it super long in the front, then have longer bangs, so you can pin up your hair if you want to switch up the look."--ACT
DON'T JUST GO TO ANY OLD HAIR PLACE
"This haircut can easily become a disaster, so do spend the money and go a great stylist who knows what they are doing. It's important to communicate well with your hairstylist, let them know exactly what you want by showing several pictures of the style you are trying to achieve."--Tommy Buckett
DO TAKE YOUR FACE SHAPE INTO CONSIDERATION
"For rounder faces, I'd say the bowl cut should not be too far back. You want it to elongate the face a bit. The slope of the bangs should be a little longer. Think a '70s bowl. If you have a skinny face, you can pull the bowl cut farther back."--ACT
DON'T OVERLY STYLE OR STRAIGHTEN
"I think a curly haired bowl cut is freaking adorable! It takes a certain kind of person to wear it, but it's possible. Soften it up and give it texture and movement with a bed head look." --ACT
DO HAVE A HAIR ICON IN MIND
"It might be very rare, but there are some celebrities who pull off bowl cuts well. Karen O. looks great, Agyness Deyn had a good one." --ACT
"Bowl cuts have always been a very iconic fashion haircut ever since Peggy Moffitt did it in the '60s."--TB
Scroll through to see all the different types of bowl cuts on the runway below!
Falguni and Shane Peacock
Chanel
L'Wren Scott
ThreeAsFour
A Detacher
Fendi
Undercover
Veronique Branquinho
Fendi
Agyness Deyn
Karen O.
Peggy Moffitt