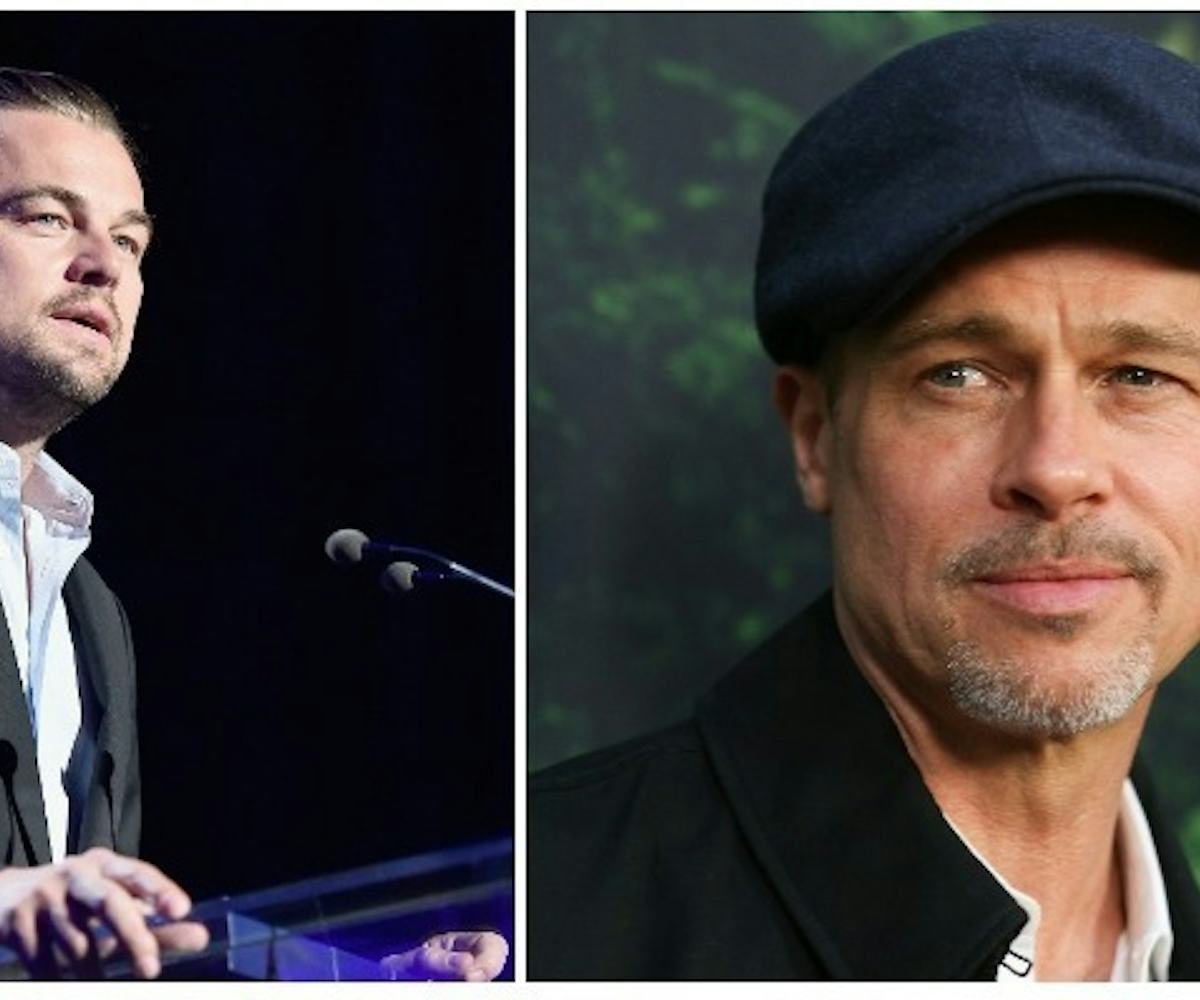 photos by Alberto E. Rodriguez / getty images; Rich Fury / getty images
Brad Pitt And Leonardo DiCaprio Will Star In Tarantino's Charles Manson Film
'Once Upon A Time In Hollywood' will be out next year
Looks like Quentin Tarantino's Charles Manson-inspired film is finally coming together. Variety reports that the film, titled Once Upon A Time In Hollywood, will star Leonardo DiCaprio (who was in Tarantino's Django Unchained) and Brad Pitt (who was in Inglourious Basterds) and take place in the late '60s Los Angeles, during the height of "hippy Hollywood."
DiCaprio will play Rick Dalton, a former star of a Western TV show, and Pitt will portray his longtime stunt double, Cliff Booth. The plot will center around the duo, as they struggle to make it in "a Hollywood they don't recognize anymore." Rick will also be portrayed as the next door neighbor to the late Sharon Tate, the actress who was brutally murdered (while eight-and-a-half months pregnant) by Manson's "Family" members. In 2017, it was rumored that Tarantino was eyeing Margot Robbie to play Tate in the film, but nothing has been confirmed since then.
"I've been working on this script for five years, as well as living in Los Angeles County most of my life, including in 1969, when I was 7 years old," Tarantino said. "I'm very excited to tell this story of an L.A., and a Hollywood that don't exist anymore. And I couldn't be happier about the dynamic teaming of DiCaprio & Pitt as Rick & Cliff."
When Tarantino first announced the project, Harvey and Bob Weinstein were tapped to direct. But now, the report states that Sony won the rights to the film, marking Tarantino's first movie without the Weinstein Company. 
The film is slated to release in August 2019, on the 50th anniversary of the Tate-LaBianca murders.