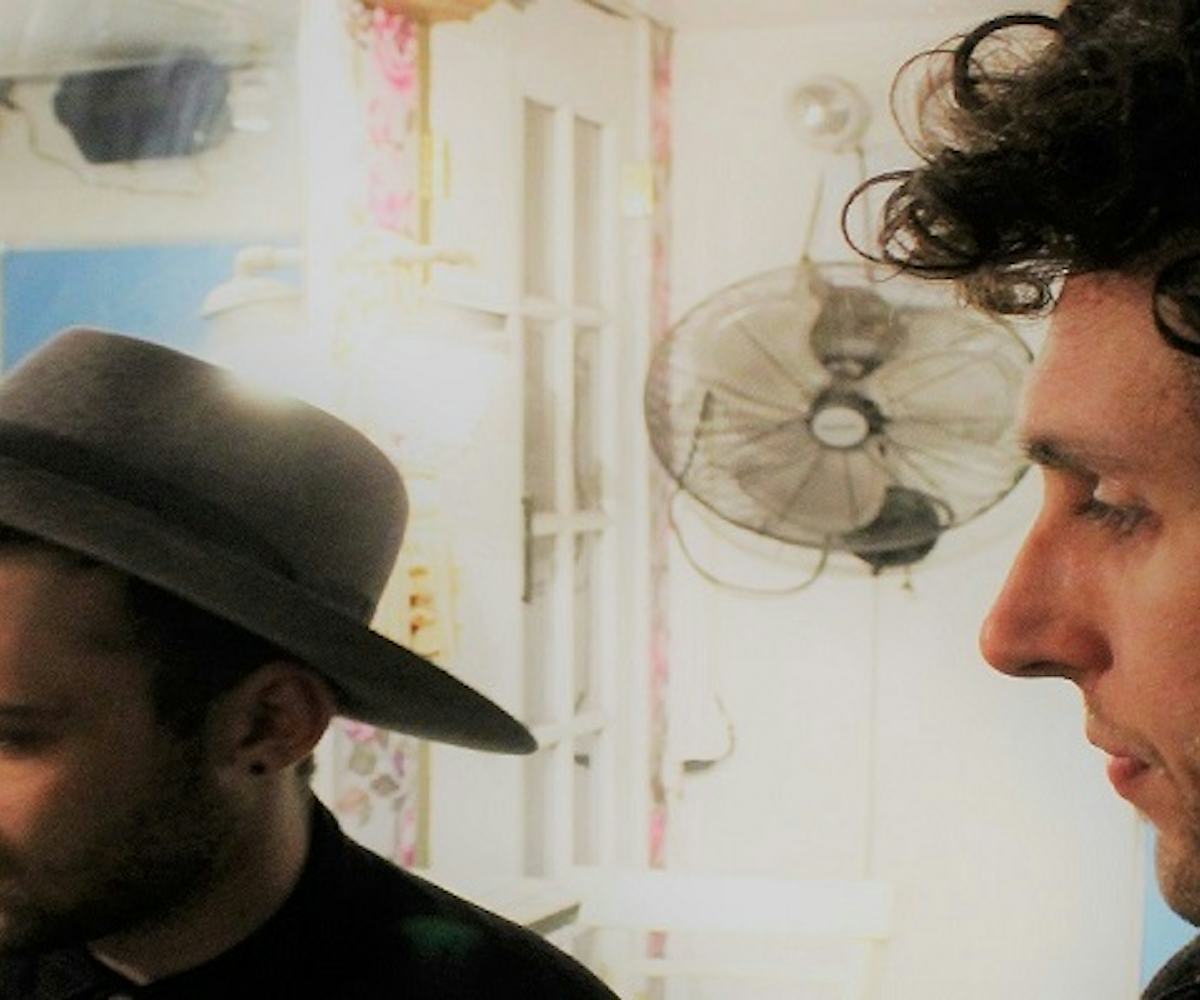 Photos by le-anh vu
Brasstracks Want Their New EP To Soundtrack All Your Tough Times
Stream the first part of 'For Those Who Know'
Brasstracks' Conor Rayne and Ivan Jackson would like you to know two things: The calamari at Il Posto Accanto is literally the best in New York, and also, they consider themselves to be "boring as hell."
"Seriously, we rarely leave our houses!" exclaims Jackson, as Rayne nods in agreement to his left. The duo, who met a few years ago at the Manhattan School of Music, is instantly recognizable—and not boring in the least—as I step out of my Uber and meet them at the Lower East Side restaurant. And before our waiter, whom Jackson seems to know, can get back to us with drinks, we've covered an array of different topics, from college dorms to creepy professors. We've also talked about the questions they've been asked in their past interviews. 
"Am I going to be the first person not to ask you about working with Chance the Rapper?" I ask the duo. They reply with a relieved "yes," and we shift the focus of the conversation to their newly-released, two-part EP, For Those Who Know—a musical celebration of last year's success and a dedication to those who have had their backs along the way. 
I ask the twosome about their experiences as students and what it was like building Brasstracks during college. While they answer, I can't help but wonder how long it will be until we'll have to move from our outdoor seats to a private area as fans begin to take note of their presence and request a few selfies. In that moment, it becomes clear that even though Rayne and Jackson are young—both as a band and in age—their future success is inevitable. In their short time as a musical project, the duo has already secured one Grammy, for producing Chance the Rapper's hit "No Problem," an achievement most artists spend their lives dreaming to accomplish. There's no doubt that the duo's signature sound helped define the Grammy-winning viral single. Need more proof? Listen to "Good Love" or "Get Your Way," and give "No Problem" another listen after. 
Despite being known for their ebullient music, the duo reveals to me that they describe their sound as minimal. Both Rayne and Jackson learned their craft through jazz training—Jackson on trumpet and keyboard, and Rayne on drums. "We're really inspired by hip-hop which is so minimal—there's so much space," explains Rayne. It seems as though Brasstracks is claiming some of that space with their take on the genre. Collaborations with The Underachievers, S'natra, BXRBER, Fatherdude, and Robert Glasper can be found on the first half of For Those Who Know—each song a unique blend of rich instrumentals over a rap flow. "We both rely on our jazz music training to the umpteenth degree... I don't know if that's a word, but now it is. We're East Coast kids that like hip-hop and grew up on jazz."
We eventually get around to talking about their new two-part EP after reminiscing about the band's past experiences, eating lots of bread, and sharing what can best be described as a classy cheese blob. Revealing that they are still exploring their "sonic landscape," they mention the EP is "for those who know we're still figuring it out, that we like a lot of shit, that we love making music together that we can listen to on our own headphones and walk around New York City to; to those who know, we don't give a fuck about trends, all that." The contrast in the way Rayne and Jackson describe their work, wavering between poetic imagery and take-it-or-leave-it candidness, falls in line with the overall theme of their music—a cool, contrasting conversation between jazz and hip-hop. 
In fact, their openness extends to my less serious rounds of questioning. When asked about their future mascot and ventures into the business of celebrity perfumes, Jackson and Rayne apply the same amount of focus to their answers, if not more. After thinking in silence for several moments, they come to a consensus:
Silence. Lilac Silence. That's definitely what Conor's is called. Are they going to be sold together? Oh yeah—we're a yin and yang unit over here. One for morning, one for night. One for the weekend, one for the weekday. Mine's gonna be... Eau de Loud. A bad dad joke, that's what my fragrance is gonna be. It probably smells like gasoline.
As for the mascot, "a Magritte painting" comes to Jackson's mind, while Peggy, their tour manager's dog, is Rayne's contribution. "It's not just any dog, any bulldog, it's Peggy. And it's a crazy dog."
For Those Who Know is dedicated to the fans, family, and friends that have elevated Brasstracks from being just another group on SoundCloud to a band poised and primed for success. "Everything has been fluctuating, it's probably been the most crazy year of our lives, and we just couldn't express that in an EP," Jackson says of his and Rayne's decision to cut the album in half. "This project is going to be a much more special listen than our last."
Stream part one of For Those Who Know, below.