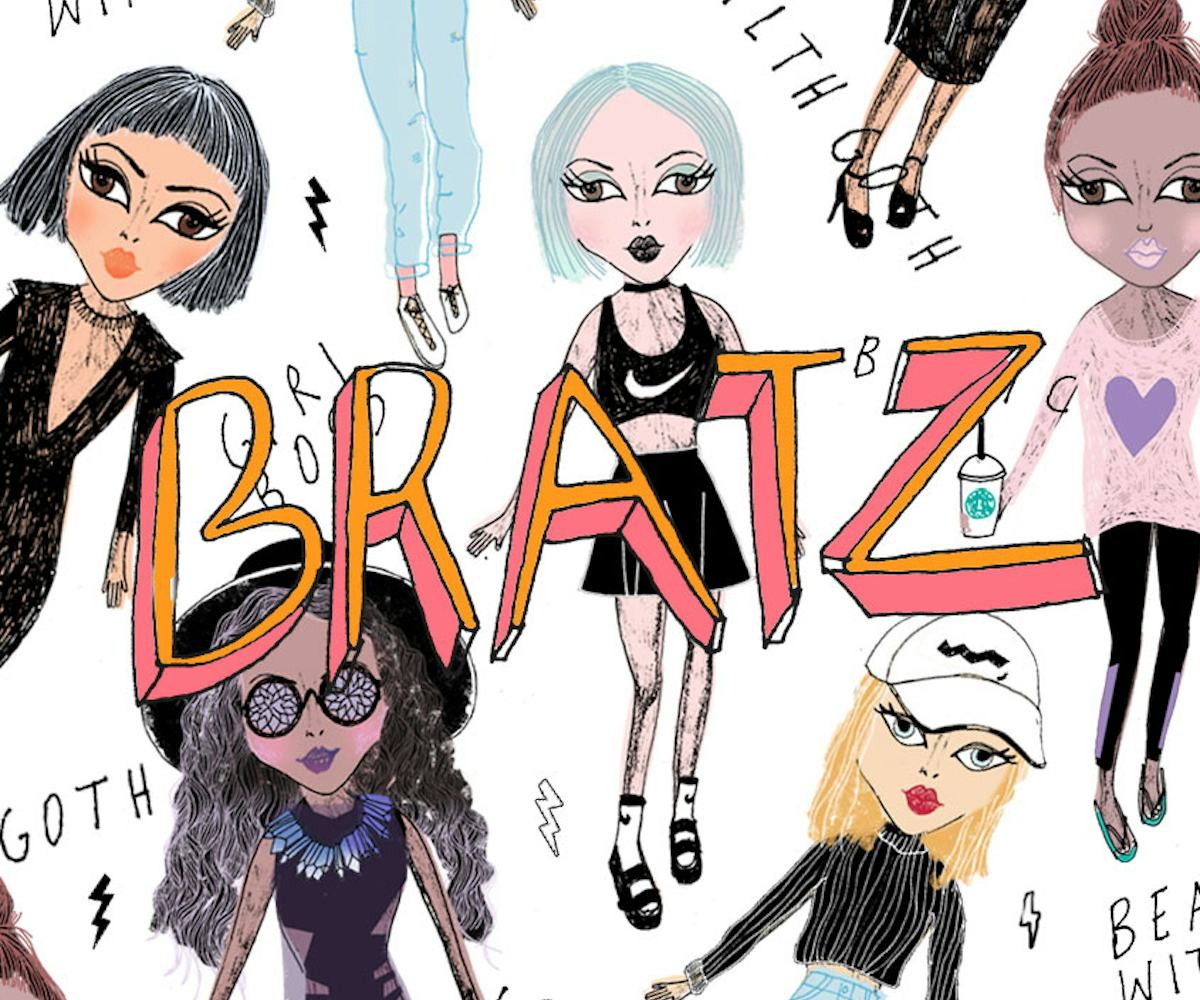 illustrations by liz riccardi
what bratz dolls would look like in 2015
When I was in sixth grade, Bratz dolls hit shelves with such provocative, caricatured excellence that they actually stalled my adolescence. You see, with their sardonic expression, hair (filled not simply with secrets, but also with deception), and short skirts, these "cool" dolls became a surrogate, able to act on mine and every other American girls' middle school fantasies. Besides, one was named Yasmin, which is probably the closest I will ever come to having a semi-action figurine named after myself. 
So, my best friend and I started collecting these dolls, which we would use to conquer our wildest inhibitions—which, to be honest, really only included going on dates and taking trips to the mall. The world at large, however, hasn't always been kind to animated friends. In recent years, Bratz dolls have come under fire for propagating unrealistic body expectations, inspiring young girls to prematurely sexualize themselves, and putting too much focus on appearance. Their oversized features, including even the size of their massive feet, have also become a source of dissension: In her article "Being Corrupted By Bratz Dolls," Catherine Bennett writes, "...my own reservations have more to do with the Bratz dolls' disturbing, detachable feet; a facility that soon results in the toys having to pursue their grueling timetable of getting dressed, accessorizing, grooming, disco-dancing and shopping on no more than a pair of plastic stumps." 
While these claims may hold  validity in the eyes of worried parents and perhaps even some children, they did not and do not apply to my experience. Instead, the Bratz provided a vehicle through which I could prolong my childhood and maintain my innocence without feeling that I was missing out on the experiences my peers were engaging in.
So when it was announced that Bratz dolls would return to stores, I was somewhat excited. Unfortunately, they didn't bring with them the edginess that I had expected. MGA Entertainment, the company who manufactures the dolls, was playing it safe (although it did not sacrifice the previous hem length) and while that's okay, it feels like there needs to be some representation of 2015's different subcultures imagined in Bratz proportions. Click through the gallery to see what we wish Bratz dolls would look like today.
The Health Goth (Nikki)
Nikki's favorite hobbies include perfecting her monotone voice, complaining about her seemingly permanent resting bitch face (which first appeared sometime in the past 18 months), and, of course, pretending to work out. And as much as she denies it, constantly lifting a cigarette to her mouth and reapplying her black Lip Tar does not count as bicep curls. 
The Basic (Stacie)
Stacie, with her oversized sweaters and flip flops, is easily the most relatable character for the Bratz audience. She is totally the girl you can tell all your secrets and crushes to—sure, the sound of her incessantly sucking up the last bit of her blended Frappuccino can be annoying at times, but it, like everything in this glitter-filled world, serves a purpose: it seems to drown away your sorrows and inhibitions. So you go, girl. That game of spin the bottle will definitely work in your favor. 
The Girl Boss (Krystal)
After reading three self-help books and a guide on how to become an e-commerce wizard, Krystal has become a self-proclaimed #GIRLBOSS. With an Etsy shop under her belt and a SquareSpace website under construction, she's confident that she'll one day rule the world—or, at the very least, a small part of the internet. Krystal may not always be around (she's got an empire to build), but she'll always answer your texts, emails, and BBMs (because, according to her, BlackBerrys are coming back into style).
The Beach Witch (Candi)
Each summer, Candi emerges, with her felt, wide-brimmed hat and chunky platforms in tow. No one knows where she goes in the winter—she's elusive, but you accept her like you would a Pagan who appears in the middle of fire pit in the woods. If you try to interact with her, she will mutter off about a sea of retrogrades on the horizon. While she seems to carry an ominous presence with her, you embrace her as one of your own, because you realize you will never be as cool as she is, but that won't stop you from reading up on Susan Miller and trying your darndest.
The Normcore (Ellie)
Never without her faded, high-waisted jeans and replete Seinfeld references, Ellie has focused all of her recent energy on dominating the Instagram scene. With a quick sideways peace sign and a "~*" caption, she has perfected the idea of the non-basic basic. And, no, she does not shop at American Apparel—she shops exclusively at thrift stores. Thrift stores that carry a lot of American Apparel merchandise, that is.