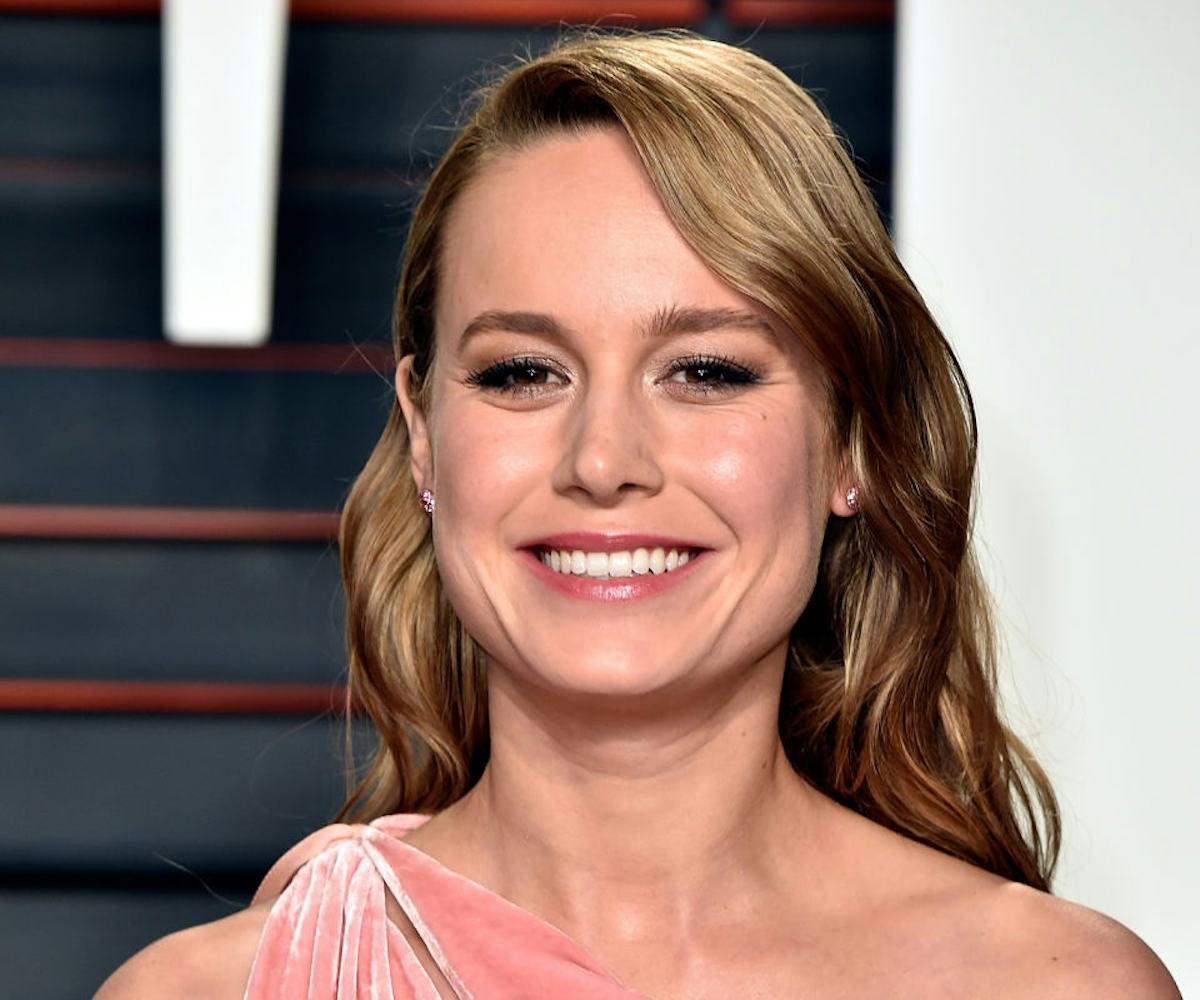 Photo by Pascal Le Segretain / Getty Images
Brie Larson On Motherhood And The Difficult Path To Becoming An Oscar Winner
Backstage with the Best Actress winner
A year ago, Brie Larson was still unknown to a large swath of moviegoers. Despite a charming performance as Amy Schumer's sister in last summer's Trainwreck, and an unforgettable turn in 2013's Short Term 12, the 26-year-old actress had yet to become a marquee name. That changed last night when Eddie Redmayne, announcing the winner for Best Actress at the Oscars, called out Larson's name. Larson, a former child actress, is officially an A-list star, and when she arrived backstage to speak with the media, she spoke about the challenges she faced in reaching the very pinnacle of her industry, and how an unwavering belief in herself got her there.
Can you believe how far you've come in a year? 
This time a year ago, I was still trying to figure out who I was. The movie was done but I was in deep searching. I was pulling apart the pieces between the things that I had learned while being Ma, and then trying to remember who I was before this movie because I had spent about a year prepping and then doing the film. And who I was by the time the movie was over was so far away from who I was when I started. It was a long process of many different things in trying to find myself.  And the weird part is I am standing here now completely myself. Everything about this experience down to the way that I have handled it, the way that I felt about it, the dress that I'm wearing, everything has been very pointedly about it being a representation of who I am, and I feel really strong and excited to be holding this gold guy, that I do feel like it is an incredible metaphor for how I feel inside.  
What advice would you give to people who haven't achieved their dreams yet?
Oy, that's a hard one. You just have to do it. I mean, I wish that there was any sort of rules or code, but in fact, I think the way you get there is by breaking it, by listening to what's happening inside of yourself. I personally had many moments of crossroads, probably hundreds of moments of crossroads where I could go the way that people were telling me to go, or I could go the way that felt right within me. And it took me 20 years to be standing here on this stage, but I wouldn't want it any other way, to be so grateful for all of the hardships that it took to get here. I think to live this life, it's a bizarre combination of being plastic and incredibly stubborn, and also really curious about what this life holds; to have no expectation, but to have an idea about a beautiful horizon that's in front of you and constantly moving toward it.  
If you had to choose a song to describe how are you feeling now, which song would it be?
Oh, so easy.  "I'm In Love With My Life" by Phases. Easy. [Singing] "I'm in love with my life."  Done.  
When you finally do have children—or if you do have children—do you think your experience in filming Room will color that experience for you?  
Probably. I don't have kids, but I do have a little taste of an understanding of how complicated it is to be a parent. I think there's a lot of unknowns when it comes to parenting, and I personally have problems with trying to be perfect and being devastated when I realize every day that that's not a possibility, and I think that that comes with parenting as well. So I think understanding that it is a symbiotic relationship. Jacob [Tremblay], I learn more from him than he ever did from me. There's so much wisdom in a child, and there is so much ease to the way that he is that I'm really excited for whenever that journey comes. I think children are just magical, full of wisdom, incredible little people. 
Can you give an example in your career of a time where you feel like you really learned to stand up for yourself? 
There were many times that I would go into auditions and casting directors would say, "It's really great, really love what you're doing, but we'd love for you to come back in a jean miniskirt and high heels." Those were always moments of a real fork in the road, because there's no reason for me to show up in a jean miniskirt and heels other than the fact that you want to create some fantasy, and you want to have this moment that you can reject. I personally always rejected that moment. I tried maybe once, and it always made me feel terrible because they were asking me to wear a jean miniskirt and heels to be sexy, but a jean miniskirt and heels does not make me feel sexy. It makes me feel uncomfortable. So learning for me what it took to feel confident and strong, and make what these people were trying to get to exude out of me come from a personal place, and from my place, and trying to represent in film women that I know, women that I understand, complicated women, women that are inside of me—that became my mission.  
What does your Oscar win say for all of the victims out there? 
I don't necessarily think an Oscar win changes anything for those women. I do hope that this is a story that honestly changes people and allows them to be free. To me, making this movie was my own search for freedom and breaking free of my own personal boundaries. And I hope that when people watch this, they realize that they have it in themselves to break free of whatever it is that's holding them back.