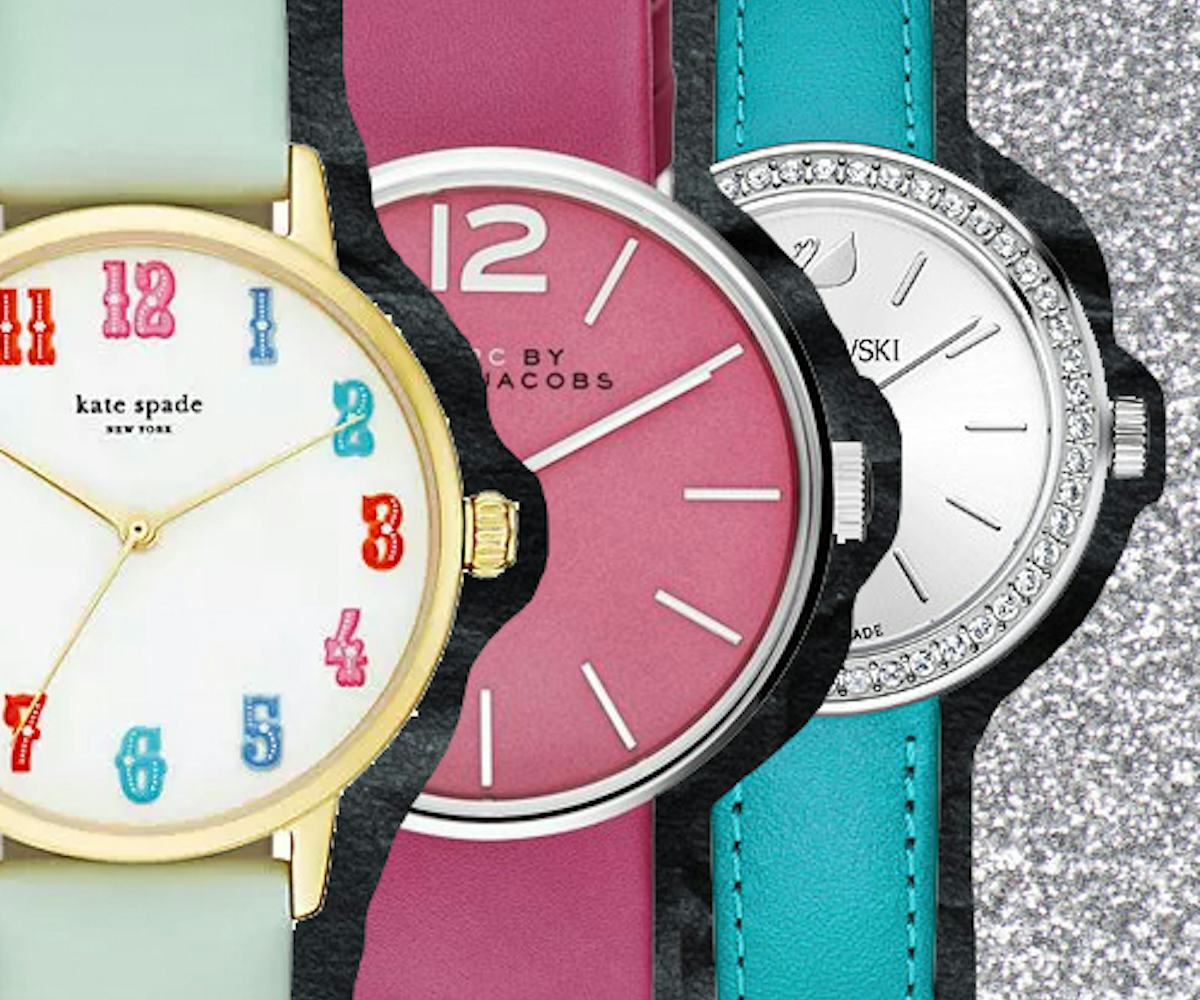 18 Colorful Watches To Brighten Up Your Spring Wardrobe
a rainbow array of statement making timepieces
Once upon a time, in a world that was void of smartphones, we relied on a handy little accessory called the watch to tell the time. While these timepieces have become a bit overlooked as of late, we think it's about time to bring them back.
Spring has officially sprung, which means the days of dark and drab winter accessories are a thing of the past. Thankfully, this season's offerings are chock-full of vibrant and colorful pieces. While their function may not seem as necessary as it was before the smartphone revolution, they're certainly still a lot of fun to wear. We rounded up some of our favorites—from neon digitals to timeless pastel leather straps—that you absolutely need this season. We also hope this will inspire you to take a moment to put your phone down and enjoy the arrival of a new season.
Now time out! Click through the gallery to check out our picks.
Reclaimed Vintage, Just For Fun Watch, $34, available at ASOS.
Baby-G, BA110CA-9A in Yellow, $120, available at Casio.
Breda, 1678b in Yellow, $40, available at Breda.
Fendi, Momento Bugs Stainless Steel Watch, $1,495, available at Net-a-Porter.
Kate Spade New York, Carnival Metro Watch, $195, available at Kate Spade New York.   
Komono, Estelle Iridescent Silver, $89.95, available at Komono.
La Mer, Wedgewood-Silve Saturn Wrap Watch, $78, available at La Mer.
Laval, Signature Series Gold/Red Genuine Leather, $160, available at Laval.
Marc by Marc Jacobs, Peggy Pink Strap 36MM, $105, available at Marc Jacobs.
Nixon, Time Teller P 40 MM, $60, available at Nixon.
Nooka, Zub Zan 40 Orange/Pink Watch, $79, available at Nooka.
RumbaTime, Pink Orchard Gem Mini Watch, $45, available at NYLONshop.   
Rich Gone Broke, Blue Sky Nato Watch, $69, available at NYLONshop.
Opening Ceremony x Fossil, Rectangular Watch, $225, available at Opening Ceremony.
Swarovski, Daytime Lagoon Blue Watch, $249, available at Swarovski.
Swatch, Spot The Dot, $80, available at Swatch.
ToyWatch, Velvety Violet Watch $350, available at ToyWatch.
Winky, Apple Red Slap Watch, $22.50, available at Winky.