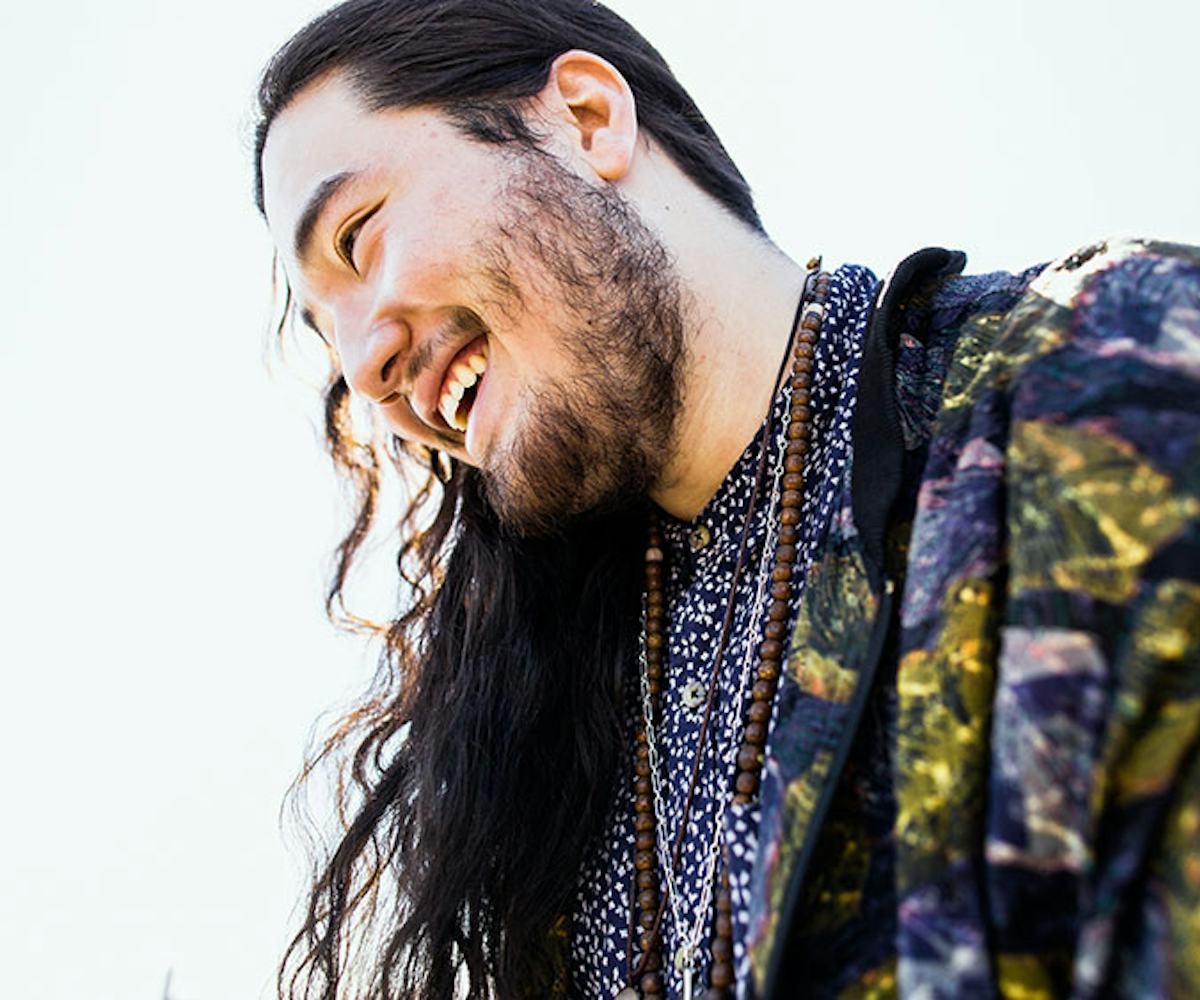 Photo by Jerm Cohen
the ultimate 'broad city' playlist
straight from the show's music supervisor.
Like most Millennials, we can't get enough of Broad City. From the absurd-yet-realistic plot to the eccentric New York personalities, creators and stars Abbi Jacobson and Ilana Glazer seem to have everything figured out. But when it comes down to the music—which is enough to make us tune in every week—they go to the show's music supervisor, Matt FX Feldman. We asked the 22-year-old to create a post-season playlist for you. Enjoy.
Choosing music for Broad City is pretty straightforward, really. The way I like to see it, there's Abbi and Ilana's taste in music, and there's my personal taste. Ultimately, much of the music on the show winds up representing that middle circle in the venn diagram of tunage—luckily for us, that middle circle just happens to take up most of the space!
Scene to scene, it's about addressing the emotion first and foremost, and then the characters, backgrounds, and plots. Ultimately, I'm so grateful to have a platform on which to share the music I love—speaking of which, here are ten tunes that have been stuck in my head lately:
1. "Indecision (Jungle Remix)" - Shura
This tune was pretty much the theme song of my recent trip to L.A. Something about that hypnotic groove and lawsuit-worthy vocal loop immediately brings me back to sitting in a nice whip, with that trademark cali ambrosia sunset around me, chillin' w bae. The life!
2. "Jump So High Ft. Childish Gambino (Todd Edwards Remix)" - Lion Babe
This tune has been serving me particularly well in club settings—recently got asked to close out a F
riday
night on the mainstage at Webster Hall with my buddy Hiyawatha, a partner of mine in a party called Tribes NY, and a resident DJ at Webster Hall's Girls & Boys every 
Friday
night. The remix crushes the dancefloor—I have a distinct memory of the room going dark with the bass hits at 0:55, and how cool it was to see the place strobe out of blackness during the minimal verse of the remix. It's no surprise this tune is so huge—Todd Edwards is an absolute legend, and Lion Babe is definitely poised for stardom. She just put out a new video, "Wonder Woman," as well!
3. "Flamingo" - Kero Kero Bonito
No matter how long I've had this tune, it's still in heavy rotation for me as far as personal listening and lowkey social settings go. Ryan Hemsworth has been consistently striking gold with his
Secret Songs
single series—recent releases by Grynpyret as well as Yung Gutted x Wiki have been super dope—and Kero Kero Bonito are a perfect example of how strong of an impact a single can make! As one of the only groups outside of the PC music camp making A+ glossy "future" pop (I use that word  with massive apprehension) they are definitely ones to watch. Check out their new tune "Picture This'' if you're hungry for more.
4. "Cut The Cake (Ft. Moonchild)" - Maramza
Maramza and Moonchild are both artists based out of South Africa—Maramza is a producer based out of Cape Town, while Moonchild is a Johannesburg-based vocalist. Cut the Cake is another tune that's been in heavy, heavy rotation for me—I love the slick vocal cuts and funky rhythmic feel. Moonchild just put out her debut EP as well,
Rabulapha!
, available on Spotify and iTunes—check it out for more South African heat.
5. "Finder" - Ninetoes
"Finder" is a tune that has always gone off, no matter where and when it's been played. The song was actually shown to me a year ago by the third and final partner of our TRIBES NY party, Jake Cohen, founder of Proper Management. At this point, Finder is basically the "Tribes" theme song—if we haven't played it by the end of a set, we'll definitely end the night with it. And you know what? It never gets old.
6. "Do You?" - Troyboi
Speaking of tunes that can pop off regardless of where you play them, Troyboi's "Do You?" has been a big one for me these past couple months. A track like this has guaranteed potential anywhere from the playa to the boiler room, with it's half-time swing and full-time wobble. Definitely gonna try to find a spot for this one in my supervision work!
7. "Creektime" - Odetta Hartman
Odetta Hartman is a NYC-based, DIY singer-songwriter with a heavy freak-folk influence and "Creektime" is the first tune off her upcoming record
222
. Really chilling, cinematic stuff—if ever I had an opportunity to work with someone like Guillermo Del Toro, this would definitely be one of the first things I'd show him. A change of pace for sure, but definitely worthy stuff.
8. "Everything is Everything" - Gabriel-Garzon Montano
Actually had the pleasure of DJing before and after a set from Mr. Montano this past weekend, and let me tell you: Ladies and gents—meet your new dark-soul hearthrob. Simply put, Gabe is a master vocalist, songwriter, and performer. I remember the first time we met was sometime in the early hours at a now-shuttered DIY joint in BK, Apostrophe; he was bartending and I'd just finished playing a set. We wound up sitting behind the bar chatting jazz and classical choral music for hours, and let me tell you, he is the real deal. If you don't believe me, ask Lenny Kravitz and Drake—the former took him on a tour across Europe while the latter sampled him on his most recent album! This dude is going to be a superstar, mark my words. 
9. Jealous - Jubilee
Jubilee is one of the most respected artists in the NY dance music scene. From her appearances on Mixpak Soundsystem on Miss Lily's Radio to her own show Flamingo FM on Red Bull to her insane, genre-defying club sets to her dope fashion and health tips: She is the definition of a modern music professional. "Jealous" is one of two tunes off her most recent release on BK label Mixpak—I'm a big big fan of the initial Miami Bass build, and an even bigger fan of the bassline release at 
1:55
! Nice and bouncy, just how I like it. 
10. "We Bout It" - Vices & Jailo & BrassTracks & K.B. Starr 
"We Bout It" is a tune off of the internet's favorite new producer/DJ collective, MOVING CASTLE. This Skrillex-approved, Soundcloud-dwelling, multiple-city-spanning collective features over 15 members (though that number might be higher by the time you've read this article), and are located all around the country (and world!). This particular tune is off their most recent compilation,
Moving Castle IV
, and features the Orlando, Florida duo Vices, Dutch producer Jailo, Massachusetts rapper K.B. Starr and finally BrassTracks, a duo featuring drummer Conor Rayne and producer and trumpet player extraordinaire Ivan Jackson. If I could say a single thing about this song—and I could say many—it would probably be, "Damn. Those Horns tho!"