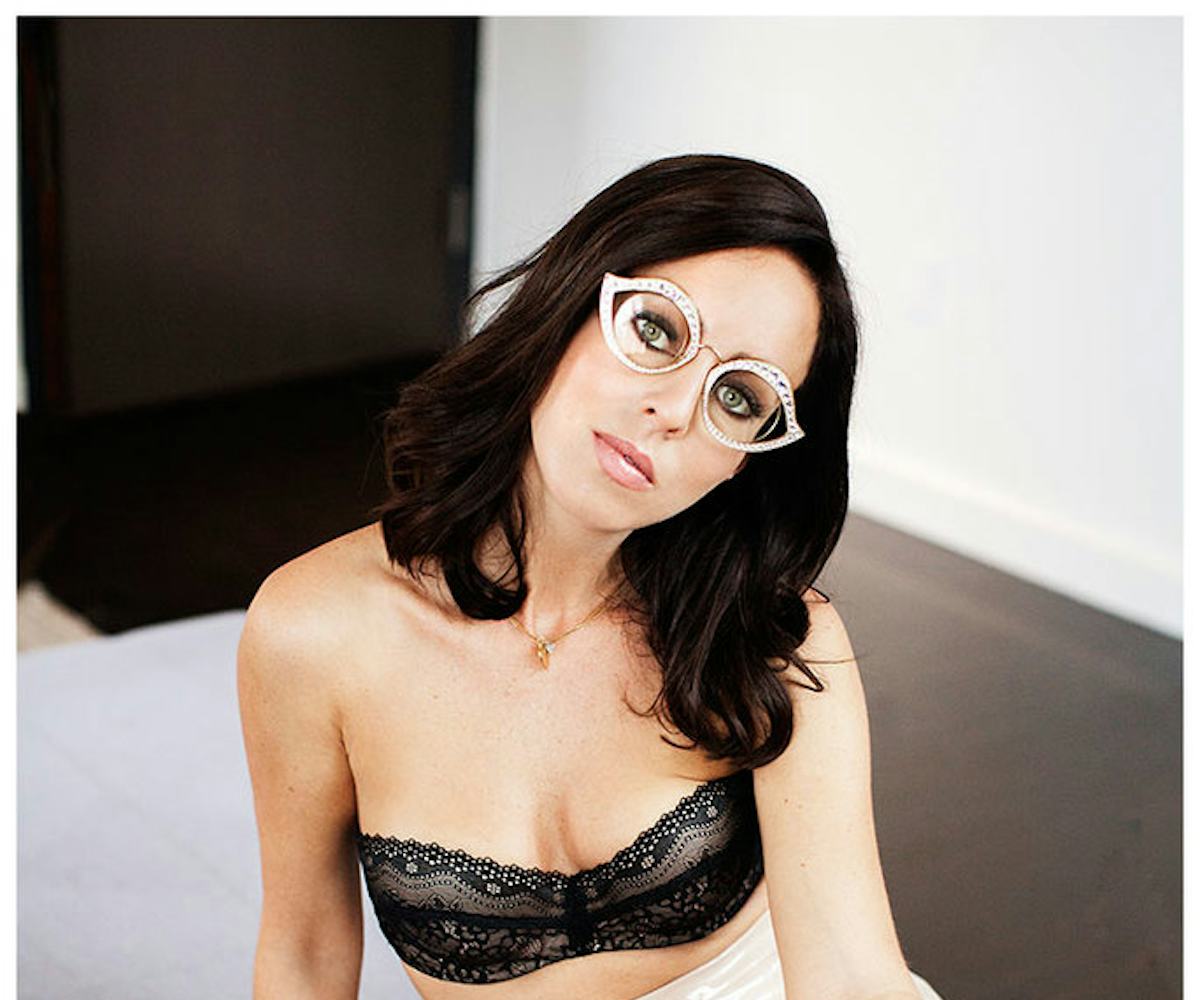 Photo by Jin + Dana. Styled by Shabdiece Esfahani. Sydne is wearing the b.enticing Strapless.
Sydne Summer Shows Us How To Rock A Bra
We chat with the style blogger about social media, personal style, and the power of a good bra
What does it take to reach social media fame? Just ask L.A.-based style blogger Sydne Summer.
Summer, whose past experience in fashion inspired her to start her own blog, has grown to become a style icon to women worldwide. How did she do it, you ask? Well, for starters, her feminine and classic style is aspirational, yet still very much attainable. More importantly, she knows her audience just as well as she knows herself.
Partnering up with B.TEMPT'D bras, lingerie for the confident city girl who values fashion trends as much as she does a comfortable bra, we met up with Summer over at Smyth, a Thompson Hotel in Manhattan's Tribeca neighborhood. We chatted about everything from social media and the importance of a personal uniform to what to look for when shopping for undergarments—all while showing us how to rock innerwear as outerwear like a boss.
What was your introduction to Instagram?I started my Instagram back in 2011—crazy! I honestly can't remember who introduced me, but I remember being so excited to have a social media outlet where I could post my day-to-day photos. Previously, I had been using Twitpic on Twitter, and Instagram was just so much prettier!
How has your viewpoint on social media changed throughout the years?It changes as new apps pop up. When I first was on Instagram, I wasn't worried about a cohesive feed, having perfectly staged photos, or a specific posting schedule. I miss that freedom. That's why I was thrilled when Insta Stories came along. It brought back that on-the-cusp feeling and really allows me to connect with my #ssInstaFam.
Do you ever feel like you're dressing for your fans and not for yourself?I try to stay true to myself. I've created a very specific brand that's all about aspirational but achievable fashion. It stems from how I like to dress and shop. While I'll occasionally experiment with new, out-there trends, I generally stick to a more classic and feminine style. My readers have learned to appreciate that so I suppose now, I dress for both of us.
Sydne is wearing the Spectator Front Close Wire Free Bralette.
What's your viewpoint on personal uniforms?I think personal uniforms are so important. It's key to have an outfit combo that makes you feel comfortable and confident, so you can always throw it on when you're running late. For me, that's skinny jeans, a button-down, and a pair of heels. No matter the color palette or season, I feel like I can never go wrong with that trio.
How would you describe the "Sydne Summer twist?"I've always been a fan of a subtle pop of color. Whether it's with a red lip or a colorful clutch, I find that additional vibrancy adds an interesting element to any look.
Put an emoji to your styleThe red rose. It's feminine and classic.
Sydne is wearing the b.charming Bodysuit (left) and the b.charming Front Close T-Shirt Bra (right).
What outfit makes you feel the most "you?"I find skinny jeans to be extremely comfortable. Depending on the weather, I'll sometimes swap a button-down for a classic white tee.
When do you feel sexiest?When I'm lounging at home in a super-lightweight tee and underwear.
What do you look for when shopping for bras and underwear?Fit is key for me when it comes to bras. I had been wearing the wrong size for years until I got measured and found out I was a 30C. It's not a common size in the U.S., so I was thrilled to discover B.TEMPT'D bras a couple of years ago. For underwear, it's all about comfort. I live in thongs and booty shorts and find lightweight lace to be the most comfy.
Sydne is wearing the Spectator Underwire T-Shirt Bra.
You live such a busy lifestyle, how does having the right undergarments help you take on the day?Having a bit of lift up top always makes me feel confident. When a bra has the perfect fit, not only is it more comfortable, but I also find it helps my posture improve.
What are your thoughts on bras as outerwear?I haven't experimented too much with bras as outerwear, though I find it to be incredibly sexy knowing that you have beautiful undergarments hidden where nobody can see them. However, when it comes to the athleisure trend, I'm all for it! I play around with different back straps peeking through my tanks when I'm running errands before a pilates class.
Sydne is wearing the Spectator Front Close Wire Free Bralette.
Photographer: Jin + DanaStylist: Shabdiece EsfahaniHairstylist: Liz OlivierMakeup Artist: Elena Miglino