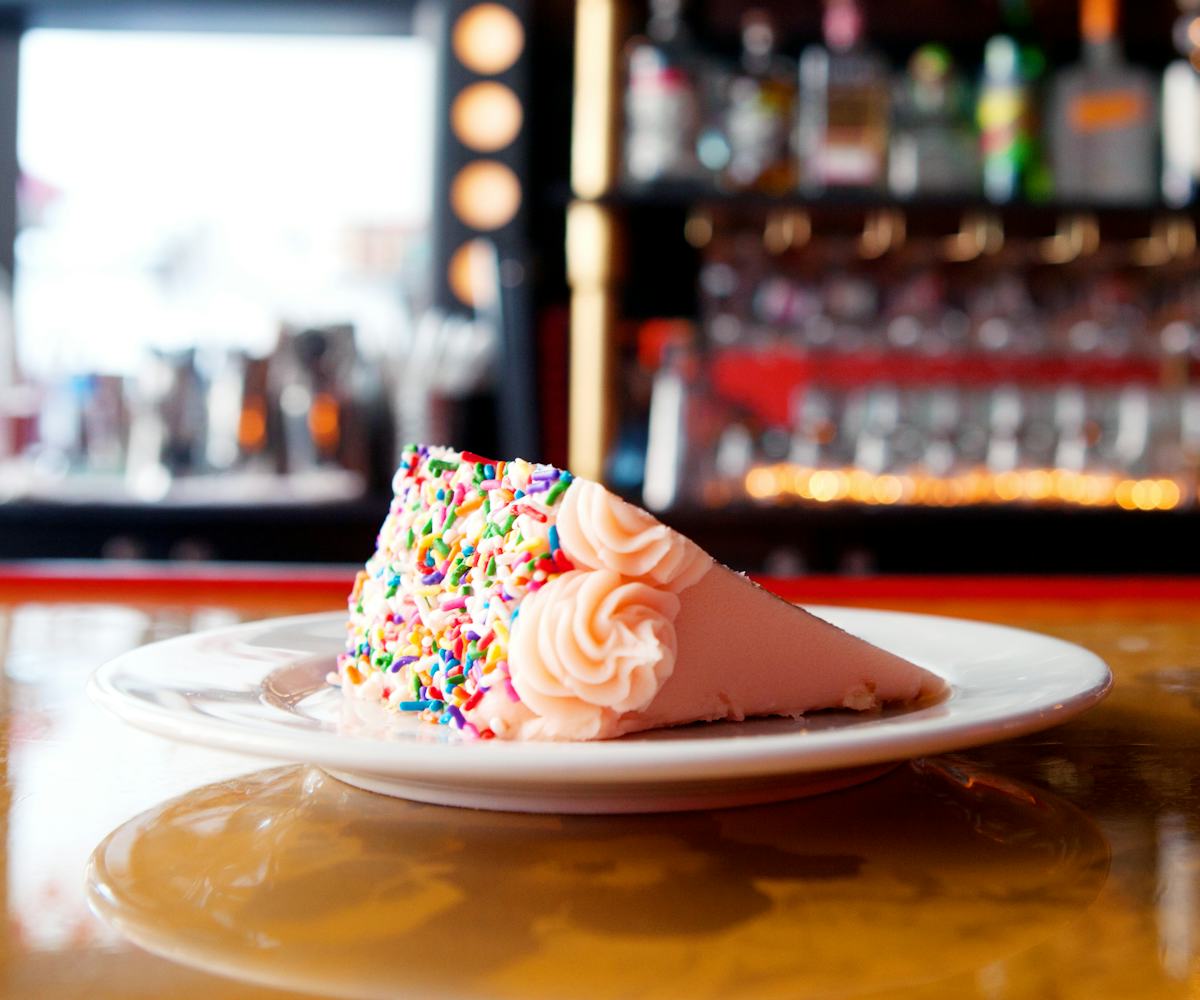 Photographed by Rachel Liu
butter & scotch combines booze + dessert because duh
talking with the owners of brooklyn's sweetest spot
Allison Kave and Keavy Blueher had baked countless of pies, cupcakes, and cakes when they joined forces and came up with the concept for Butter & Scotch, an aptly named bar and bakery in Brooklyn's Crown Heights neighborhood. Opened last February, the hybrid space boasts menu items like the Rock & Rye shake (whiskey, ice cream, sour cherry puree, and whipped cream) and Green Chile Margarita caramel corn. As for the venue, it exudes a boozy Alice in Wonderland vibe circa 1950. We caught up with the self described @drunkbakers about starting their own company, their favorite pairings, and why alcohol and dessert make the perfect combination.
You met through mutual friends at the Brooklyn Flea. How did you first start thinking about collaborating?
Allison Kave: When we first met, I feel like we were both in the exact same position with our businesses. We had weekend markets, we did some catering, and we did some wholesale, but everything was being done on our own with a little bit of help. We both had reached this point where it was like, Okay, we either grow and get like a brick and mortar, or we probably aren't going to go very far with this. And neither of us wanted to do that on our own.
And how did you come up with the concept for Butter & Scotch? 
AK: Over drinks.
Keavy Blueher: A lot of drinks. Because there was the beginning drinks where we were brainstorming…
AK: And once we had the idea it was like—Yeah! We both had emailed about whether we wanted to go into business together, and when we met we were both in agreement that we didn't just want to have a bakery. I can't remember how I got there, but we were just discussing how rare it is to find a place where you can go and have a really well made dessert after dinner, and a drink. You know, not just a bakery that closes at eight or something, but like an all-night type of thing.
There is a lot of crossover in your drinks and desserts, like some of the desserts will have booze in them, and vice versa.
KB: Baking throughout time has involved booze, so that's nothing new. I think the new thing we wanted to do was pair them up, or serve them together. It's like, Come in, have fun, drink a milkshake or boozy milkshake. Have a slice of cake and cocktail, or a beer.
AK: We have a lot of regulars that come here and just want to have a beer after work, and it's really nice. We certainly have pairings that we love and can recommend to people, but we didn't want to force them down people's throats.
What are some of your favorite pairings? 
AK: We do a White Russian and cookie and that's a nice combination. You can dunk the cookie in a White Russian, so it's like nostalgia but better, because it has booze in it. There's also one that we named after Keavy's grandmother, the Mary Ellen, which is a hot fudge sundae with a vodka martini. That's what Keavy's grandma had for dinner on a regular basis.
There's such a stigma against carbs and alcohol. What do you have to say about that?
AK: [Laughs] I think this is where people come to forget about that. I mean, we're not out to exclude anyone and we try to do a couple things, like a vegan ice cream that we do shakes with, and a gluten free cupcake that we run every night in different flavors. We're trying to make it accessible for people who have restrictions; but the vast majority of the things on the menu have butter, sugar, and booze. Butter's in our name and so is scotch!
KB: It's definitely way busier here Thursday through Sunday—those are the days people feel okay to go out and be indulgent. Monday through Wednesday—that's when people are eating their steamed greens and their kale salad.
Now that the hustle of opening a brick and mortar location is somewhat over, what else are you working on?
AK: Right now, we're writing our cookbook, which is coming out in Fall 2016. The recipes are going to be divided day to night—there's a brunch chapter, there's an evening, there's a happy hour, there's a late night. It's like a day in the life here, basically.