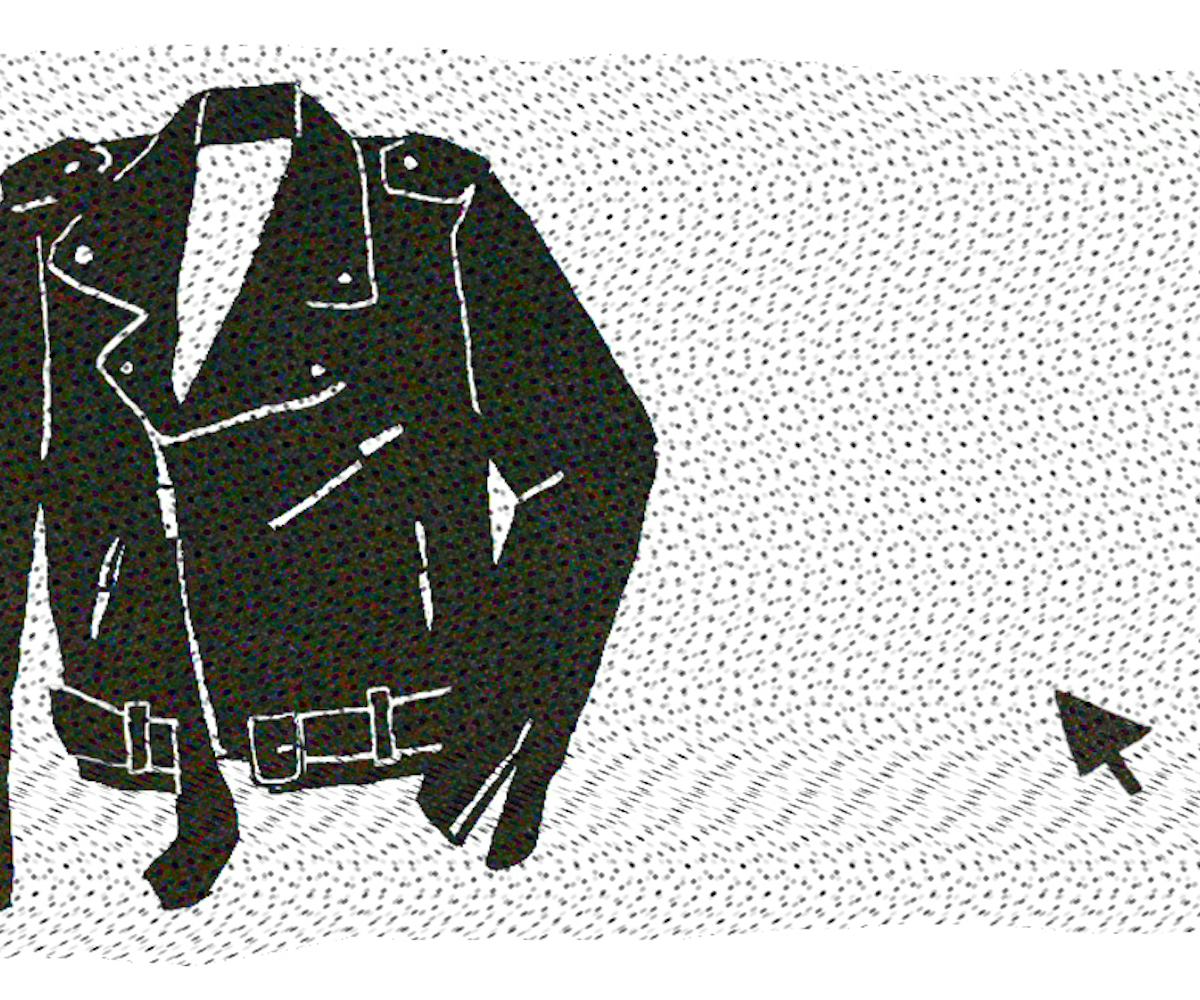 How To Buy A Leather Jacket Online
Leather weather is arriving soon… maybe… hopefully
For the last four years, every time fall approaches, I determine that this is the year I'm finally going to take the plunge and get a proper leather jacket. And every fall for the past four years, I've talked myself out of it. It's an intimidating process, okay? Especially if, like me, you dread shopping in actual stores.
And a lot of you are probably like me, considering eight out of 10 Americans shop online, according to Pew Research. It's convenient, you can usually find a good deal if not a discount code somewhere, and there are more options to choose from. But the luxury of no lines or pushy sales employees also comes with the burden of not being able to try items on beforehand or witness what a piece actually looks like in person—or on a person that is you. 
It makes sense that some items, particularly big-ticket items, make you worried if you can't see them in person before purchasing. And, a leather (or faux leather!) jacket is one of those items. If you don't have the luxury of an in-person shop, or are just looking to avoid people, or if the style you're lusting after isn't actually available in stores, the good news is that we've talked to a couple of experts and rounded up some tips for what to consider before clicking add to your shopping cart.
Know What You Want
Are you looking for a double rider look? Or are bombers more your style? Do you want classic black? Or are you okay with experimenting with brown or maroon? Do you want oversize? Or sleek and slim? These are things to consider before even opening your browser. The finish of a jacket is also something to keep in mind, Kate Dimmock, fashion director at Amazon Fashion, says. "The finish on a leather jacket really impacts the look," she explains. "Take extra care to determine if your jacket has shine to it or if the leather is matte and try to look at additional images to see if lighting is affecting the look." 
Look Into the Length
Dimmock says you might need to pull out a tape measure if you want to get the right jacket the first time around. "Where the bottom of the jacket hits on your body pretty much determines if it's flattering or not," she says. If you're on the curvy scale, she recommends getting a jacket that hits at or close to your waist. If your body type is less so, a boxier hip-length style is great. Of course, to each their own—buy whatever stands out to you—but it's something to consider.
Don't Overlook the Hardware
It's something that you may not consider when a jacket isn't physically in front of you, but the hardware—the zippers, the buttons, the metal accessories—impacts the look of a jacket greatly. "Pay special attention to details like the color of the hardware—silver? gold? rose gold?—and whether or not the zipper is exposed," Dimmock says. "The metal on a jacket can affect the look quite a bit—gold hardware will give it a more dressed-up look, while silver is a little edgier and more traditional for a motorcycle jacket."
Read Everything
You should be reading the reviews first and foremost, but also the description the website provides. As Caroline Maguire, fashion director for Shopbop, points out, the beauty of buying items online is that 9 times out of ten, they're shown on a model already, so you have an idea of what it will look like on a human. Use that. "I always read the descriptions of how big the model is, what the fit's like, do they recommend sizing up or down, is the leather super-soft," she says.
Compare and Contrast
Another luxury of shopping through a screen: You're easily able to compare and contrast jackets. "You can place four different jackets that you love side-by-side to see the fit," Maguire says. Different websites also style their products differently, which you can also use as inspiration and direction on how you want to wear your own.
Consider the Return Policy
A truly great leather jacket is timeless and will last forever. And sometimes finding "the one" requires going through a lot of not-the-ones, which is where a forgiving return policy comes in. As much as we'd like for you to find your Cinderella on the first try, chances are, you'll have to try out some duds. Plus, there are some things you won't be able to judge until they are physically with you, like fit and feel. Until our friends in Silicon Valley create a virtual try-on service, a little trial and error never hurt anyone.