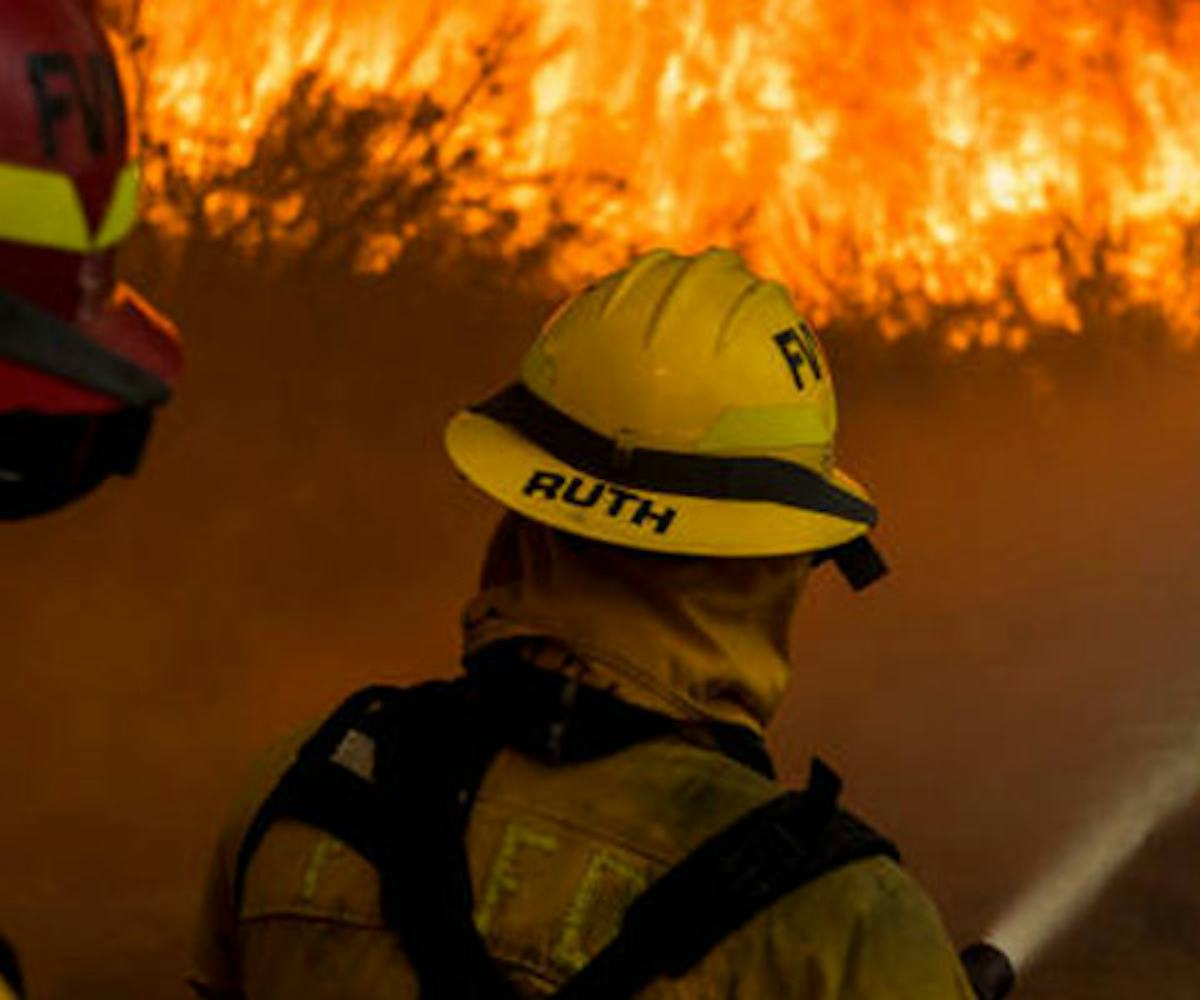 Photo by Stuart Palley/ Los Angeles Times via Getty Images
Women Prisoners Are Fighting California Wildfires For $1 An Hour
"This isn't that different from slave conditions"
Thousands of homes and businesses have been lost and at least 31 people have been left dead from massive wildfires that are sweeping California. As of Thursday, firefighters were battling 21 large wildfires, intensified by strong winds, as ABC News reported. Among these firefighters are 200 female prison inmates, fighting on the front lines for just $1 an hour, with an additional $2 per day, according to NBC News. So far, 170,000 acres of land have been destroyed, and at least 20,000 residents have evacuated.
"We are the ones that do the line. We are the ones that carry the hose out. We're the line of defense," one of the incarcerated women, Sandra Welsh, told NBC. Her group is on standby as firefighters face the Canyon 2 fire in the Anaheim Hills, where more inmates are working. The women use hand tools and chainsaws to cut containment lines that keep fires from spreading. 
About 3,800 inmates, both women and men, are fighting the wildfires in California. They make up about 13 percent of the force. According to the California Department of Corrections and Rehabilitation, the program saves taxpayers $124 million per year.
"We have female crews from other camps working on the Canyon Fire in Anaheim and also up in Napa," a spokesman for the corrections department, Bill Sessa, said. "The crews from the Malibu camp are on standby and also have to provide back-up fire protection for L.A. County."
Another inmate, Latoya Najar, considers this a chance for her and the other incarcerated women to "better ourselves mentally and physically," she told NBC News last month. "Every day is a difficult day. This will show you that you can do anything you put your mind to." 
Inmates must volunteer for the program; they are never forced to join. Welsh volunteered for the sake of her two kids. "This prison trip has taken a lot out of their lives and I wanted them to have something to hold onto," Welsh said. "My mom's a firefighter. I might be an inmate firefighter, but I'm a firefighter."
While the pay is low, it's "better than any other prison job," Sessa said. However, not everyone is happy about the compensation. ''The pay is ridiculous,'' La'Sonya Edwards, an inmate fighting fires in southern California, told the New York Times. Edwards says she earns about $500 per year through the program, plus a few extra hundred from working the front lines. Compare that to the full-time salary of a civilian fighter, which starts at around $40,000 per year. 
''There are some days we are worn down to the core," she said. "And this isn't that different from slave conditions. We need to get paid more for what we do.''