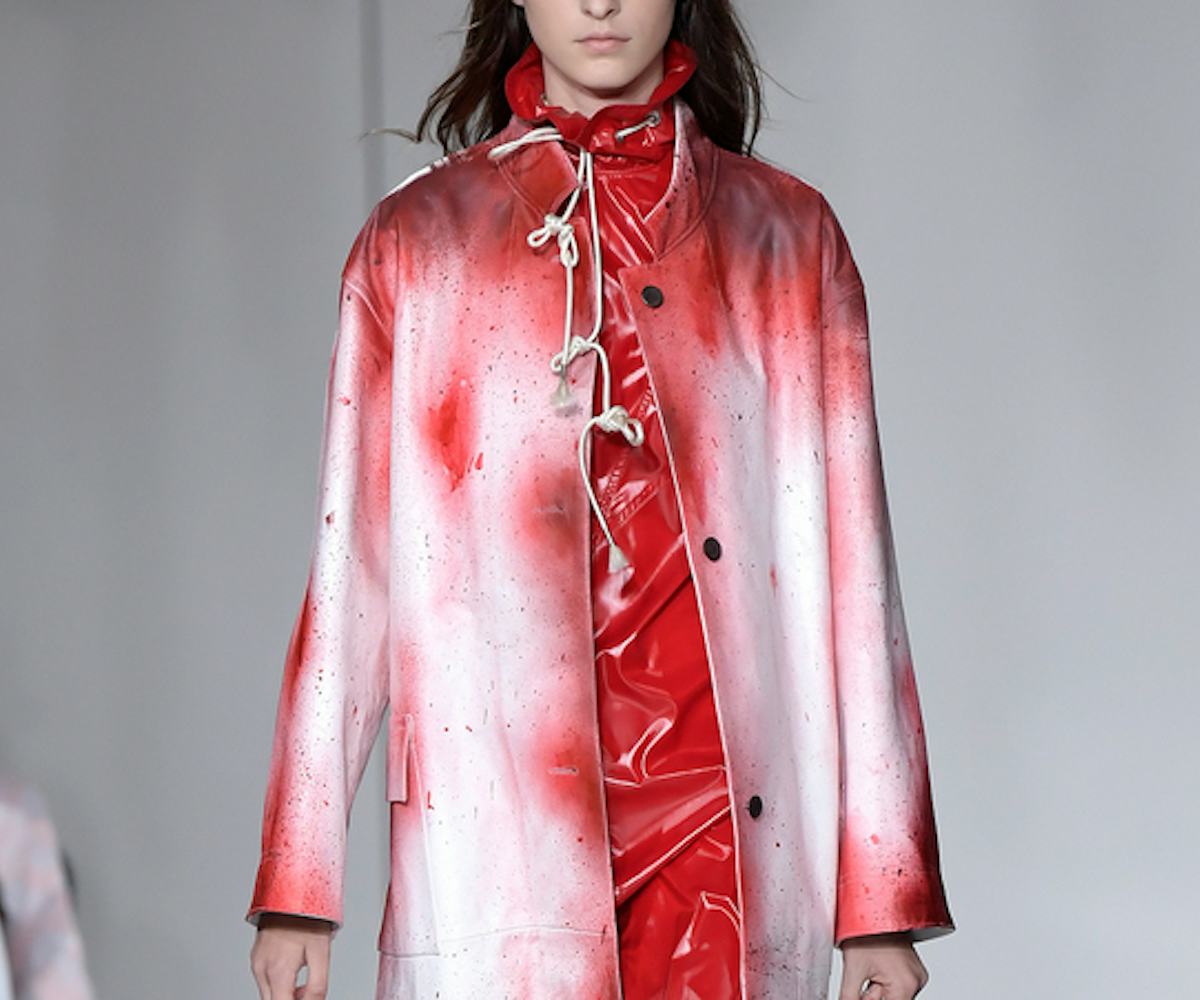 Photo by Giovanni Giannon for Calvin Klein
Raf Simons Reimagines The American Horror Story For Calvin Klein
Bateman, Carrie, Rosemary… oh my!
Raf Simons terrifies in his Calvins. For his second runway show, titled 205W39NYC (a nod to the brand's headquarters location), as Calvin Klein's CCO, Simons looked to cinematic horror for inspiration.
"Fashion tries to hide the horror and embrace only beauty," Simons said in the press statement. "But they are both a part of life. This collection is a celebration of that: a celebration of American life."
This American life Simons speaks of is reimagined, reconstructed, and, as he explains, edited with images of Andy Warhol's electric chair screenprints, powder blue dresses reminiscent of Rosemary's Baby, and blood-splattered, rubber-stamped American Psycho overcoats. Simons' exaggerated pom-poms are contrasted with harsh synthetic material—rendering them into full-on dresses at times. One particular pom-pom red dress took the iconic image of pig blood-soaked Carrie and elevated it to wondrous, hauntingly kinetic and beautiful heights. This is a collection that found beauty in fear and the fear in beauty. Those Friday the 13th Jason Voorhees mask heels? We're screaming.
Notably, Kaia Gerber, daughter of original American supermodel Cindy Crawford, made her runway debut in a full-blown Dennis Hopper-inspired look. Dale Cooper himself, Kyle MacLachlan, sat front row alongside Jake Gyllenhaal, Millie Bobby Brown, Christina Ricci, Abbey Lee Kershaw, Winnie Harlow, Lupita Nyong'o, and Tavi. If this is the American horror Simons sees and believes in, we pledge allegiance. 
Slaughterhouse fun, anyone?
It's Friday the 13th; guess who's playing Jason?
"They're all gonna laugh at you!"
Stab wounds.
Murder she wrote.
As Patrick Bateman has made very clear, it's hip to be square.
Green monster vibes.
Rosemary-meets-Warhol.
"God is dead! Satan lives!"
Oh, hey Kaia.