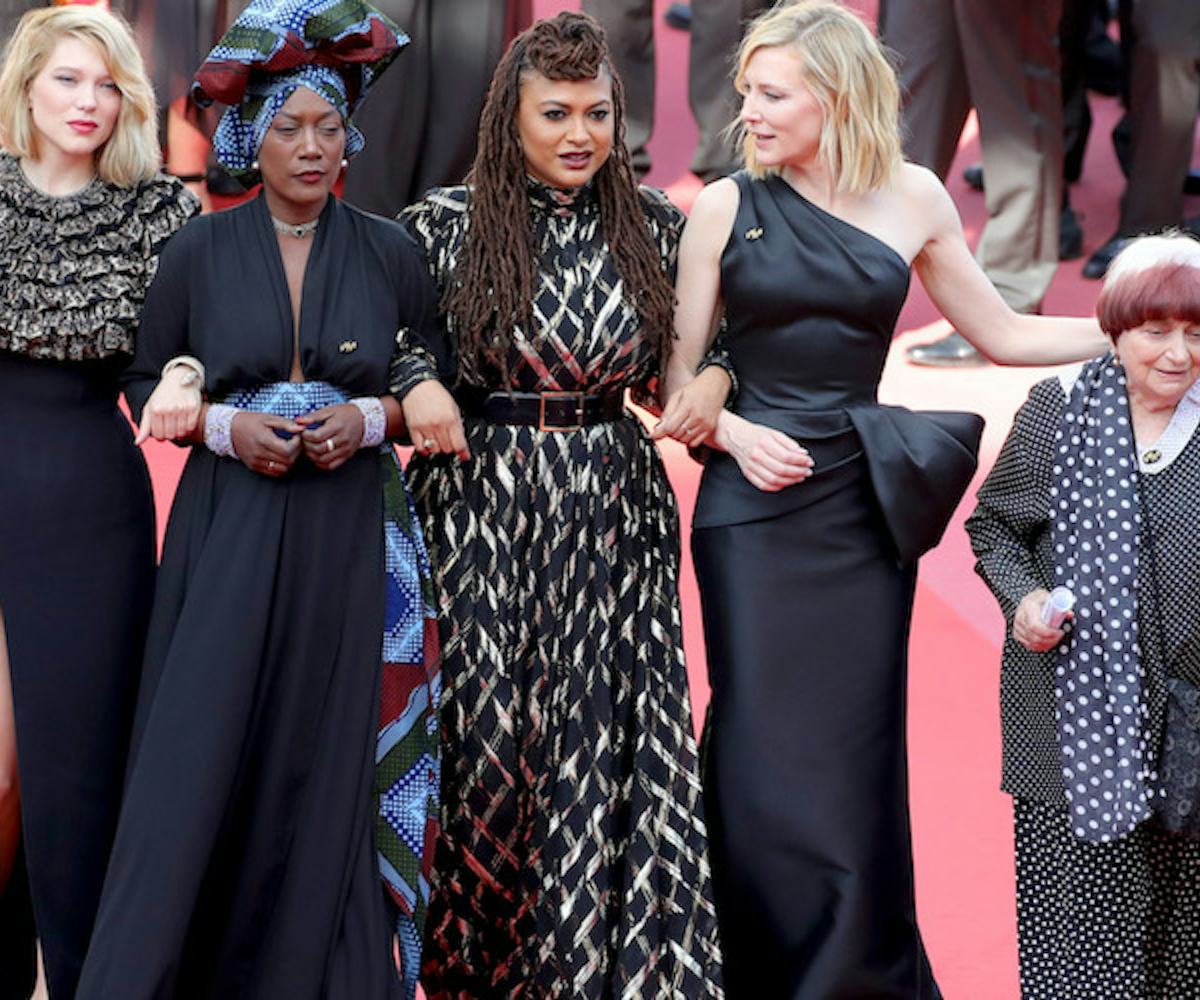 Photo by Andreas Rentz/Getty Images
The Best Red Carpet Moments From Cannes' First Weekend
All the glorious gowns and other happenings you may have missed
The 2018 Cannes Film Festival has been in full swing since last week, and we're officially feeling all the FOMO. Aside from the buzz and excitement surrounding all of the films that we just can't wait to see for ourselves, we've been drooling from afar at all of the glitz and glamour seen on the carpet.
Over the weekend, however, things turned up a notch. Topping the regular lineup of photo calls, premieres, and parties filled with gorgeous gowns was Fashion For Relief, a charity gala and fashion show that brings fashion's elite (and all of the models-of-the-moment) to Cannes.
In addition to the really great fashion, there were some pretty empowering happenings, as well. Led by some of this year's film jury, including Cate Blanchett, Ava DuVernay, and Kristen Stewart, stars and filmmakers joined forces to protest the festival's lack of female filmmakers, marching down the red carpet and reading a statement at the screening of Girls Of The Sun (Les Filles Du Soleil). 
We rounded up all of our favorite red carpet moments from this past weekend that you may have missed—from protest statements to sartorial hits—so you can experience some Cannes FOMO with us. Check 'em out, below.
Model Soo Joo Park stunned in this Chanel Haute Couture frock at the screening of Sink or Swim (Le Grand Bain).
Diane Kruger wore this breathtakingly beautiful—yet simple—Giorgio Armani gown to the Sink or Swim (Le Grand Bain) screening.
Bella Hadid made a case for the red carpet crop top in this sparkly two-piece gown at the Fashion For Relief.
Cindy Bruna's poofy mini dress by Ermanno Scervino is what dreams are made of.
Can we please stop and take a moment to appreciate the magic that is Winnie Harlow's tropical Roberto Cavalli gown?
To say that we're obsessed with model Damaris Goddrie's liquid black dress and checkered pumps would be an understatement.
Marianne Slot, Haifaa al-Mansour, Kristen Stewart, Léa Seydoux, Khadja Nin, Ava DuVernay, Cate Blanchett, Agnès Varda, Céline Sciamma, and Jeanne Lapoirie walk the red carpet during the premiere of Girls Of The Sun (Les Filles Du Soleil) arm-in-arm, protesting the lack of female filmmaker representation throughout the history of the festival. Have you ever seen a more badass (and sartorially pleasing) girl squad?
This year's jury head Cate Blanchett, joined by a group of female filmmakers, reads a statement on the steps of the red carpet in protest.
Amber Heard wore this stunning rose-covered Giambattista Valli mini dress, along with a pair of matching booties, to the Girls Of The Sun (Les Filles Du Soleil) premiere.
Kendall Jenner had a sheer moment in this cloud-like organza Schiaparelli Haute Couture gown at the premiere of Girls Of The Sun (Les Filles Du Soleil).
Marion Cotillard attended the Angel Face (Gueule D'Ange) photo call in peak summer picnic attire, and we're here for it.
Later that day, at the premiere of 3 Faces (Se Rokh), Cotillard wore possibly the chicest off-the-shoulder jumpsuit we've ever seen.
Our queen Naomi Campbell wore a literal piece of art to the Dior dinner on Saturday night.