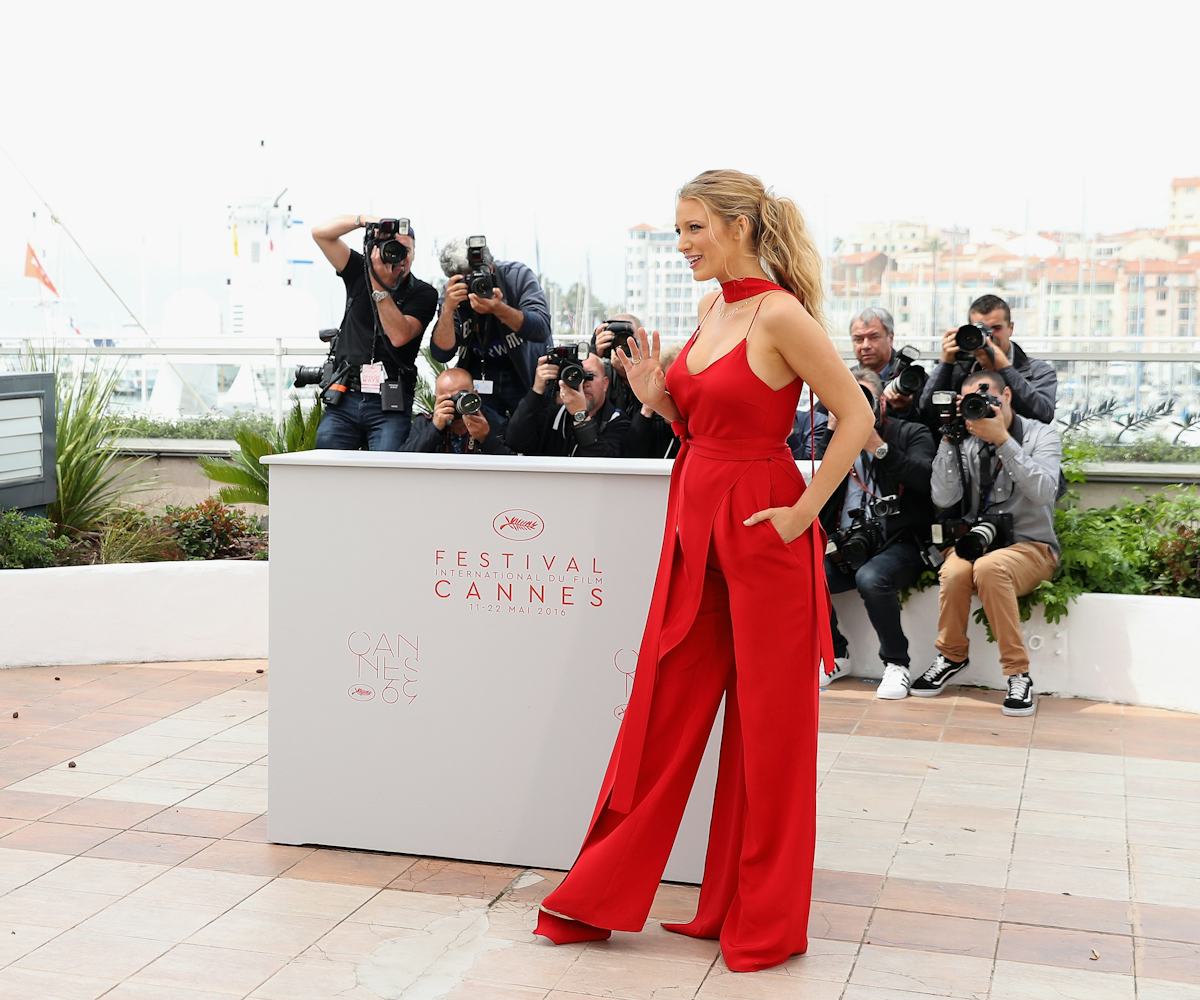 Photo by Andreas Rentz /Getty Images
The Prettiest Summer Wedding Inspo, Straight From The Cannes Red Carpet
Best dressed, second only to the bride
Cannes is fashion's second playground. (The Met Gala is, obviously, first.) It's a chance for actors and other notables to experiment with style and rock the gowns Disney could only dream of. This year, Victorian-style trumped the traditional princess garb—though Blake Lively certainly had a Cinderella moment. Sophisticated, casual luxury also abounded, with many actors opting for fashion tees and mini denim jacket dresses.
With summer wedding season just around the corner, Cannes' carpet offered up a bevy of looks to try for future wedding attendees. (Sorry, brides, you're going to have to pour over the gowns yourself.) Ahead, 10 Cannes red carpet looks (and how to get them for cheap) perfect for anyone with a summer wedding or two on their calendars. They're showstoppers guaranteed to make you best dressed—second to the bride, of course.
Céline Sallette's wide-leg pants and striped top scream "French girl." It's casual luxury, perfect for a wedding ceremony near the water.
Pixie Market, Two Way Stripe Off The Shoulder Shirt, $52, available at Pixie Market; Opening Ceremony, Juniper Twill Cargo Pants, $425, available at Opening Ceremony.
Alma Jodorowsky and Gala Gordon (next page) make for a wonderfully playful patterned duo. Fun, unexpected, and 100 percent their own. Florals might not be groundbreaking for spring, but they are for wedding season.
Mara Hoffman, Tie Front Dress, $312, available at Mara Hoffman.
So, Lily-Rose Depp's Chanel number miiiight be a little too casual for some weddings, but for those going to a pseudo-Coachella/backwoods hippy function, it's perfect.
Free People, Flawless Off-The-Shoulder Dress, $300, available at Free People.
Look at this magical Chloé number Soko wore. Just look at it. It's so fun and carefree. Bold is better, even when you're a guest at a wedding.
Pixie Market, Peachy Ruffled Mini Dress, $122, available at Pixie Market.
No shoes? No problem. Sasha Lane is giving us comfortable, breathable chic. Hell, this look is so ideal, we'd rock it whether there was a wedding or not.
Forever 21, Contemporary Striped Maxi Skirt, $22.90, available at Forever 21; Rachel Pally, Ondrea Top, $77, available at Revolve Clothing.
Blake Lively is Cannes' new style queen. She's been turning up the glam, but this red Juan Carlos Obando jumpsuit mixes ideal comfort levels with fashion-forward style.
Zara, Off-The-Shoulder Jumpsuit, $99.90, available at Zara.
Yellow brings joy, and joy is what makes weddings unforgettable, duh. Kirsten Dunst's pale yellow dress is smart and well-put together. Garden parties, meet your sartorial match.
ModCloth, Soda Fountain Dress in Ginger, $59.99, available at ModCloth.
If you're anyone but the bride and you wear white to a wedding, it's pretty safe to say you've broken the cardinal rule. However, an exception could be made if you tuck an off-white button-up in some white pants, like Riley Keough did.
Equipment, Major Silk Skirt, $258, available at Equipment; The Fifth, Highlight Pant, $100, available at Fashion Bunker.
Metallics aren't your typical run-of-the-mill wedding material, but they're everything when they're worn with as much class as displayed by Ruth Negga.
& Other Stories, Tigress Print Shirt, $125, available at & Other Stories; Metallic Pleated Skirt, $95, available at & Other Stories.
Essentiel Antwerp, Amesbury Dress, $268, available at Anthropologie.