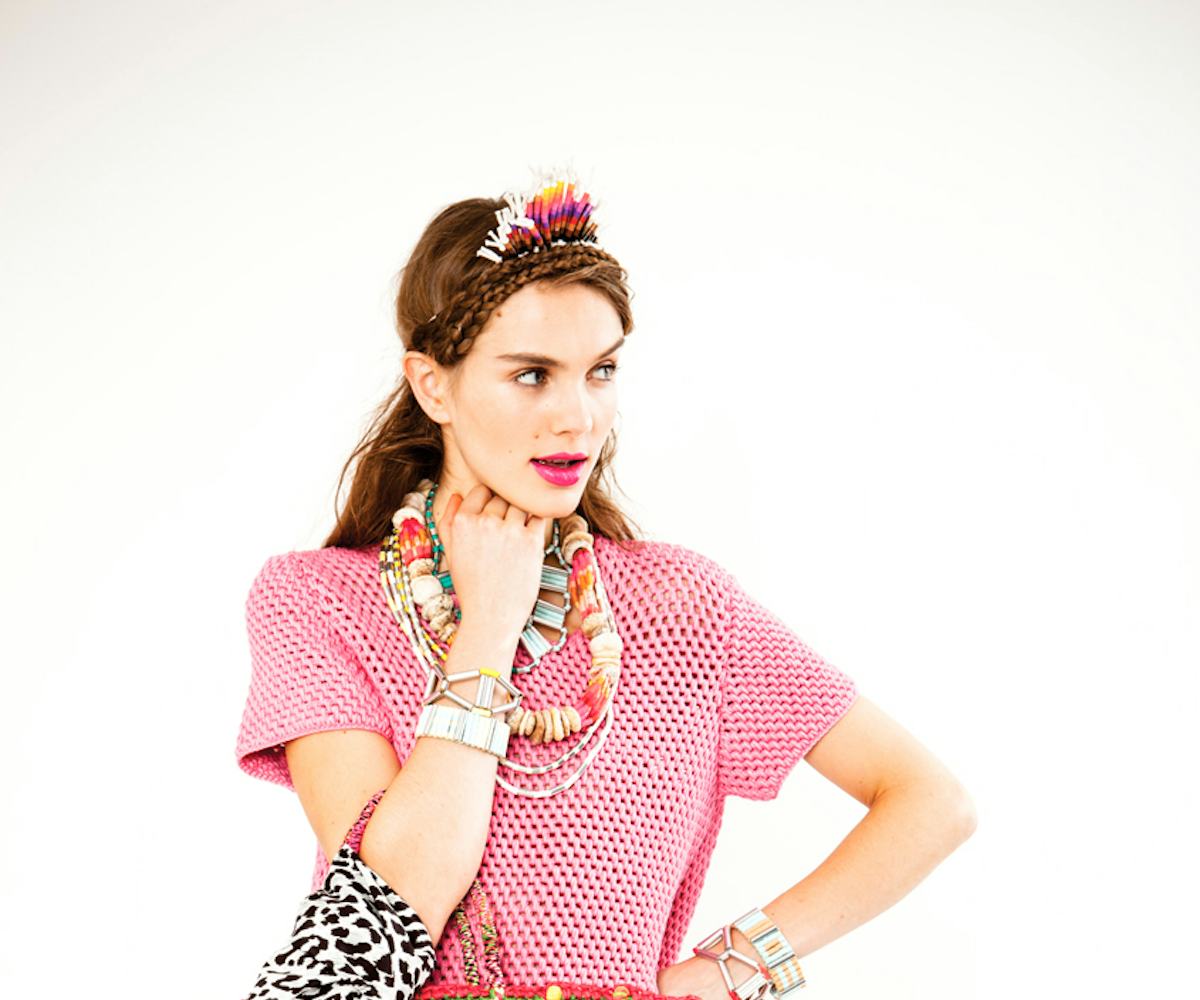 the coolest guide to cape town
where to go, what to drink.
When it comes to discovering new places, everyone knows that traditional sightseeing is only part of the equation. The other half? Exploring the party scene, duh. This is why we asked NYLON contributor Diana Keeler to share her favorite watering holes from a recent trip to Cape Town, South Africa. Think of it as the best bar crawl ever (with even more spectacular scenery). Read her guide below, then start plotting your next getaway. 
I say I am "allergic" to alcohol but really this is really a shorthand for a condition that has left me passed out on the ground after a half-glass of beer: I am the world's cheapest date, in that when I go on dates, I drink Diet Coke. I have friends who say that my enzymatic shortcomings would be a catastrophe. The friend who says this most is gluten intolerant, and it is one of the world's luckiest things that we ended up like we did, because she can't live without wine and I can't live without Cinnabuns.  
That said, my lifelong inability to drink like an adult complicates a trip to Cape Town, which is, along with Napa, Sonoma, and the regions of France literally synonymous with drink-menu items—Champagne, Burgundy, Bourdeaux, etc.—one of the world's great destinations for sophisticated appreciators of alcohol. Of course, I am not among those sophisticated appreciators: The first glass of wine I ever drank came out of a hose snaking up through the floor of a Chinese restaurant on the Upper West Side. To me, wine is either "tangy" or "less tangy." Hose wine is tangy. I find that more expensive wines tend to be less tangy, but that is the extent of my knowledge of wine. 
Together, these factors should have made it unlikely that I would spend my trip to Cape Town as I did: sampling a variety of the country's favorite alcoholic drinks. This is how it all went down: You might call it an utterly average weekend. I call it 240 hours of non-stop hedonism. 
DAY 1
I am just figuring out an expensive, impressive series of security guards on his door when my Airbnb host, James, asks if I would like to mark my arrival with a glass of white wine on ice: "It's the ultimate Cape Town summer drink," he says. 
"I thought that was brandy and Coke," I say. This is what my South African ex-boyfriend had once told me: "Klippies en Coke." I am more inclined to drink one of those, since I can see how it could be roughly half Diet Coke. 
"Brandy and Coke is what you drink at rugby games in Pretoria when you want to go mad and kill someone," James says. "This is nicer." 
"I'm warning you," I say. "Wine puts me to sleep like instantaneously." 
James doesn't believe this. "You'll be fine," he says. 
I fall asleep 15 minutes later, at 6:30 p.m. and wake up in time to see Bruce Springsteen play his first-ever show in South Africa, alongside a crowd that is 95 percent white and 90 percent drunk, if the ankle-deep puddles of beer on the floor of the arena represent even the tiniest fraction of the alcohol consumed. 
DAY 2
A South African friend of mine from London, Luc, drives us the 30 miles to Stellenbosch, where wine has been cultivated since the 17th century. Stellenbosch is to Cape Town what Napa is to San Francisco, except that it is also home to pretty, white-washed Cape Dutch buildings. 
There is plenty more white wine on order at the fancy-pants Schoon de Companje (formerly known as the De Oude Bank Bakkerij) but also, as its bakery-centric name once suggested, plenty of bread and jam, and I avoid drunkenness by actively visualizing the bread soaking up the alcohol in my stomach. Also, I take a nap on the 45-minute drive back to Cape Town. 
DAY 3
James, who is slowly becoming my favorite person on the entire continent of Africa, invites me to a music festival, Up the Creek, which is like a mini-Glastonbury—mini enough that everyone's allowed to watch the music from the comfort of startlingly elaborate blow-up floats in the middle of the Breede River. (Up the Creek is done for 2014, but the country's biggest festival, Rocking the Daisies, doesn't come until October; look for a line-up in August.) After bedding down in our tents early the night before, we all wake more or less at sunrise on Saturday morning. It is 8:30 when James offers me my first drink of the day, a Savanna cider. "It's the national drink of South Africa," he says. (Later he will admit that the national drink is actually Castle lager, or rooibos tea, or brandy: "It depends," he says.) 
I'm on the fence. On one hand, it's 8:30 in the morning. On the other, cider is sort of like juice? "I thought the national drink of South Africa was white wine with ice," I say. 
"That's the official Cape Town drink," he says, with the same level of remonstrance I would use to inform someone that the state fruit of New Jersey is the blueberry, which it is. 
We are in a two-seater float that he brought, blew up, and has patched twice with duct tape. It would be curmudgeonly to refuse. 
DAY 5
James and I have only been home from Up the Creek for five hours when it's time to see the revered Afrikaans punk band Fokofpolisiekar (it means what it looks like) at the Kirstenbosch National Botanical Garden, which is sort of like seeing Green Day at the National Zoo. The entire show is in Afrikaans, except for this: "We love you English [speakers], but we don't have anything for you tonight!" 
As it happens, unlike the "Rock-N-Roar" concert at our own National Zoo, Kirstenbosch visitors are allowed to carry in coolers with their own drinks. Ours, unsurprisingly, contains a bottle of white wine. I am asleep by 8 p.m. but, conveniently, awake at 4 a.m., which seems like a suitable time to watch last week's episode of "The Following." 
DAY 7
I meet Luc again, this time at Spur—the South African version of Friendly's, the sort of restaurant where good report cards are celebrated. Luc suggests pairing my plate of ribs and chicken wings with a bottle of Castle lager—as it happens, produced by the same parent of basically every beer in the world (SABMiller), from Peroni and Foster's to Miller Lite and Olde English. "It all basically tastes the same, anyway," he says.  
DAY 10
I'm packing for my trip home when James decides we should finish our time together with a round of wine-tastings at the vineyards in nearby Constantia. Our first stop is Beau Constantia, which has a glass-walled tasting room overlooking the vineyards. I am immediately drawn to the Pas de Nom, which has a drawing of a bearded man on its label—a tribute to Japie Bronn, the estate's manager—and, of course, to the cheese plate. The wines—in varying degrees of tang—are fine. The cheese is incredible. "Cheese is an amazing idea," James says. "I'm always going to get cheese now." 
Our next stop is Eagle's Nest. We have, sadly, failed to book in advance, which means we're unable to buy, at any cost, a picnic lunch. This situation is slightly ameliorated by the presence of a dog (named Teddy) and the 2012 Viognier, which reportedly has an aroma of peaches, apricots, and jasmine flower. It is all lost on me, except for the fact that I am getting slightly woozy and Teddy is becoming the loveliest, funniest dog I have ever met, and I want to hug him and kiss him as much as possible, to his consternation. 
We next go to Steenburg Vineyards and its Bistro 1682. James, perhaps convinced by our whole experience with the cheese, asks if we can order some snacks to accompany our wine, which the waitress, to our surprise, declines: "It interferes with the wine's taste," she says. 
James and I decide that we would be more inclined to abide by this if not for the fact that there are people eating only a few feet away, in the adjoining restaurant. "It's not like there's a barrier!" James says, mystified, as he waves his arm through what might have been a glass wall had it existed. 
We ask to be moved. Because I am on the leading edge of complete intoxication, I order twice as much food as we can eat from the restaurant's tapas menu, beginning with the antipasti, house-cured salmon, and beef tataki with chili, ginger and lime. The seared beef is the most delicious thing I have eaten in my entire life, and I understand, in a flash, that the way I feel about couches and paintings—two things I actually do write about—is the way other people feel about food and wine. In that brief moment, I experience their satisfaction. James is speaking, with great conviction, about issues of class and race in his country, and I am thinking about the dog we just met and this wine, which, I judge, is the perfect balance between tangy and not-tangy. 
And then it all collapses. Even as I struggle against them, my eyes grow heavier and heavier. I am falling asleep at the table. 
"You've got to get it together," James says. 
"I told you this would happen," I say to James. 
I decide that I do not especially want to be any more (or for that matter any less) drunk, but do not want any of this—the wine, Cape Town, in particular the beef tataki—to end. 
"I'm totally awake," I say to James, and signal the waitress for another glass.