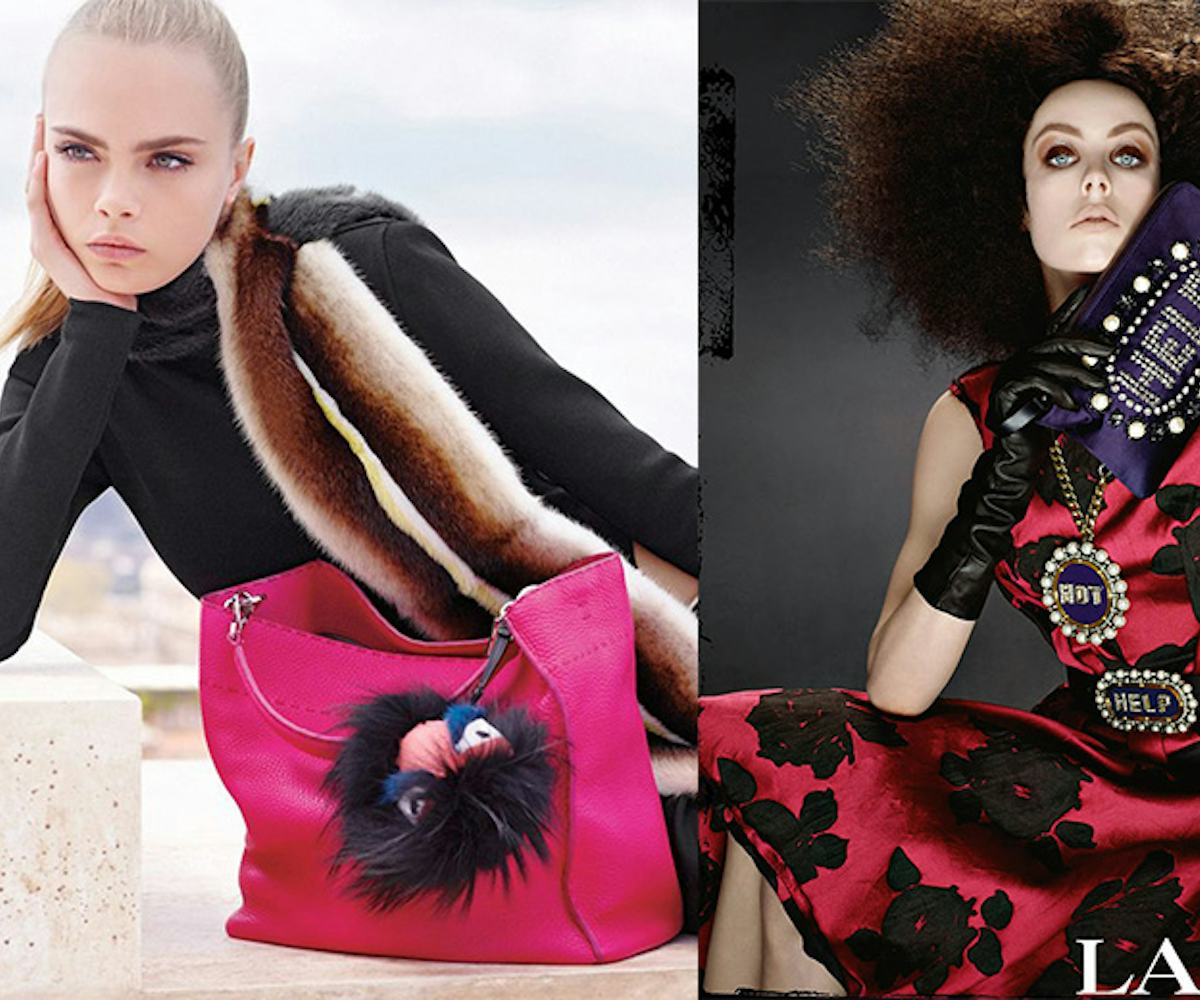 model mayhem: it-brits
war of the roses, take two.
Magazine pages are going to be the playing field for a battle of the Brits come fall because two of our favorite models, Cara Delevingne and Edie Campbell, have scored multiple major ad campaigns.
We've long been huuuuge Delevingne fans and we think Campbell is poised to join her as the next big thing on the model scene. Here's why: The brunette bombshell stars in ads for Lanvin, Alexander McQueen, Jil Sander, Marc Jacobs, and Marc Jacobs' new beauty line. That's five big-time brands right there, all with really different vibes, that emphasize Campbell's doe-eyed look.
But wait, don't panic, Delevingne has five epic campaigns of her own lined up for fall, too: Fendi, Mulberry, Saint Laurent, Pepe Jeans, and DKNY Jeans. Basically, it will be weird when you don't see an ad with either of their faces this fall.
Delevigne and Campbell are actually pretty similar in some ways. They both come from established English families and grew up in London proper. The major difference, we'd say, lies in their off-the-runway activities; Delevingne spends her free time hanging with her celeb pals like Rihanna and Rita Ora, while Campbell is more of a bookworm studying art history and riding horses.
Check out all the images from their ads while you try to figure out what's in the water in England that makes it a hotbed for supermodels. Kate Moss, Naomi Campbell, Agyness Deyn, Alexa Chung, Daisy Lowe, Cara Delevignene and Edie Campbell ? Yeah, there's got not to be something going on over there.