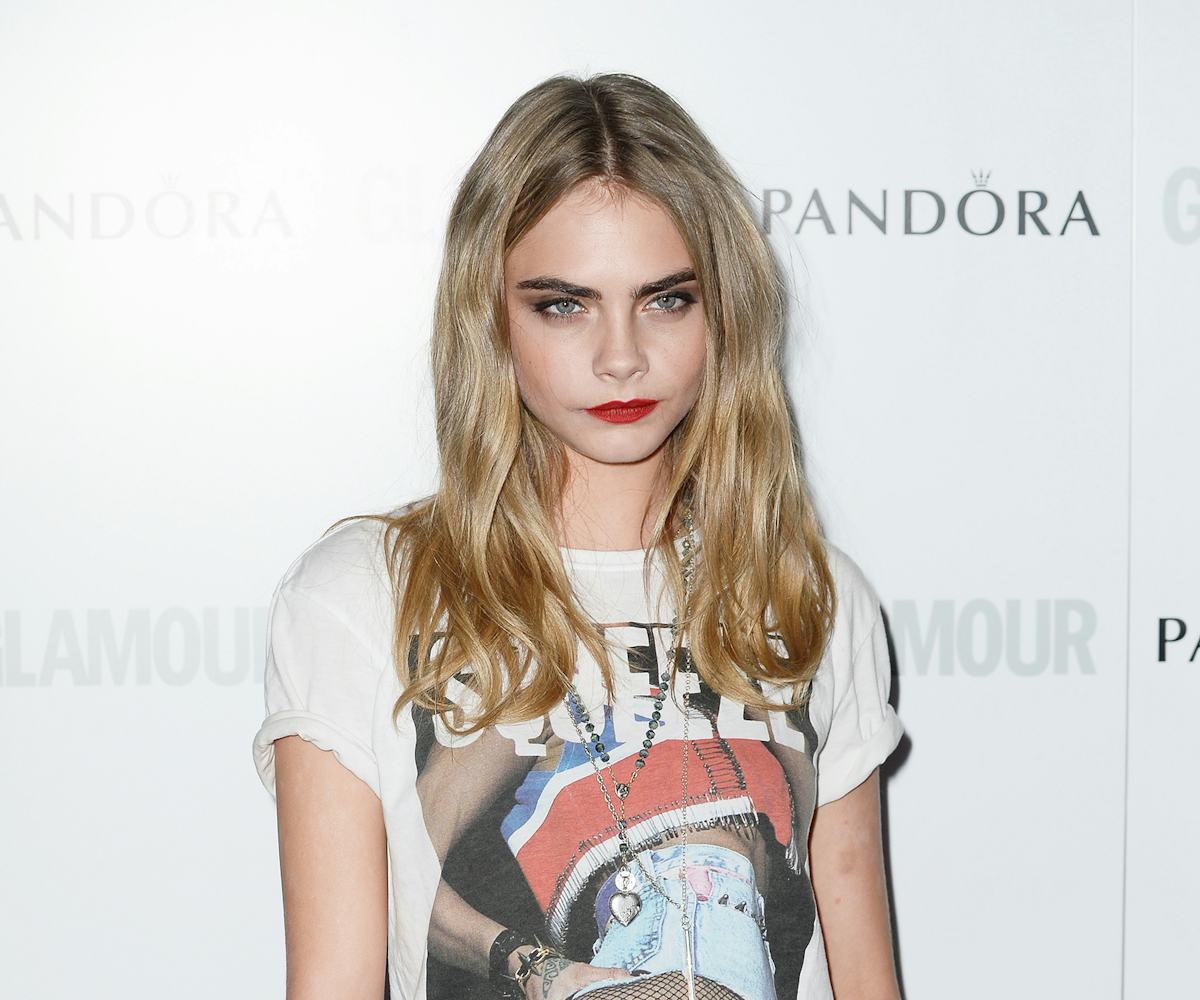 photo by getty images
ain't laurent without cara
check out a sneak peek of her new beauty ad!
I was all set to be grumpy and glum this Monday because it's practically sub-zero in New York and holiday vacation is still over a week away (sad face), but Cara Delevingne instantly cheered up my mood when she posted a pic on her Instagram with the caption, "New YSL coming soon..." The photo shows a vamped-up Delevingne in a black Saint Laurent dress and belt against a red wall. Her makeup is literally flawless--I mean, is there anything more perfect than a bold brow, extreme cat eye, and pouty, almost ombre red lip?--hinting that the model's newest Saint Laurent campaign will likely be beauty-based. It makes sense when you consider that Delevingne has been the face of two Yves Saint Laurent campaigns in the past, for YSL Rebel Nude Lip Gloss and YSL Baby Doll Mascara. Both ad campaigns were lensed by Terry Richardson.
Image via @caradelevingne Instagram
The photo above certainly seems like a Richardson original because of it's sexy, flashy, glam vibe, and I'm daring to guess that the product in question will be a lipstick (I mean look at those lips!) or YSL's Opium perfume, which comes in a candy red bottle and has been fronted by famous ladies like Emily Blunt, Kate Moss, and Karen Elson to name a few. While we all wait with bated breath to find out exactly what Delevingne's ad will be for, we should probably spend our time trying to recreate her beauty look. It's really the way to go this holiday season because it's classic enough for a family dinner and fun enough for watching the ball drop. Here's how I think the YSL pros did it:
SKIN: Yves Saint Laurent Le Teint Touche Eclat Foundation -- $55 and Yves Saint Laurent Terre Saharienne Bronzing Powder -- $50
Step one in any good beauty routine is to create a solid base layer, and the makeup artists for Delevingne's latest campaign most likely started with YSL's classic Le Teint Touche Eclat Foundation to even out her skin. Then, instead of applying blush onto the cheeckbones, you can recreate her look by applying the Terre Saharienne Bronzer underneath the cheekbone, to give your face a little of the Jerry Hall '70s glam edge. 
EYES: Yves Saint Laurent Effet Faux Cils Shocking Felt Tip Eyeliner -- $32 and Yves Saint Laurent Babydoll Effet Faux Cils Mascara -- $30
To achieve a perfect cat eye, start with the Effet Faux Cils Shocking Felt Tip Eyeliner. Create a thin line from the inner corner of your eye to the outer corner, and then repeat to thicken the line to a bold width. With a dramatic, winged cat eye, I always mark with a small dot the place I want the line to end, so that I can make sure both my eyes are even. Once you've determined the location, take a deep breath (you're going to need a steady hand for this one), and create a straight line from the corner of your eye to the dot. Repeat to get a thicker line, and finish it off with the Babydoll mascara!
LIPS: Yves Saint Laurent Dessin Des Levres in Chocolate Brown -- $28 and Yves Saint Laurent Rouge Pur Couture in Blood Red -- $34
Here's how to get that perfect ombre lip: Start by lining your lips in a dark hue, like the YSL's chocolate brown, and then shading in halfway toward the center of your mouth. Then apply two coats of YSL Rouge Pur Couture Lipstick on top, so that some of the brown is visible, but the overall effect is a pouty red. Blot one time, and voila! You're Cara Delevingne's doppelganger.