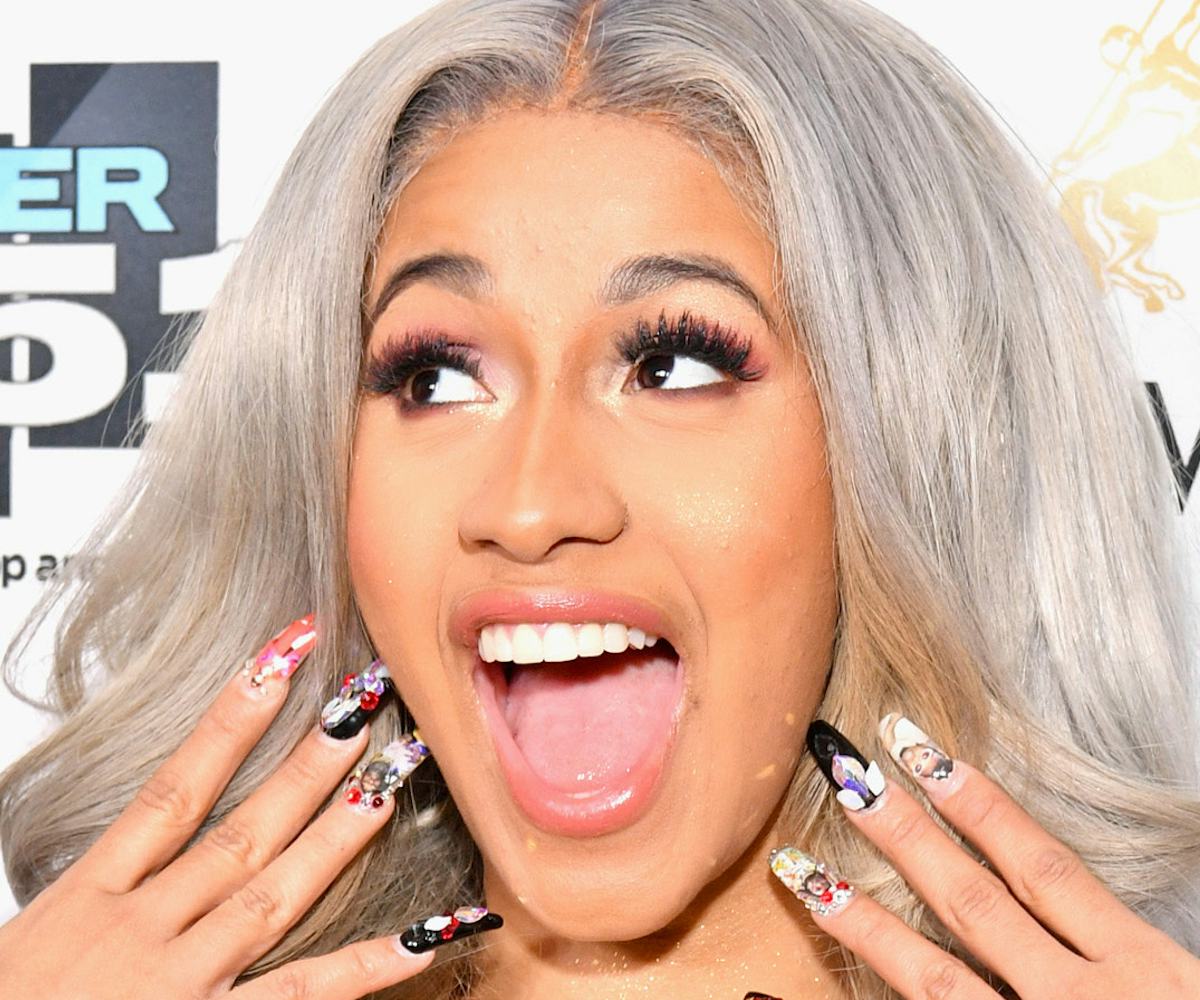 Photo By Dia Dipasupil/Getty Images For iHeartMedia.
Cardi B Hits Back At Critics Of Her Nude Photo
"I'm a motherfucking nasty-ass freak-ass bitch"
Cardi B put her critics (and the government) on blast during a lengthy Instagram Live broadcast last night.
Tackling a wide variety of topics ranging from her plastic surgery plans to her taxes, Cardi started off by defending her surprise comeback performance at Migos' concert on Saturday at Madison Square Garden.
"I seen a lot of people like, 'Oh, didn't you cancel your tour? Why you performing onstage?'" she said, referencing her previously canceled tour with Bruno Mars. "First of all, you know what I'm saying, going on tour in different cities every day—that means I wouldn't be able to see my child. My child is in New York right now. And second of all, I only got on the stage for two minutes and I literally just rapped. When I go on tour and shit, I gotta put on a whole show. That means I gotta bend over, do somersaults and shit, do choreography—and that's something my body is not ready to take right now."
She then went on to drag those criticizing a set of racy photos she and Offset posted to their respective Instagram accounts.
Explaining that she's been trying to veer toward a "cleaner image" for a while, Cardi expressed her frustration at the public's reception to her efforts.
"I wasn't doing scandalous outfits. I was trying to show as much less skin as possible," she said before launching into why she decided to take those photos. "When I perform, I would wear like leotards and shit but not extremely revealing. Like I really [didn't] want to be too sexy and everything."
"And then it's just like, for what? For what? Like yesterday, when I posted myself half naked and everything, it's just like, why should I act like I'm a fucking angel?" she continued. "I'm not a motherfucking angel. I'm a motherfucking nasty-ass freak-ass bitch. Why should I clean my image up? Why should I act like I'm a saint? Why should I wear skirts that are to my ankles every single day? Ya all still gonna call me a ho."
"Let me be free," Cardi continued. "If I wanna be half-ass naked, why not? A bitch used to be a whole motherfucking stripper. If I wanna feel sexy, if I want ya all to see my motherfucking body, why the fuck not?"
She then went on to show off her stomach and talk about how she hasn't had liposuction on her stomach. However, Cardi shared that she is considering the procedure now that there's "all this extra skin and shit." Not only that, but she then detailed her plans for getting her "boobs done over" once she has time, because "I don't think I got a whole month or three weeks for recovery."
Toward the end of the video, Cardi also took a moment to lambast the IRS for taking 45 percent of her earnings and using it on causes she vehemently disagrees with.
"Using my goddamn tax money and shit... motherfucking build immigration prisons and shit, for fucking building walls and shit," she said. "I don't want my money to go to that shit. I want my motherfucking money to go to my motherfucking city. Do you know how many potholes is in the Bronx?"
Watch her unfiltered broadcast in its entirety, below.