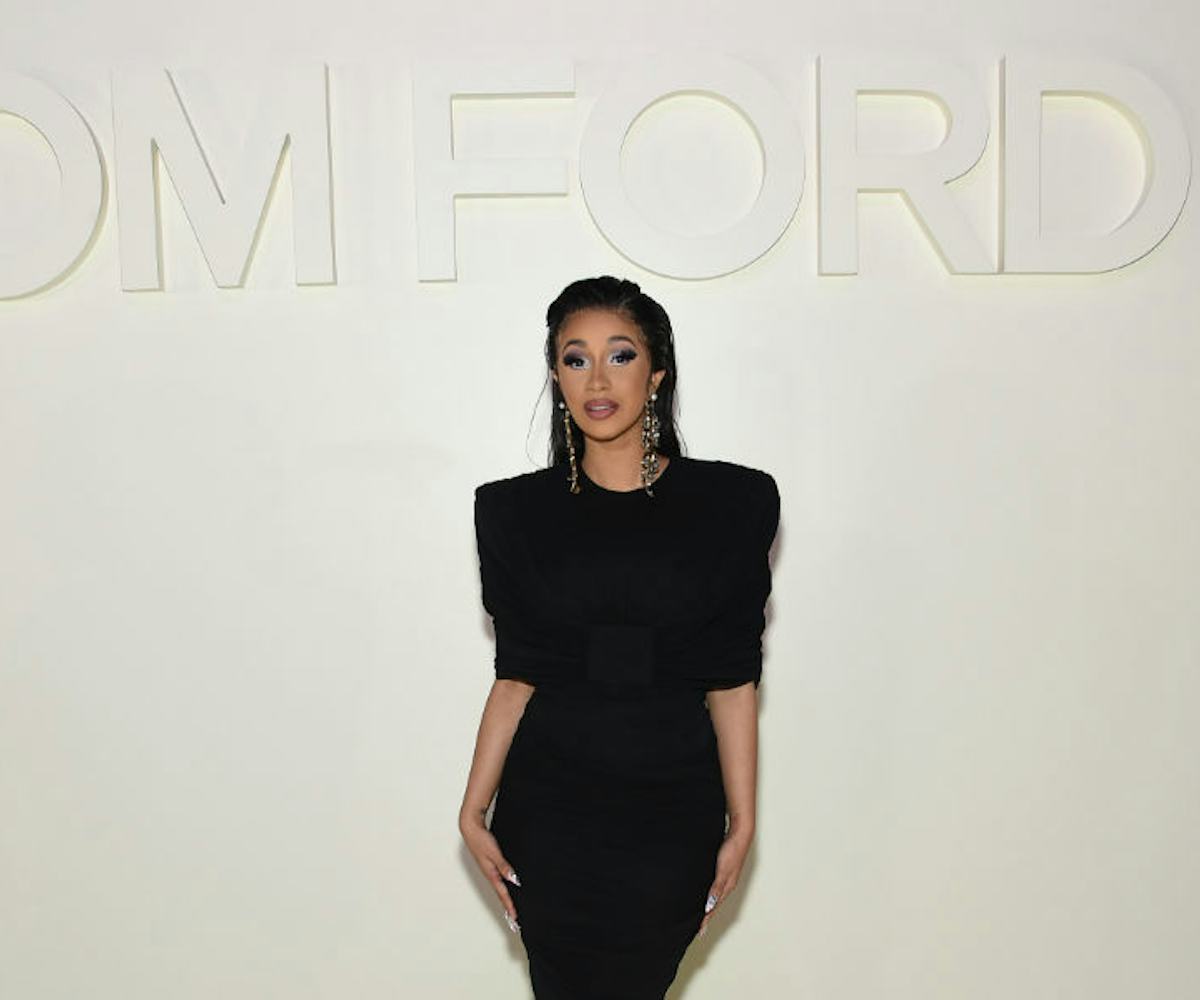 Photo by Jamie McCarthy/Getty Images.
Cardi B Now Has A Tom Ford Lipstick Named After Her
Maybe this will make everyone forget about her NYFW drama
Cardi B has had a more event-filled weekend than most. She got into it with Nicki Minaj Friday night, bringing new intense fuel to their once-rumored feud. A couple of days later, she made headlines again—this time, after Tom Ford Beauty named a lipstick after her.
The color is a sparkly blue, and it goes by the simple name of "Cardi." It's one of the newest additions to Ford's Boys & Girls collection, which features shades named after other stars, including Kaia Gerber, Armie Hammer, and Kendrick Lamar.
Some Barbs, naturally, were upset by the decision, calling out Cardi's "immature actions" and "attitude." Others were confused by the move to attach her name to a blue lipstick and not, say, a red one, seeing how she's affiliated with the notorious Blood gang. She explained in a GQ  interview back in April that she became a member when she was 16. "I used to pop off with my homies. They'd say, 'Yo, you really get it poppin'. You should come home. You should turn Blood.' And I did. Yes, I did," she says. "And something that—it's not like, oh, you leave. You don't leave." Though she says she's not an active participant anymore, she continues to reference the gang in her lyrics and on social media.
Despite how some people might feel about the decision, it looks like the product has already sold out. Cardi posted the news on her Instagram with the caption, "Sorry :/." While there's no word on whether or not the shade will be restocked, when the rapper initially posted the lipstick announcement on her Instagram, part of her caption read, "Excited for this and what's to come," which makes us think that a collaboration or campaign of some kind may be in the works. We'll just have to wait and see.