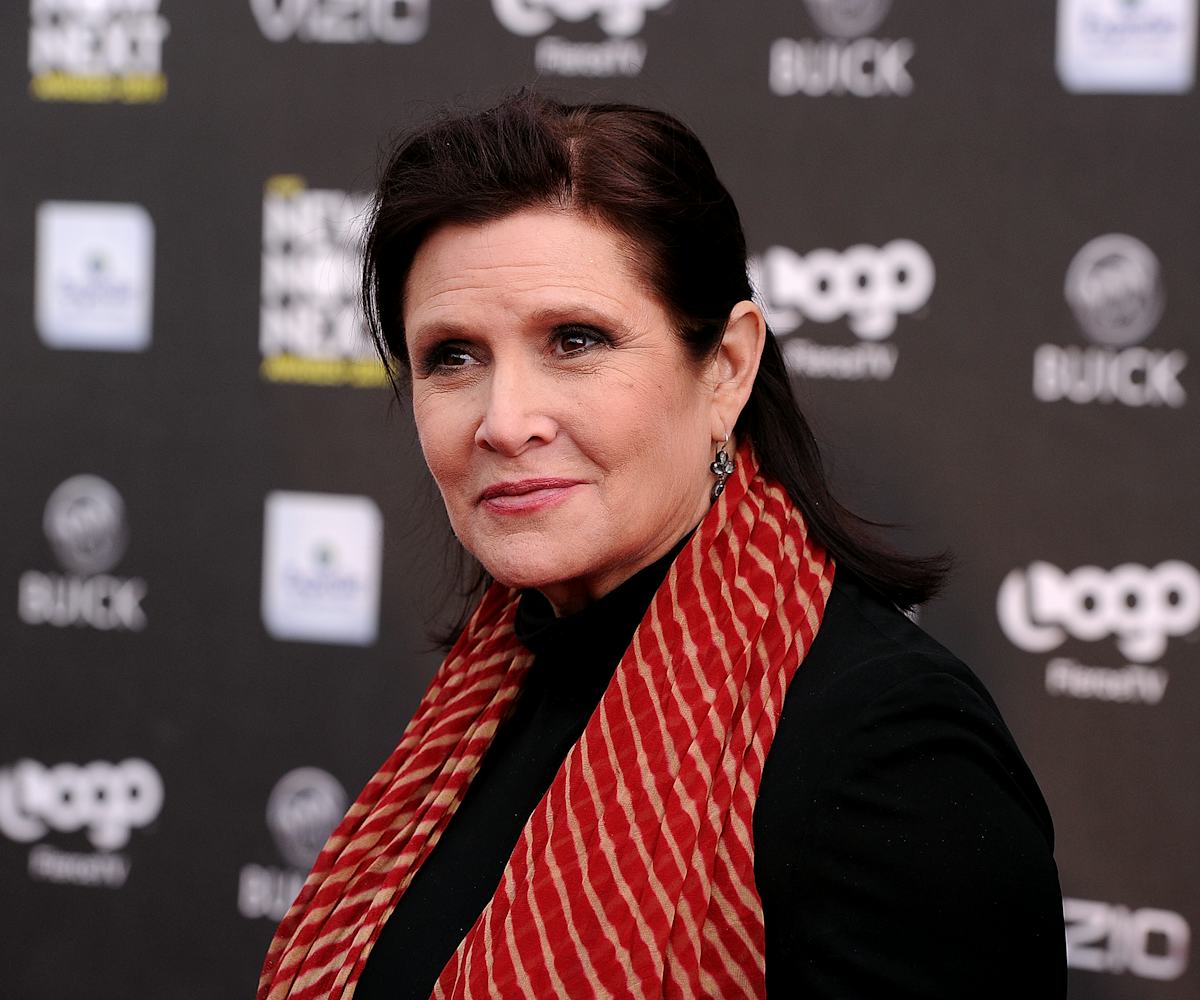 Photo courtesy of Frazer Harrison / Getty images
Carrie Fisher, who burst into public consciousness as Princess Leia in the original Star Wars Trilogy, has died at the age of 60, People reports.
"It is with a very deep sadness that Billie Lourd confirms that her beloved mother Carrie Fisher passed away at 8:55 this morning," Simon Halls, a spokesperson for Fisher's family said in a statement. "She was loved by the world and she will be missed profoundly. Our entire family thanks you for your thoughts and prayers."
Fisher's death comes just days after she suffered a heart attack onboard a flight from London to Los Angeles. On Saturday, Fisher's mother, Debbie Reynolds, tweeted that her daughter was in "stable condition," and thanked fans for their "prayers and good wishes."
Though Fisher will always be best remembered as the enduring Leia—whose rare combination of pluckiness, grit, femininity and strength helped pave the way for a generation of female action heroes—her acting career was prolific, and included roles in When Harry Met Sally, Hannah and Her Sisters, and Soapdish. Most recently, Fisher revisited Princess Leia in Star Wars: The Force Awakens, and will also appear in its hotly anticipated, as-yet-untitled follow-up, due at the end of 2017. 
Along with her iconic work as an actress, Fisher also left an indelible mark offscreen. Her 1987 novel, Postcards From The Edge (which later became a feature film starring Meryl Streep) explored her highly publicized battles with substance abuse and mental illness, which plagued Fisher throughout her life.
"I never could take alcohol. I always said I was allergic to alcohol, and that's actually a definition to alcoholism — an allergy of the body and an obsession of the mind," Fisher said in 2013. "So I didn't do other kinds of drugs until I was about 20. Then, by the time I was 21 it was LSD. I didn't love cocaine, but I wanted to feel any way other than the way I did, so I'd do anything."
Fisher's trademark wit helped establish her as one of Hollywood's leading script doctors, and also proved invaluable when taking on her critics. When body shamers attacked her looks after the release of The Force Awakens, Fisher spoke out against the unrealistic standards that women in Hollywood face. "youth & beauty R NOT ACCOMPLISHMENTS, they're the TEMPORARY happy Biproducts of Time or DNA. Don't hold your Breath 4 either," she tweeted at the time. 
Carrie Fisher is survived by her mother Reynolds, and daughter Lourd.